Melania Trump's Surprising Request For International Women's Day Has Twitter In A Tizzy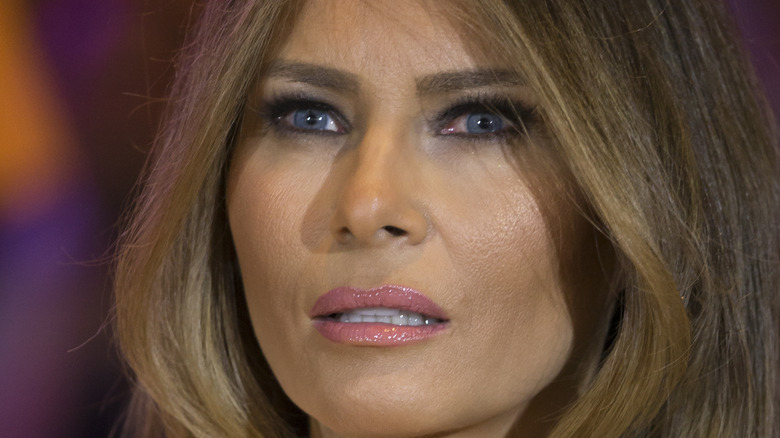 lev radin/Shutterstock
Former first lady Melania Trump doesn't have the best track record when it comes to the fight for equal rights for women, as explained by one Guardian writer. This year's National Women's Day is no different, as Trump kicked off the day with a cash grab (via Indy100). More specifically, she launched a new set of NFTs on the holiday that are inspired by one other than herself.
A press release for the new NFTs noted that the endeavor "launches on International Women's Day and celebrates women worldwide," adding that it showcases "three important attributes of women," saying that women are "strong, confident, and inspirational" (via Indy100).
Though pushing an NFT on International Women's Day is a new one for Trump, the backlash for what she chose to share on the holiday isn't. When Trump was in the White House, she constantly faced criticism for her words on gender equality. On International Women's Day in 2018, she tweeted a message that got criticism for its lack of sincerity, for example (via People). Now, several years later, Trump is still tweeting things about gender inequality that are causing a tizzy.
Melania sent out a tweet supporting Ukraine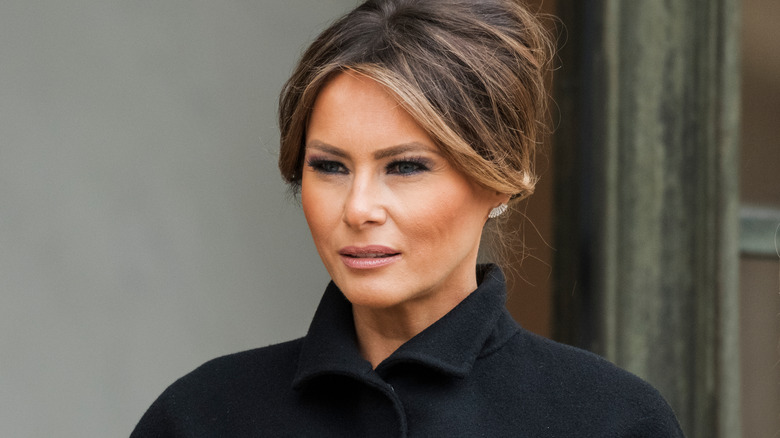 Frederic Legrand - COMEO/Shutterstock
Melania Trump took to Twitter on International Women's Day to tweet a message similar to what she sends out every year. However, this time, she included a message that has people talking. "Strong & confident women are a true inspiration," she wrote. "In particular, I applaud their resolve during challenging times. Seeing the Ukrainian women & children suffering is heartbreaking. It is difficult to comprehend the level of fear, uncertainty, & trauma families are experiencing." She followed up her tweet with another, adding, "I call upon all women worldwide to support the Ukrainians on this International Women's Day."
Many were confused by her message, as her husband, former President Donald Trump, has been a strong supporter of Russia and Vladimir Putin (via CNN). Recently, however, it seems he might be changing his view, hence why his wife would feel comfortable openly supporting Ukraine. The Guardian reported that Donald Trump recently spoke about bombing Russia, while saying he had always been hard on the country. It seems the Trump family are flip-flopping on their opinions regarding the conflict.
"And, please let us know what you have done to help support Ukrainians?" one Twitter user replied to Melania Trump's tweets. Another said, "Melania to be auctioning off a new line of Ukrainian themed merchandise?" A third declared, "I call on you and your family to lead your proclamation." Naturally, supporters replied to wish her a happy holiday, too.