What Melania Trump Has Been Doing Since Leaving The White House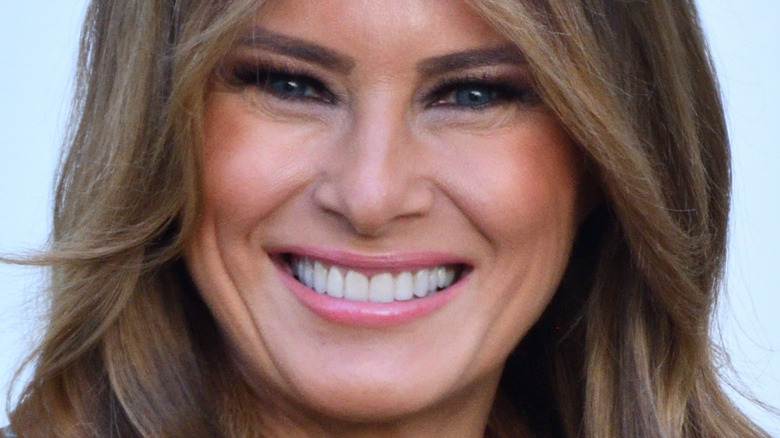 Evan El-Amin/Shutterstock
If public surveys are to be believed, few people were sorry to see Melania Trump go. Surveys showed that the former first lady left the White House with ratings lower than that of her immediate predecessors. So it's not entirely surprising that we didn't see much of her after Donald Trump stepped down in January.
Not long after the Trumps left the White House, CNN reported in February that most of the former first lady's post-White House days at Mar-a-Lago were whiled away at the club's spa, while dinners were spent with her husband Donald on the property's outdoor patio. But CNN also quoted unnamed sources as saying Melania was "bitter and chilly" toward her husband because she had been hurt by the former president's need to push his election loss story. At the same time, she was supposedly jealous of the attention Jill Biden received during the dawn of Joe Biden's presidency. 
Melania's office, meanwhile, issued a public statement on February 13, a day after the CNN report was published. "Mrs.Trump is no longer First Lady. She is a private citizen, mother, & wife," the Office of Melania Trump tweeted. "Sources in this article are not affiliated w her nor have insight into her thoughts or daily life. CNN's FLOTUS Correspondent choosing to publish false gossip illustrates the media's unhealthy obsession."
So if Melania Trump isn't hanging out at Mar-a-Lago's spa and having dinners with her husband, what has she been doing since the close of the Trump administration?
Melania wanted to continue her "Be Best" initiative
Melania Trump appeared to have had big plans after she left the White House, one of them of which was to continue the "Be Best" initiative that she kicked off while she was the first lady. The scheme was meant to put Melania at the heart of important issues that were related to children's welfare, including cyberbullying, per People. 
And while fans and followers were directed to follow the initiative on Twitter, most of the tidbits that made their way to social media involved past encounters and initiatives that took place when Melania was the first lady. These included overseas visits (via Twitter); trips to hospitals (via Twitter); and a screenshot of a report on Trump's Child Welfare Executive Order (via Twitter).
It wasn't until Thanksgiving that Melania resurfaced on social media with a new children's encounter with Florida charity 4KIDS, a Christian charity that says it is dedicated to "provid[ing] a HOME for EVERY child."
Melania Trump is rarely seen in public with Donald Trump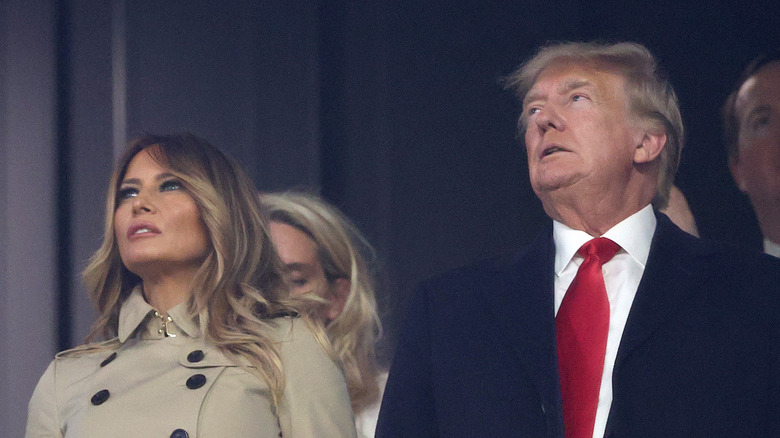 Elsa/Getty Images
While rumors swirled about the state of Melania and Donald Trump's marriage throughout their four-year stay in the White House, the couple appears to have defied the critics and continue to stay together, even though they were hardly photographed together during their first few months after the former president's term ended. 
During the summer, Melania was spotted in Manhattan for the first time since leaving Washington, and it was said that she would be splitting her time between New York, and the Trumps' New Jersey residence in Bedford. "While Palm Beach is their main residence, the Trumps go back and forth from New York to New Jersey during the summer season. Melania and her own family do many things together and not necessarily with Donald," someone close to Donald Trump told People in July. 
The source also said that the former president was fine with that arrangement, adding that "Melania is happiest when she is with her own family members, including her son. She is not dumb, she just knows how to handle her life to make it as fulfilling for her as possible."
But Melania did raise a few eyebrows on one rare outing with her husband when she appeared to look almost disgusted after Trump spoke at the World Series in October.