The Law & Order: SVU Episode You Forgot Starred Elle Fanning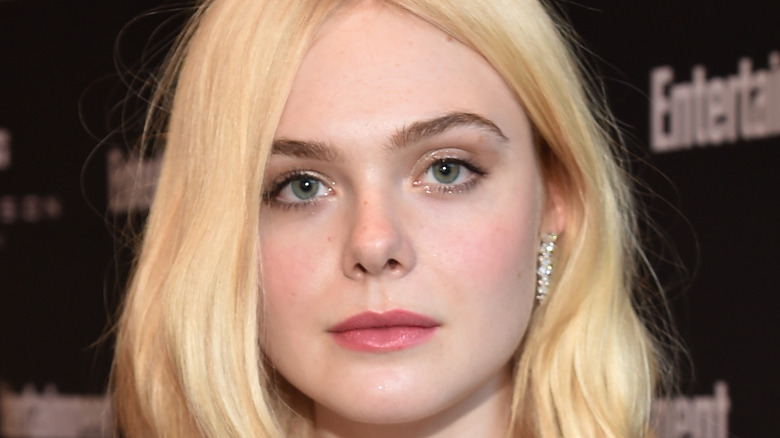 Alberto E. Rodriguez/Getty Images
Elle Fanning began her career at the age of just two, playing the younger version of elder sister Dakota Fanning's characters in various projects, as a profile of the star in Marie Claire notes. But she quickly began gaining traction in her own right. Within just a few years, in fact, the younger Fanning was earning roles opposite the big-name likes of Eddie Murphy, whom she featured opposite in family comedy "Daddy Day Care," and Cate Blanchett and Brad Pitt, with whom Fanning appeared in "Babel."
Nowadays, of course, she's just as much of a star as her big sister, thanks to leading roles in "The Neon Demon" and "The Great," among many others. And yet, that wide-eyed kid who was just happy to be on a set still remains intact, with Fanning telling The Guardian, "I know it's a job, I know that it's serious. But it's also about dressing up and pretending." She had that glint in her eye from the outset, regardless of the size of any particular role, including a take-notice turn early on in "Law & Order: SVU." 
Elle Fanning played a little girl with a hidden dark side
Plenty of child actors have popped up on Law & Order: SVU" over the years, from Abigail Breslin to Melissa Joan Hart, but few make as much of an impact as Elle Fanning, who would've been around eight years old when she appeared on the hit show. Per InStyle, Fanning starred in a Season 8 episode entitled "Cage," as a young girl named Eden who's discovered abandoned in a van that's been driven into the river. 
At first, Eden seems simply like a victim of child neglect and endangerment, once the team discovers she and her foster siblings are being kept in cages whenever they're seen to be misbehaving. However, the situation is ruthlessly turned on its head when Eden sets fire to Detective Beck's (Connie Nielsen) apartment. 
Unsurprisingly, in the years since, Fanning has consistently been drawn to similarly challenging roles. She's also looking to move behind the camera more, telling Marie Claire, "Now that I've gotten older, I'm much more interested in developing projects and reading material, producing it, maybe not being in it but just getting it made." 
Fanning elaborated, "I think doing it from such a young age, I learned on the job. I didn't go to acting school or have formal training or anything; I just watched the crew. So the way the sets work, it fascinates me." Someday soon, Fanning could even be giving a young actor her own breakout moment.