Bill Barr Reveals How Melania Trump Saved His Job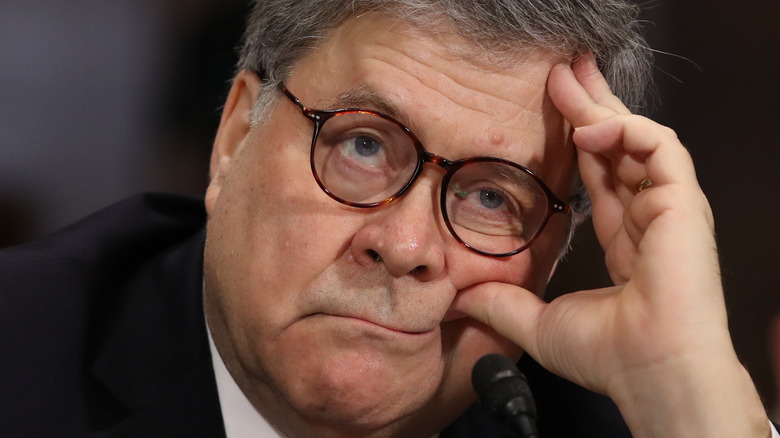 Win Mcnamee/Getty Images
Former Attorney General William Barr was widely seen as one of President Donald Trump's lifers, but the cracks gradually began to show as Trump attempted to force Barr, then also head of the Department of Justice, into tougher and tougher legal positions. As CNBC reported at the time, Barr ultimately resigned his post in December 2020, following several public spats between himself and the president. However, in his resignation letter, the departing AG praised Trump for his "historic" record and all he had accomplished "in the face of relentless, implacable resistance." 
Barr gushed, "Few could have weathered these attacks, much less forge ahead with a positive program for the country." Trump confirmed there were no hard feelings between the two despite the fact Barr had only recently directly contradicted his boss in response to Trump's baseless claims about widespread voter fraud. During a recent interview with NBC News, via The Daily Mail, the former Trump loyalist admitted he was fired immediately after describing the claims as "bull****." In fact, according to Barr, if it wasn't for Melania Trump, he would've been cut a lot sooner.
The former Attorney General refused to toe the party line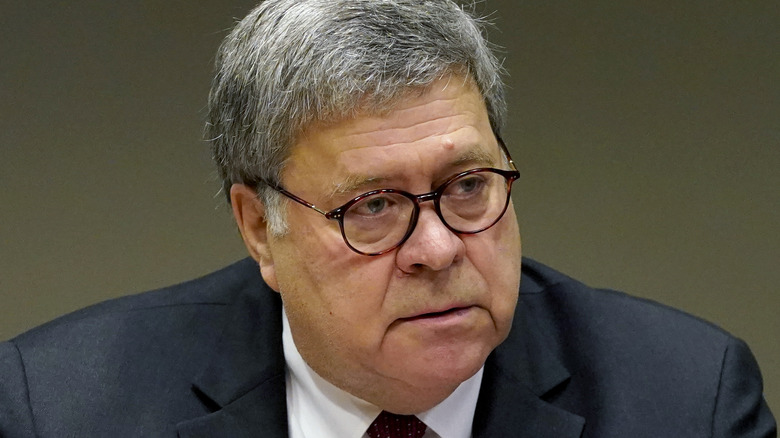 Pool/Getty Images
Bill Barr is spilling the tea on his time in the Trump White House, in the new book "One Damn Thing After Another." Most pertinently, according to The Independent, the former Attorney General revealed his boss's wife, Melania Trump, was the one who saved him from being terminated much sooner than he was. Barr shared that the "elegant" and "intelligent" Melania was his "biggest fan," according to her husband.
Donald Trump told Barr, "We were watching the hearing together, and when I got angry, she said, 'Are you crazy? Look at him. Right out of central casting. He looks and acts like an Attorney General! Leave him alone — he is carrying himself just right, and he will be confirmed, which is what you need'." As a result, Barr reckons Melania is actually more intelligent than her reality star husband. 
Although the former Attorney General was a Trump defender throughout his tenure, Barr reportedly uses his book to warn Republicans against blindly following the controversial politician. In particular, per a Wall Street Journal preview, Barr reiterates that the 2020 election was "not 'stolen.' Trump lost it." 
Although the former president claimed he and Barr had a pleasant conversation when he resigned, Barr has since revealed that Donald was infuriated by his perceived lack of loyalty and described him as "lazy" and a "coward" for refusing to get in line, per The Daily Mail.