Why We Can't Wait To Ditch Platform Shoes In 2022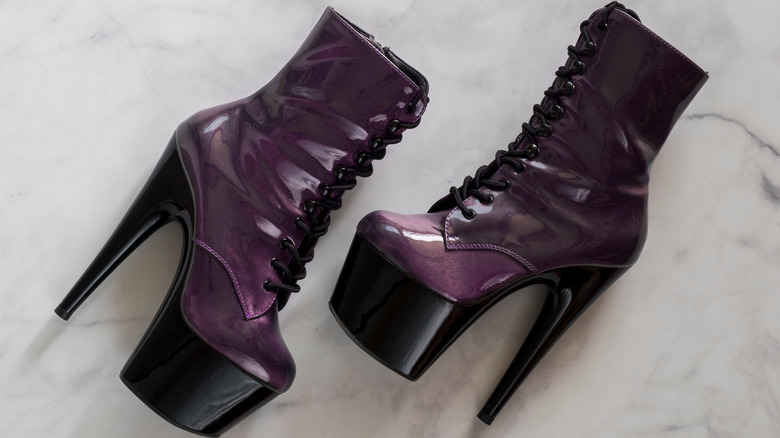 Melissa.r/Shutterstock
Lately, we've all been seeing people stomping around in loud, over-the-top platform shoes. Believe it or not, these shoes have a tremendous amount of history throughout the world, which could be why it feels like they've been around forever. According to Refinery29, the origins of platform shoes go back to 220 B.C., when Greek actors wore cork platform sandals. The platform style made its way to the Middle East in the 1300s, where people wore embellished wooden stilts to protect their feet when attending bathhouses. Fast-forwarding to China in the 1700s, actors wore silk boots with platforms. Eventually, platform shoes emerged in Western culture in the 1930s, then became popular again in the '70s thanks to disco culture, then again in the '90s when the Spice Girls wore them.
While you'd think people may have had enough of platform shoes after all that history, they've been trendy in recent years yet again. InStyle pointed out that even some of the moment's most admired celebrities, including Olivia Rodrigo and Ariana Grande, have been spotted wearing platform shoes. While history proves that these statement-making shoes keep coming back, we're unfortunately looking forward to this trend hitting the decline stage in 2022.
We're ready to say goodbye to these strange shoes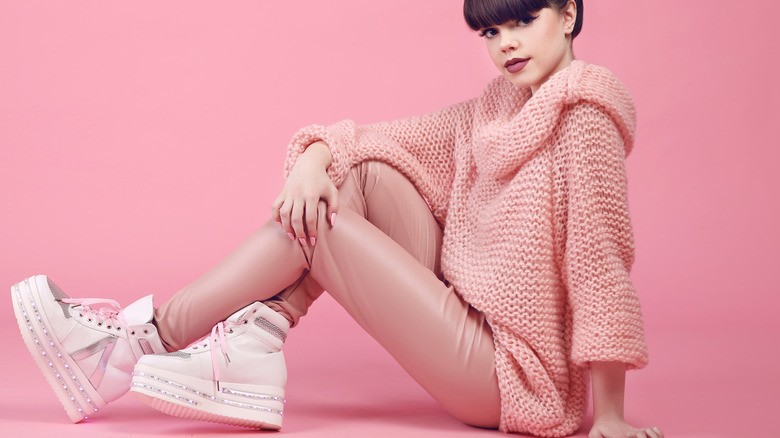 Beauty Style/Shutterstock
Whether you love or hate platform shoes, we have to admit that we think they're a bit weird-looking. Besides getting in a few extra inches, what's attractive about wearing an added platform between your feet and the ground? Since the platform draws so much attention to the shoe, platform shoes usually aren't appropriate for minimalistic or subtle looks. While they can look great with maximalist, edgy outfits, they don't match well with many other clothing styles.
The Wall Street Journal also pointed out that wearing platform shoes can make walking loud and awkward, taking classiness away from elegant outfits. While we don't mind the subtle clicking of traditional high heels, walking in platform heels produces a little too much noise for our liking.
Aesthetic preferences aside, another issue with platform shoes is that they're not healthy for your feet. On this, The Healing Sole explained, "Due to how they're shaped, platform shoes disrupt the biomechanics of walking and make every step you take a threat to your feet." We don't think that anyone's feet should have to suffer just for the sake of wearing trendy footwear, which is a significant reason why we're happy to await the end of this trend.
We want to see classic pumps, wedges, and ankle boots instead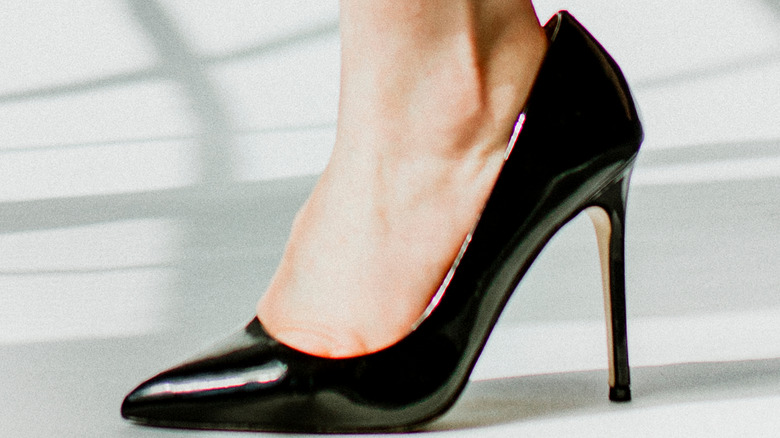 Rawpixel.com/Shutterstock
Although we don't love the platform shoe trend, we enjoy other trendy footwear options that can still make us look taller. To start, we believe that you can never go wrong with a sleek pair of pumps. The Editorialist pointed out that every woman should start with some classic pumps when shopping for new heels. The options are endless, as pumps come in a plethora of colors and patterns, such as classic black, dramatic red, and sexy animal print. Wedge sandals are another way to look taller if you don't want to commit to full-on heels but still want to add on a few extra inches. Wedges typically feel more comfortable than platform heels or pumps and look great with spring and summer outfits, such as sundresses, skirts, and rompers.
A fun alternative to platform boots is ankle boots, a footwear trend that never seems to go out of style, and is appropriate for almost any type of weather. Ankle boots typically have small heels and look excellent with any outfit in your wardrobe. Many retailers such as Nordstrom, Famous Footwear, and DSW sell these adorable boots in various colors, materials, and patterns.
While platform shoes will probably never be gone forever, we're excited for them to fade out for a little while to make room for more pumps, wedges, and ankle boots.