Why Alyssa Milano Won't Let Her Kids Watch Her On Charmed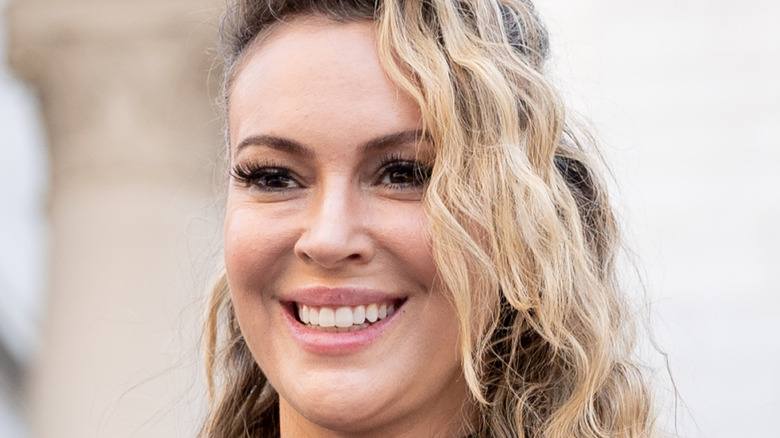 Emma Mcintyre/Getty Images
Alyssa Milano may be best known for starring on "Charmed," but it turns out her kids have never seen her in action on the show. The actress shares two children with talent agent David Bugliari, whom she married in 2009 (via New York Daily News). She gave birth to a son — Milo Thomas — in 2011, according to People. Per HuffPost, a daughter — Elizabella Dylan — came along in 2014.
The actress' run on "Charmed" ended in 2006, well before her children were born (via IMDb). Phoebe Halliwell — the character Milano played on the show — was the younger sister of Prue and Piper and the half-sister of Paige. She was a witch with powers such as premonition, levitation, and empathy (via ScreenRant). In addition to fighting off evil beings, Phoebe's storylines sometimes revolved around romantic relationships and showed off her daring fashion choices
Milano recently turned to TikTok to discuss if her children had ever seen "Charmed," and she stated that there are "many reasons" for why the answer to that question is no.
Due to her Charmed character's relationships and outfits, Alyssa Milano won't let her kids watch the series
Alyssa Milano explained why her kids haven't watched "Charmed" in a video on TikTok. "I kiss a lot of guys on 'Charmed.' So many guys that are not their dad. So many guys," she said. Some of the actors she shared kisses with on the show include Julian McMahon as Cole Turner, Eric Dane as Jason Dean, Nick Lachey as Leslie St. Claire, Jason Lewis as Dex Lawson, and Victor Webster as Coop (via TV Line).
"The other reason is she [Milano's daughter Elizabella Dylan] is 7," Milano continued. "And all she wants to wear are belly tops. That's without seeing 'Charmed' ... And I'm constantly like, 'No, you don't wanna wear a belly top.' So could you imagine after she's seen 'Charmed,' when she's like, 'Mommy you wore belly tops.'"
Cafe Mom highlighted a few of the most notable looks Milano wore as Phoebe Halliwell. Fans saw the character as a mermaid, in LBDs on dates, channelling Elvira, and in outfits that looked like they were made for pop princesses. While these totally worked for the free-spirited and powerful witch, they may not be the best looks for a seven-year-old to see their mom wearing.