How To Understand Bridgerton's Regency Slang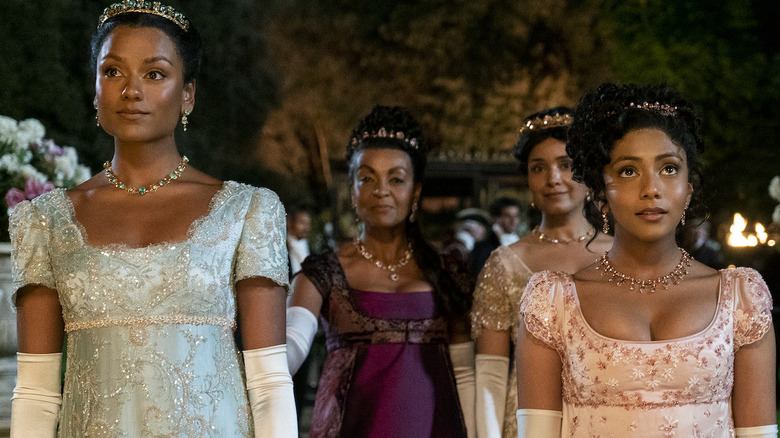 Liam Daniel/Netflix
Don't be such a rake! If you're a fan of Netflix's hit period piece "Bridgerton," it's likely that you know what "rake" means. Similar to other period pieces, like "Downton Abbey" and "Outlander," certain phrases and words uttered by the "Bridgerton" characters are used almost exclusively for the purpose of cementing the character's language in another era. In the case of "Bridgerton," the speech used by its characters is intended to further place them in the 19th century, and, more specifically, at least during the first season, in 1813, per Screen Rant.
"Bridgerton" first debuted on Netflix on Christmas Day in 2020, and followed the eldest daughter of the Bridgerton family, Daphne Bridgerton, as she fell in love with the Duke of Hastings, per the Hollywood Reporter. A large portion of the television show centers on London's high society during this time, and, as you likely know, this focus led to conversations filled with several phrases that only those of noble breeding might have uttered in the 19th century. The television show is based on author Julie Quinn's series of eight romance novels that follow the eight Bridgerton siblings' separate quests for love. In January, Netflix announced that the second season of "Bridgerton" would be coming in March 2022 — along with a third and fourth seasons that have yet to be filmed, according to Marie Claire.
Ahead of the premiere of the second season, we have dissected the regency slang used in the period drama.
Bridgerton incorporates several regency slang terms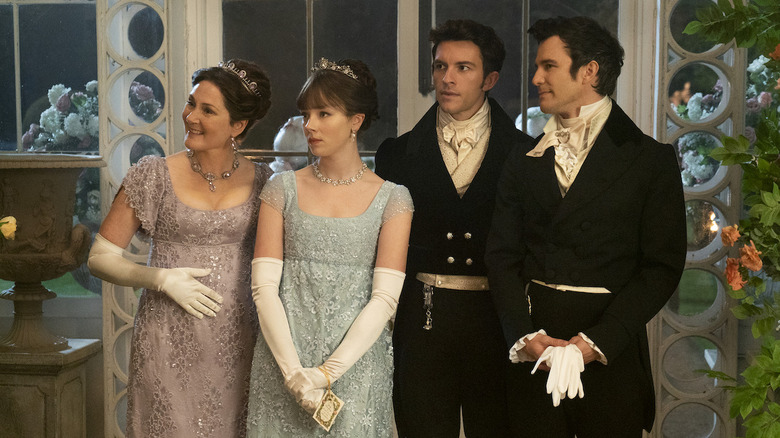 Liam Daniel/Netflix
As it turns out, there were many slang terms used in London high society during the 19th century — and many of them have turned up in episodes of "Bridgerton." For starters, many of the characters refer to "the Ton," which, according to Screen Rant, is the slang term for British high society. Another important term often used on the show is "The Season," or "Social Season." "'The Season' or, more formally, 'The Social Season', refers to the time from spring into summer when aristocrats would attend luxurious events, such as balls, the theatre, or the opera while searching for a suitable match for marriage. 'The Season' peaked in popularity in the 19th century, when British high society was dominated by the aristocracy," Taylor Hermerding, the cultural expert at leading language application Babbel, told Express.
Other popular regency slang terms from "Bridgerton" that might have left you a bit confused are "promenade," which means to walk in public; the aforementioned "rake," which is the 19th century equivalent of a f***boy; "leg shackled," which refers to being married; and "courses," which is a demure expression that refers to a woman's time of the month (via Parade).