How Queen Elizabeth Landed A Cameo In A James Bond Movie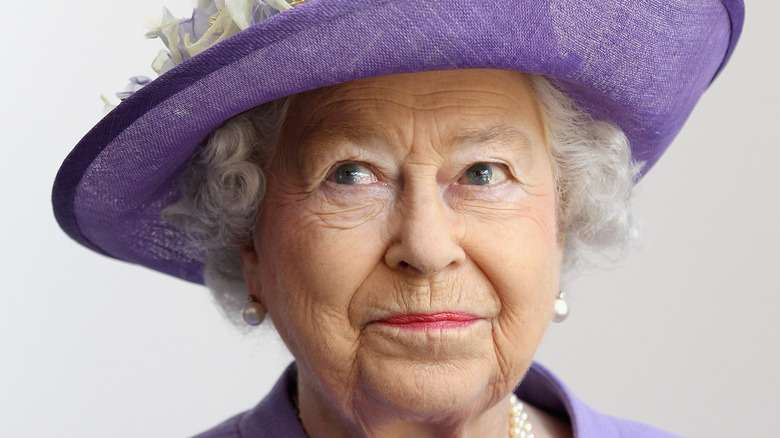 Chris Jackson/Getty Images
There are a few well-known things that Queen Elizabeth II loves: corgis, dry martinis, and people breaking in her shoes for her, just to name a few. Then there are the less well-known things that she loves, which include the "James Bond" films, per Express. According to royal biographer Gyles Brandreth, "She really did love all the early James Bond films," though she felt the more recent movies were "loud." Those more unfamiliar with the "James Bond" franchise may not know that the queen had a cameo part in "Happy and Glorious," which The Mirror reported was a short "James Bond" skit done for the 2012 London Olympic Games.
It's not every day that Queen Elizabeth II appears on the silver screen. While other members of the royal family have tried their hand at acting — the most famous example being Meghan Markle — the queen has only ever been in one movie in her 69 years on the job. As one of the most recognizable faces in the world, she went onscreen as herself, rather than playing a character. Still, the director of the short film felt it was a long shot that they'd be able to include her in the "James Bond" feature at all. "They didn't think for a moment that they would get to film the queen. It was only an afterthought, sent via her staff, without much hope," then-Secretary of Culture, Media and Sport told Newsweek. Unsurprisingly, Her Majesty wowed viewers in the role.
The queen changed the lines in the "James Bond" movie to her liking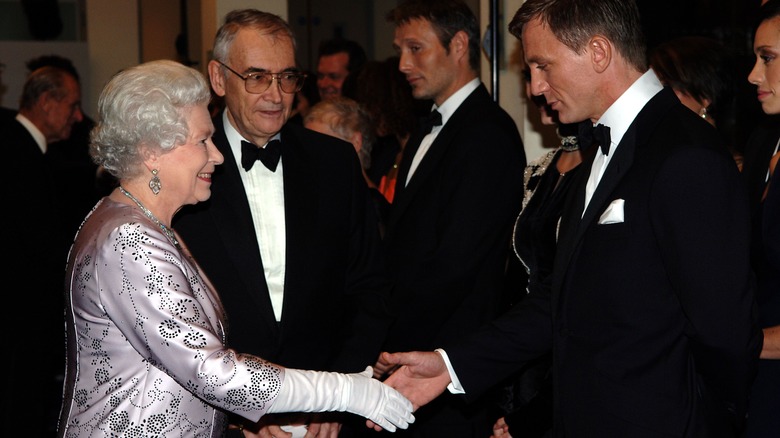 Anwar Hussein/Getty Images
Unlike a typical actor, Queen Elizabeth II didn't show up on set ready to memorize her line though. Instead, she made a tweak to the script herself, per Newsweek. According to the outlet, the original line of the movie read, "Good evening, James." Based on her extensive knowledge of "James Bond" films, Queen Elizabeth though that a more authentic greeting would be "Good evening, Mr. Bond." Naturally, her rendition of the line is exactly how it appears in the movie. 
Newsweek also noted that the monarch's role in the film was kept under wraps, right up until the time of its release. "I remember certain expletives coming out of my mouth when I realized what was going on ... it was actually a very well-kept secret," Prince William later said in the movie "Elizabeth at 90 — A Family Tribute" (via Newsweek). Hinting that he was envious his grandmother had gotten to shake hands with the 007 agent, he added, "Clearly they knew that certain grandchildren would go around telling everybody too much!" Something tells us that "Happy and Glorious" will be Queen Elizabeth's last movie role in her life, especially since she's been laying low with COVID-19 since February.