Here's How To Do Makeup Like Twiggy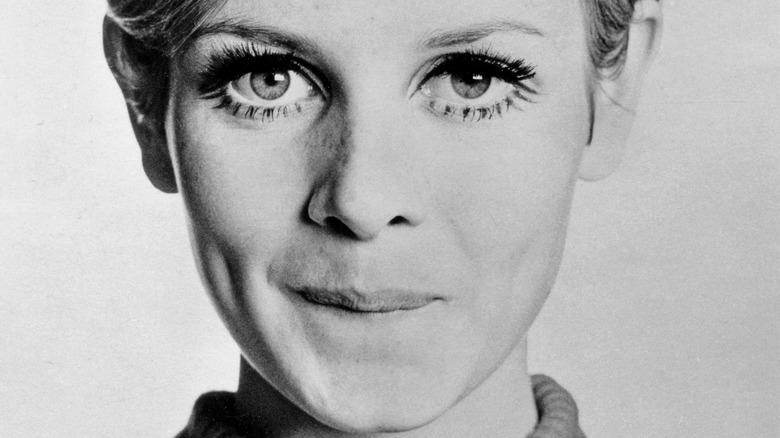 Michael Ochs Archives/Getty Images
Imagine inspiring a generation of makeup lovers with one innovative and bold beauty look. This is the power that 1960s British model Leslie Lawson, nicknamed Twiggy, has held over her loyal fanbase, and the entire world, since the era of liberation. Old-school makeup trends resurface constantly, and Twiggy's iconic wide-eyed stare and mod makeup looks have been the catalyst for countless tutorials recently.
L'Officiel USA rightfully crowned Twiggy as the ultimate trendsetter and style icon of the '60s, while also pointing out how she continues to pave the way for the stars of today. Ariana Grande paid tribute to Twiggy with some bold eyeshadow styles — just take a look at the colorful mod aesthetics she cycles through in the music video for her hit single "positions" (via Teen Vogue). In a May 2017 photoshoot for Allure, "The Batman" star Zoë Kravitz — who recently revealed why she was turned down for a role in "The Dark Knight Rises" — effortlessly transformed into the fashion powerhouse.
Widely regarded as the "face of '66," per the Daily Mail, Twiggy unequivocally shaped the modeling industry. Beauty lovers have spent decades replicating the actress and singer's defined lashes, sharp cut crease, and dark mascara. Now, you can also channel a Twiggy-inspired makeup look and make your eyes really pop.
For eyes like Twiggy, go big or go home
As part of Vogue France's Beauty Expert YouTube series, famed British makeup artist Charlotte Tilbury created a surprisingly easy five-minute tutorial replicating Twiggy's eye makeup. She tested the look on model Elsa Muse to show viewers how to recreate the style. To get Twiggy's iconic look, Tilbury starts off with a blank canvas and applies concealer to Muse's eyelids before blending it in with a blender brush. 
For a defined arch, Tilbury suggests tracing your eye sockets with a dark color. "When you're doing this, it's really important to look in the mirror. If you've got heavy eyelids like me, then you will look in the mirror and you'll feel where the bone is." This will brighten your eyes and give them a doe-like appearance. 
When you're applying eyeshadow, you have two options: You can go the no-makeup makeup route and use a natural color like Tilbury does, or take a page out of Texas makeup artist Kayla Carruthers' book and go for a shocking pop of color (via Allure). Carruthers put her own spin on this glam look by accenting her bright, powder blue eyeshadow with brown liner on her eye socket and white liner along her waterline.
In Tilbury's video, she elongates Muse's eyes with a cat-eye and dabs both her top faux lashes and lower natural lashes in mascara (via YouTube). Finish off the look with a pink lip and faux freckles, and you'll look like Twiggy in no time!