Zoe Kravitz Reveals Why She Was Turned Down For The Dark Night Rises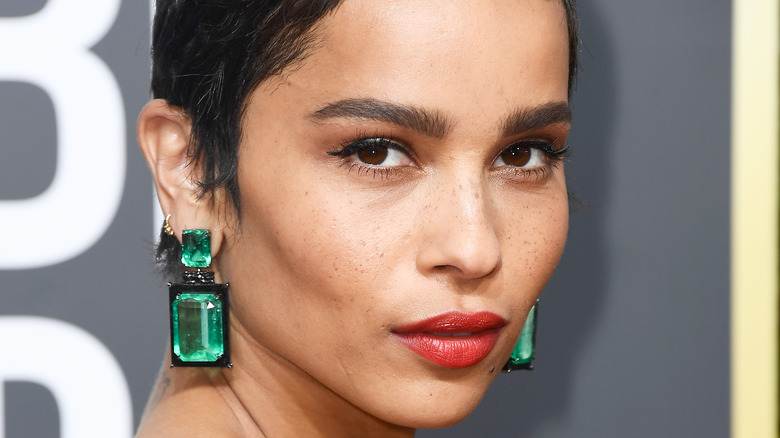 Frazer Harrison/Getty Images
Zoe Kravitz is earning rave reviews for her portrayal of Selina Kyle, aka Catwoman, in "The Batman" to the extent that, as one Twitter user pointed out, we've all conveniently forgotten her participation in Gal Gadot's infamous "Imagine" video. Matt Reeves' latest take on the Caped Crusader has earned an incredible 85% rating on reviews aggregator Rotten Tomatoes thus far while, over on social media, commenters are falling over themselves to praise Kravitz, in particular.
One user wrote that the actor "Stole the show every time" she popped up, describing her character as, "A new sexy reimagining of Selina" and noting, "You will feel for her troubled past but she's a fierce independent woman underneath those tights." Elsewhere, another commenter hoped to see more of the character in future. On the red carpet, Kravitz has been killing it with her Catwoman-style ensembles. Evidently, the actor effortlessly fits into this world.
However, it might surprise you to learn that the "Big Little Lies" star previously went out for a role in "The Dark Knight Rises," which would've brought her into the fold much sooner, and was denied for one hugely disappointing reason.
Zoe Kravitz was considered too "urban" for Batman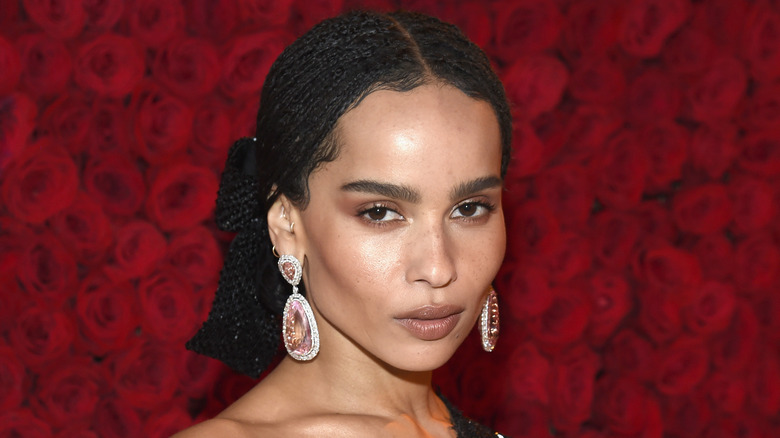 Kevin Mazur/mg18/Getty Images
In a new interview with The Guardian, actor Zoe Kravitz shared the difficulties of growing up as the daughter of two massive celebrities, and how hard she's fought to prove herself as a result. Kravitz also revealed that she could've entered the Batman universe years ago, thanks to a role in "The Dark Knight Rises." Christopher Nolan's 2012 sequel to ground-breaking superhero flick "The Dark Knight" featured Christian Bale in the lead role alongside Tom Hardy as villain Bane. Notably, Anne Hathaway portrayed the role of Catwoman. 
As it turns out, the reason Kravitz didn't get a look in could've been down to her race. The actor divulged how she was considered too "urban" for the part, explaining, "I don't know if it came directly from Chris Nolan. I think it was probably a casting director of some kind, or a casting director's assistant." She admitted to finding it incredibly tough being told "I wasn't able to read because of the color of my skin, and the word urban being thrown around like that."
Thankfully, the actor now believes everything happens for a reason, and can see the lesson in difficult setbacks such as this. She also learned a lot from parents Lisa Bonet and Lenny Kravitz, both of whom "dealt with being artists who didn't act or dress or look or sound the way a Black person was supposed to act in terms of what white people specifically were comfortable with."