How Much Should You Expect To Spend On Your Wedding Makeup?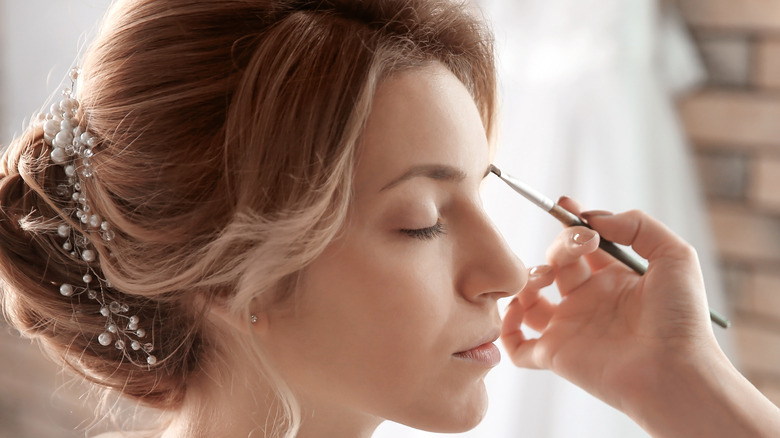 Africa Studio/Shutterstock
It's no secret that wedding expenses can add up quickly. Between the venue, food, flowers, and more, you and your fiancé can look to spend around $28,000 on your wedding, according to The Knot. While your wedding makeup probably isn't a huge part of your budget, you should plan to set some of your cash aside for it. It always costs a little more to have a professional handle something, especially when it's wedding-related! Thankfully, there are tons of different options and price points for wedding makeup, so you can spend in the way that feels right to you. 
Think of getting your wedding makeup done as a "Choose Your Own Adventure." Do you want an airbrushed look? Traditional makeup? A full face? Someone to do your brows just right? The possibilities are endless. Of course, you could always choose to do your own makeup instead. You'll still want to budget for a few new makeup items in that case.
No matter how you choose to do your makeup for the big day, there is a set amount of money you'll likely need. Here's everything that you need to know before your big day.
The average bridal makeup costs $100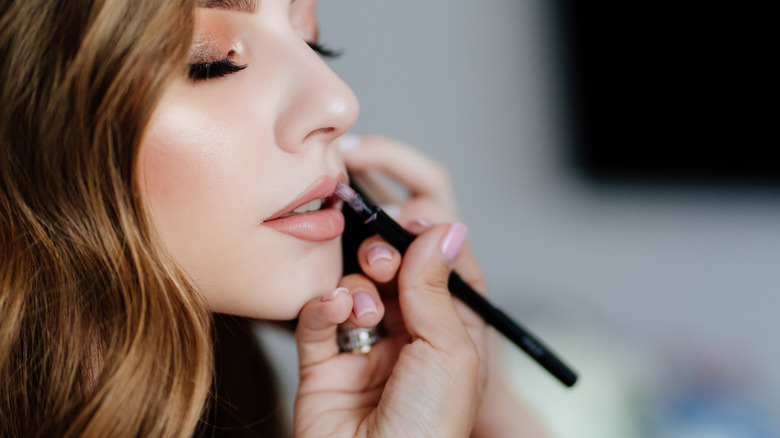 Andrey Sayfutdinov/Shutterstock
It's easy to forget the little things on your wedding day, but makeup is definitely one thing you're not going to want to skimp on. After all, you've likely already paid a significant amount to your photographer for the day, so you'll want to make sure you'll have lasting makeup that photographs well. When it comes down to it, you should set aside at least $100 for someone to do your wedding day makeup, according to wedding website Zola. 
According to Wedding Wire, the typical bride spends about $300 on their hair and makeup on her big day. Of course, a big part of that also depends on where you live. If you're not living in a big city like New York or Los Angeles, the $100 should be more than enough to get you a full face on your wedding day. In many instances, you're also paying for a consultation and trial as well. You'll want to check with your makeup artist to make sure they'll meet with you in advance to run through some looks.
There are ways to save a big, as well. According to Wedding Wire, there are two different types of wedding makeup — airbrushed and traditional application. If you're looking to save a bit of money, opt for the traditional application. This means your foundation would be applied by hand using a brush or Beauty Blender, instead of using a machine to airbrush your foundation on. 
There are hidden fees to think about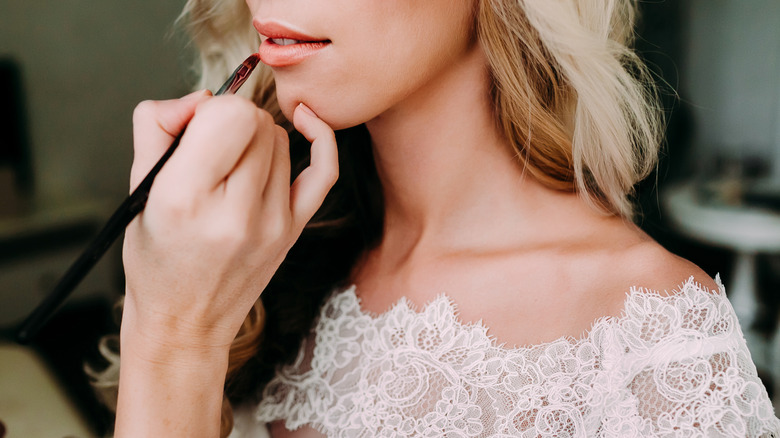 Stakhov Yuriy/Shutterstock
If you're the bride reading this, then there are some other fees that you're going to want to think about for your wedding day makeup. As you've probably already learned, just having the word "wedding" tagged onto something seems to come with a price increase.
There are a few options for wedding day makeup. Either the bride and her wedding party can go into the salon to get their makeup done or a makeup artist can come to you. If you choose the latter, there could be an additional fee added for travel time. Some places charge $1 per mile, while others have a standard add-on rate. Another fee you're going to want to remember is the tip. Brides.com suggests tipping between 15 to 20%.
Of course, you can do your own makeup on your big day. Not only will you save money, but for some brides, this is a way to feel more like themselves. There is no wrong way to do your beauty on your wedding day!