Why Princess Diana's Wedding Dress Designer Was So Upset On The Big Day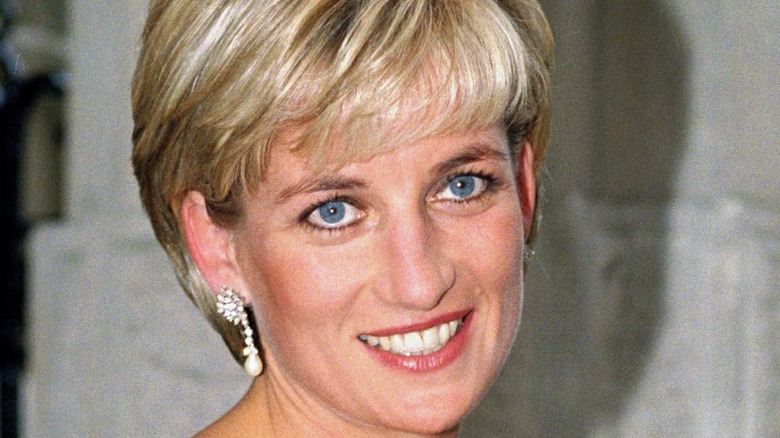 Antony Jones/Getty Images
When Prince Charles and Princess Diana said "I do" in July 1981, a whopping 750 million people around the world tuned in to watch their vows (per Smithsonian Magazine). On her big day, Princess Diana wore an ivory silk taffeta wedding gown embroidered with lace, sequins, and approximately 10,000 pearls. The gown also featured a 25-foot-long train — the longest in royal wedding history (via Tatler). In fact, the princess reportedly told the bridesmaids tasked with holding the train to just "do your best" while she walked down the aisle at St. Paul's Cathedral (per Smithsonian Magazine). One of her bridesmaids recently recalled sweet details about the royal wedding, and mused over Diana's gorgeous ensemble.
Diana finished off her bridal look with a 459-foot-long tulle veil, the Spencer family tiara, and heels featuring sequins and pearls. "It was all about drama and making Diana a fairytale princess," designer Elizabeth Emanuel told British Vogue. "The gown was typical of early '80s style — overblown, romantic, flouncy — but we had to get it right because we knew it would go down in history."
Emanuel, who created the dress with her then-husband, David Emanuel, also sewed an 18-carat gold horseshoe embedded with white diamonds into the gown's label for good luck (via Town & Country). Once the world got a glimpse of the princess at the royal wedding, the dress would go on to be copied by future brides around the globe. While Emanuel loved her design, there was one aspect of the gown that "horrified" her on the big day.
The embellishments on Princess Diana's gown caused one big problem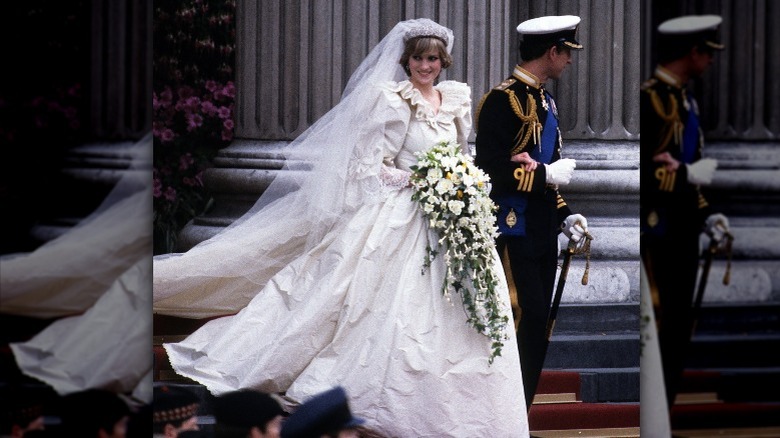 Anwar Hussein/Getty Images
When Princess Diana arrived at the church on her wedding day, there was one detail on her gorgeous gown that designer Elizabeth Emanuel wasn't happy about: The creasing. "We did know it would crease a bit, but when I saw her arrive at St Paul's and we saw the creasing, I actually felt faint," Emanuel said (per Express). "I was horrified, really, because there was quite a lot of creasing. It was a lot more than we thought."
Luckily, Emanuel had prepared for the creasing in advance and was able to smooth the dress out before Diana's walk down the aisle.  "It was such an awesome, goose-pimple moment seeing Diana in the splendor of the dress," she told British Vogue. "I remember Judith Chalmers talking about the anticipation surrounding the dress on TV against the backdrop of the crowds cheering. Diana kept everyone calm by singing along to the advert jingles. There was so much joy." Emanuel mentioned that this did change though when Diana got into the carriage, as no one was talking after that point. 
According to Kate Halfpenny, who is currently the bridal wear designer for British brand Halfpenny London, the popularity of Diana's dress is seeing a resurgence. "We've seen a rise in brides looking to add drama with indulgent trains, huge veils and gorgeous statement sleeves. I'm also seeing a demand for the ball gown growing," she told the Toronto Star.