Everything We Know About Jill And Derick Dillard's COVID-19 Diagnoses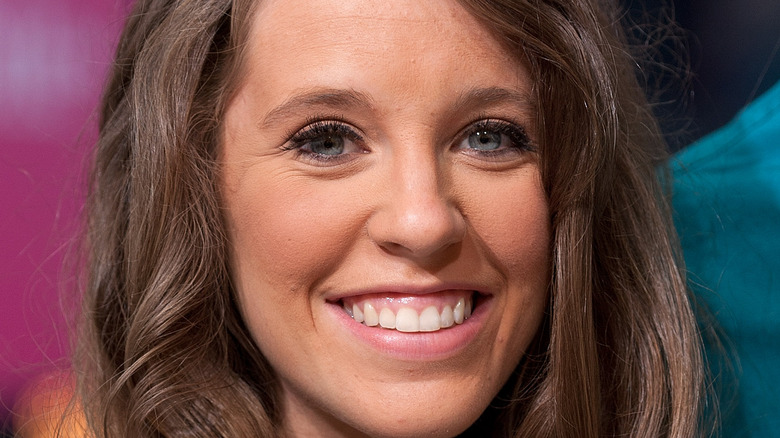 D Dipasupil/Getty Images
Jill Duggar has become one of the most rebellious of the Duggar family's 19 kids, at least when it comes to setting her own boundaries. According to Hello! Magazine, Duggar has seen very little of her parents since her husband, Derrick Dillard, accused her father, Jim Bob Duggar, of withholding earnings from their hit TLC show, "19 Kids and Counting," as well as its spin-off, "Counting On."
While Duggar may not have a close relationship with her parents after ongoing disputes, she is working on building a family of her own. She and Dillard have two sons together, and recently announced they are expecting another baby after suffering a miscarriage last year (via Us Weekly).
"We've been keeping a little secret!" the couple proudly announced on their blog. Ever since we were devastated last fall by the miscarriage of our sweet baby, River Bliss, we have prayed that, if it was God's will, he would bless us with another baby." The announcement continued, "We are excited to announce that God has answered our prayers and we are expecting our rainbow baby due July 2022! We are so thankful for a healthy baby and pregnancy so far and we look forward to finding out the gender soon!"
However, in the middle of celebrating their pregnancy, the couple got a less exciting positive test.
The couple shared their experience with COVID-19 on Instagram
Jill Duggar and her husband, Derick Dillard, recently took to Instagram to share that they had tested positive for COVID-19. The post read, "Give me all the hot liquids and cough drops please!! Derick & I tested + for covid for the first time and it's not fun!" The post continued, "With a little help from family, we were still able to celebrate Derick's birthday at home yesterday, even though it was different than we'd originally hoped" Duggar wrapped the post up asking for prayers, saying, "Prayers appreciated for quick recoveries and for baby to stay healthy too!"
A day prior to testing positive for the virus, the Dillard family celebrated Derrick's birthday (via Us Weekly). "Happy birthday to my favorite person @derickdillard," Duggar gushed on Instagram, "ILYSM babe! Thanks for being my rock and encourager! Hope this next year is your best yet!"
While the vaccination status of the rest of the Duggar family is unknown, the Dillards have made it clear that they have been vaccinated (via TV Shows Ace). Last year, the couple shared that they were getting a free burrito from Chipotle because they were vaccinated. The post didn't go over great with their followers, but Duggar was encouraging to her husband, telling him she enjoyed how he stirred the pot.