How Donald Trump Reportedly Wants To Cash In On His Emergency Plane Landing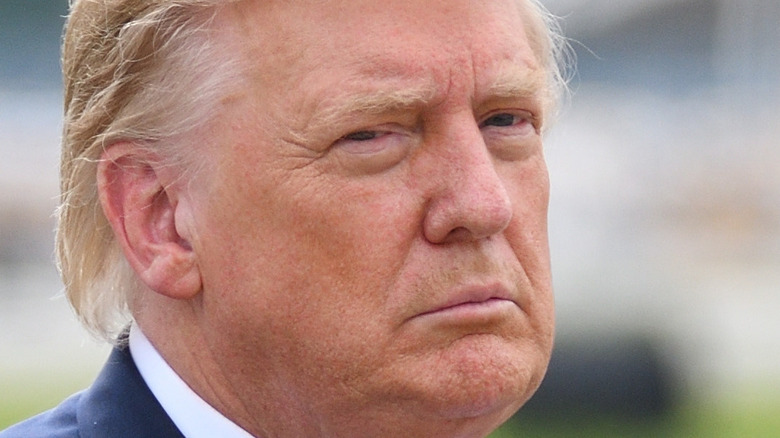 Evan El-Amin/Shutterstock
Most people involved with a scary airline malfunction might think twice before booking another flight anytime soon. However, Donald Trump not only brushed off the near disaster, he's also using it as an excuse for securing his personal means of air travel.
The former president hasn't officially declared his run for re-election in 2024, but the signs are certainly there. In recent months, Trump has been stumping for various Republican elected officials. In the process, he has reminded his followers of all his past accomplishments and zinging President Joe Biden for his policies on COVID, immigration, crime, and just about everything else. It was while he was returning from one of his fundraising jaunts that the in-flight scare happened: On March 5, Trump was headed to his Mar-a-Lago resort home from New Orleans on a private plane on loan from one of his donors. About 75 miles into the flight, the plane suffered engine failure over the Gulf of Mexico, per The Washington Post. The pilot turned the craft around and landed safely at Louis Armstrong New Orleans International Airport.
Thankfully, no injuries were reported in the incident, and Trump's advisors found another GOP donor willing to lend his plane to get the former president back to Florida. However, it appears Trump isn't content to travel on borrowed vehicles. Just a few days later, he made an appeal to his supporters that was anything but coincidental. 
GOP supporters are being asked to fund 'Trump Force One'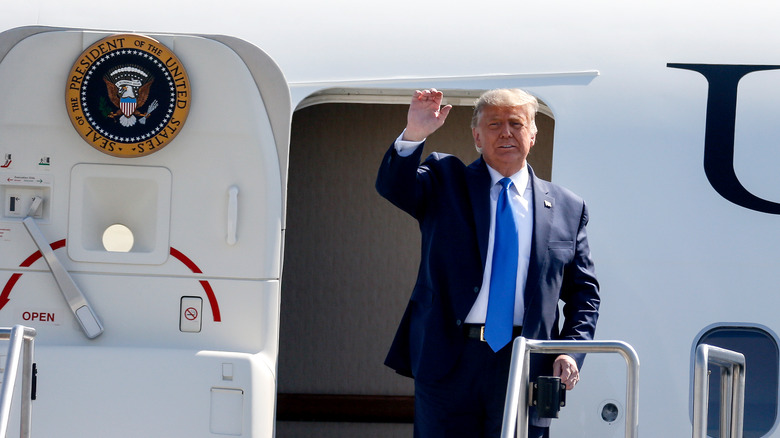 Ringo Chiu/Shutterstock
Of course, Donald Trump didn't have to ask his friends for rides on their aircraft when he lived in the White House; the official presidential airplane, Air Force One (seen here), served very nicely. But now that he's once again a private citizen, Trump appears to have signed off on a campaign to get his own plane up and running.
Insider obtained an email sent by the Trump Save America PAC (Political Action Committee) just four days after the former president's plane fiasco. The email begins, "Do you want to see President Trump's new plane?" The enclosed link goes to a donation page that explains that Trump's "team is building a BRAND NEW Trump Force One ... and [he] can't wait to unveil it for everyone to see." This apparently is a replacement for a previous "Trump Force One" personal jet that he bought and refurbished for his first presidential campaign. Readers are sworn to secrecy in the email about this newest aircraft because it seems "the fake news media" hasn't heard about it yet, before being asked to help contribute to the cost of building the plane. The suggested monthly donations range from $5 to $2,500. 
Naturally, the timing of this email didn't go unnoticed on Twitter. One commenter said, "So Trump's plane makes an emergency landing after engine failure ... then *by complete coincidence* a fundraising email is sent out looking for money to build his super-secret 'Trump Force One.'"