Is Urban Decay Vice Lipstick Worth It?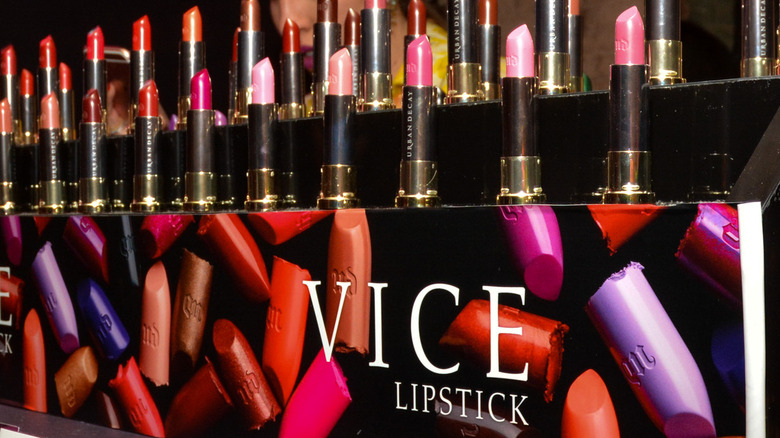 Steven A Henry/Getty Images
Before you think of lipstick as just makeup, you need to realize its true potential. Who would have thought that a tiny tube of pigment for your lips could perform miracles? The original style icon Coco Chanel once said, "If you're sad, add more lipstick and attack." She clearly knew the magical powers of the popular beauty product (via Women's Wear Daily). 
How we look can effect the way we feel. Basically, if you are feeling down, just put some lipstick on and see how your mood changes. Studies suggest wearing makeup — especially lipstick — can improve a person's confidence levels and make them feel more competent. And we could totally use more reasons to be happy with everything going on in the world right now. No wonder HuffPost reported that cosmetics sales increased during difficult times such as the Great Depression. 
Studies also suggest makeup, more specifically lipstick, might even make you more attractive to potential romantic partners. According to Psychology Today, men find women wearing red lipstick attractive because of the contrast it creates against the rest of their faces. The world is your oyster when it comes to lipsticks, and you don't need to stick to just red; you can wear shades of pink, coral, or brown from a variety of brands to feel bolder and more beautiful. 
Speaking of, we have Urban Decay Vice Lipstick for your consideration.
Urban Decay Vice Lipstick is long-lasting and luxurious
Urban Decay Vice Lipstick is described as being highly pigmented and long-lasting on Urban Decay's website. It boasts a creamy formula available in three finishes — cream, matte, and shine — and is made using vegan ingredients such as aloe vera and avocado oil. Better yet, the lipstick is said to apply like a dream. There's no shortage of variety either; Urban Decay Vice Lipstick is available in 35 shades and retails for $19 at Ulta and Sephora.
Refinery29 is a massive fan of the lipstick, which originally launched in 1996. They hyped up the quality and packaging and highlighted the range of finishes from more sheer to opaque. There is a reason these lipsticks are still so popular after over two decades: They're just that cool. Byrdie included this UD lipstick among the best long-lasting lipsticks and deemed it the most hydrating. 
Despite its noteworthy endurance, the formula won't dry your lips out and leave them chapped. Far from it, actually; your lips will feel incredibly moisturized because of the hydrating emollients. Plus, it's impossible not to find the perfect shade with such an extensive range. Makeup Alley gave the product 4.5 out of 5 star-rating and celebrated the range of shades and finishes. 
Based on what the pros are saying, these lipsticks look and feel luxurious. The matte colors are super intense yet moisturizing, and the finishes look equally magical while enhancing your pout. We'd say that makes it worth a buy!