The Truth About The Fixer To Fabulous Spin-Off Welcome Inn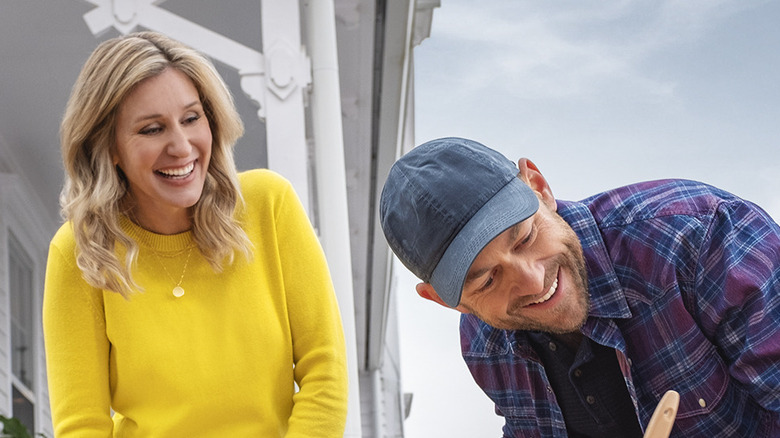 "Fixer to Fabulous" is an HGTV series starring Jenny and Dave Marrs as they restore historic homes in their hometown of Bentonville, Arkansas. 
The show plays out like many other home-renovation series, with one partner — in this case, Jenny — focusing on the design, while the other, Dave, handles the construction work (via House Beautiful). But what sets "Fixer to Fabulous" apart is the relationship between the couple and their five kids — and their farm full of animals.
Dave started his own business, Marrs Contracting, back in 2004, and Jenny joined the business after leaving her job in marketing. Years later, HGTV producers heard about their skills and reached out to the couple to pitch their show idea. The rest is history.
Today, "Fixer to Fabulous" is on Season 3, and the Marrs are more popular than ever. They are also on Season 3 of another HGTV series, "Rock the Block." 
Fans of the Marrs family will be excited to find out that they'll be appearing on our screens for yet another HGTV show, "Fixer to Fabulous: Welcome Inn." Here's everything we know about the new spin-off.
Jenny and Dave Marrs will be taking renovation to the next level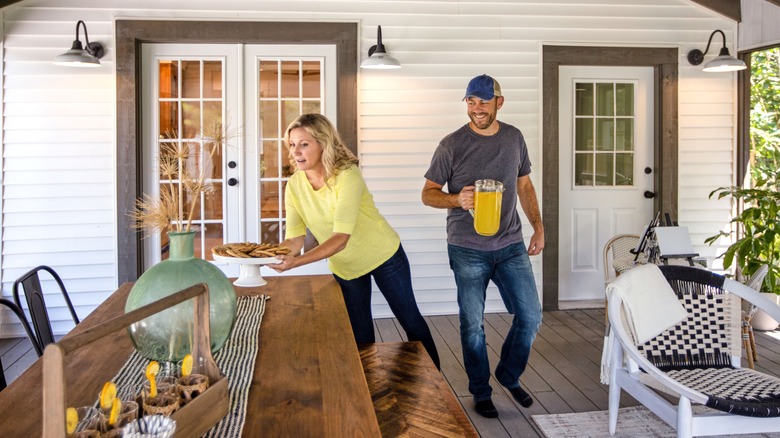 Recently, Jenny Marrs of "Fixer to Fabulous" took to her Instagram to announce some exciting news. She and her husband, Dave, are starting a new HGTV series: "Fixer to Fabulous: Welcome Inn." And, while the pair is excited about this project, it wasn't easy. In her post, Jenny discussed the difficulties of the renovation. 
"The monstrosity of a project called The Welcome Inn is finally wrapped up and we have an air date so you can all watch the madness unfold! This was truly a massive undertaking...we fell in love with a beautiful, yet downtrodden, historic home and decided to restore it early last year. It seemed like a typical home restoration for us but it ended up being a rollercoaster ride / money pit / labor of love."
Luckily for fans, that rollercoaster ride turned into a new series for home restoration lovers to enjoy. According to HGTV, the show will premiere March 15, 2022, at 9/8c and will consist of four episodes. Every Tuesday night, Jenny and Dave will take viewers along as they renovate an 1880s home and turn it into a fully functioning inn. 
Welcome Inn will focus on one big renovation project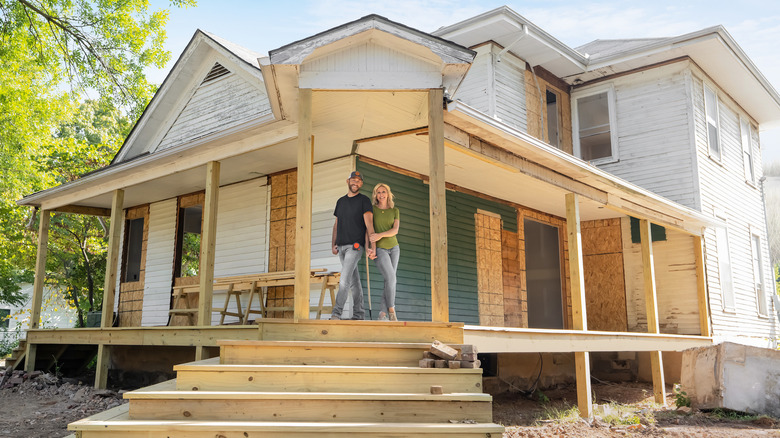 While "Fixer to Fabulous" features a new home renovation project each week, the four-episode spin-off, "Fixer to Fabulous: Welcome Inn," will take fans a bit deeper into Jenny and Dave Marrs' renovation process since it focuses on one big property. 
In a preview from HGTV, Dave explains that they "bought an old, old house that we're going to make into a bed and breakfast." While they do say that the house was a great investment, the preview shows that they may have gotten more than they bargained for with the purchase.
However, once they set eyes on the property — which is located one town over from where the family currently lives — the Marrs knew they had to rehab it. 
"We immediately knew it was such a cool house that we wanted to save," Dave told HGTV. "We didn't even know what we were going to do with it, we just didn't want to see it get torn down. So, we kind of bought it, really, without any plan."