Why Thrifters Can't Stand Depop Sellers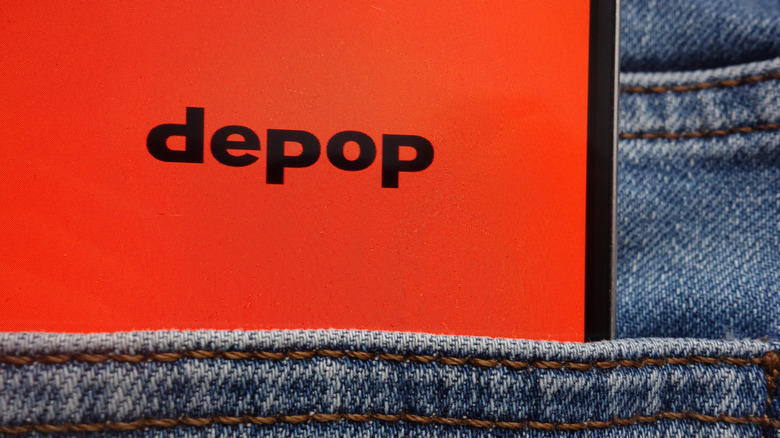 Piotr Swat/Shutterstock
Thriting was once just for penny-pinchers, hipsters, and Macklemore. For the original thrifters, there was nothing better than digging through discount bins, finding a rare designer piece, and spending hours trying on decades-old clothing.
However, internet-savvy millennials paved the way for reselling marked-up thrifted items, posted on websites like eBay. In fact, that's essentially the premise of the show "Girlboss," a Netflix series about OG girl boss Sophia Amoruso. Both in the show and in real life, Amoruso opened a wildly successful eBay store selling upcycled vintage garments, allowing her to later launch her own mega-business.
Now, buying and selling thrifted clothes online is easier and more common than ever. There are even websites and apps that offer nothing but used and one-of-a-kind fashion, sold exclusively by their communities of resellers. One of the leaders in this type of platform is Depop.
Here's how Depop works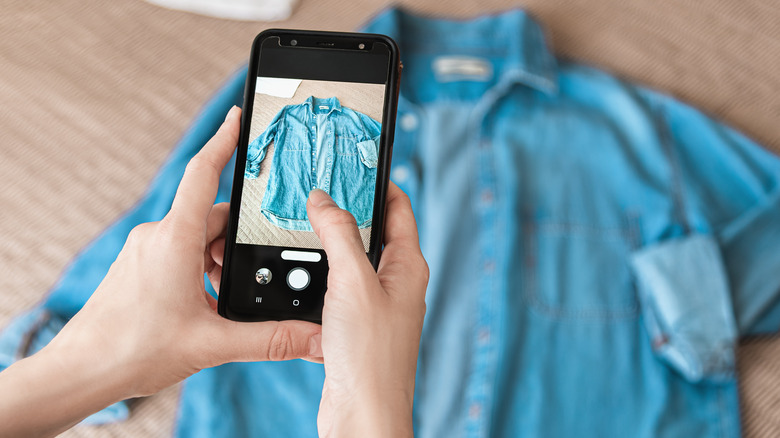 22Images Studio/Shutterstock
Depop is an app spanning over 150 countries and connecting more than 30 million users. Those users can sell and buy clothes and accessories using the platform, which promises unique fashion ranging from vintage clothes to Y2K throwbacks. Of all the categories available, thrifted and vintage items are overwhelmingly popular. In fact, brand-new products, such as drop shipped items, are generally not allowed on the app, unless the item is an original design or was pulled from a seller's closet and they just happened to never wear it. In an article for sellers, Depop recommends "[r]ag houses, outdoor markets, vintage shops, car boot/garage sales, charity and thrift stores" as "great sources of stock for your Depop shop."
Because Depop promotes thrifted and pre-loved fashion, many shoppers may argue that it's good for the environment, while sellers benefit from making money off their thrift store finds. However, many thrifters are finding fault in Depop's business model and its appeal to the masses.
Thrifters say Depop sellers are ruining thrifting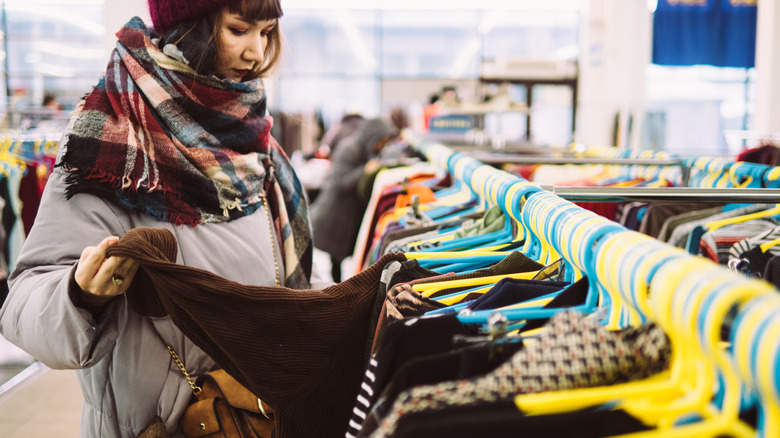 paulzhuk/Shutterstock
Most of Depop's users are young, with 90% being under the age of 26. It's also no secret that Depop has been a Gen Z favorite, once named the best resale shop in a teen survey by The Strategist. Now, the tables seem to be turning, as Gen Zers and TikTokers are worried about the ethical issues of using Depop.
For one, fashion on Depop is often wildly marked up, selling for triple or even quadruple what it cost in a thrift store. And the sellers aren't all to blame; Depop practically requires this, charging a 10% fee plus PayPal fees and shipping and packaging costs. When you consider that Depop sellers are flocking to thrift stores on the regular, buying massive hauls of items to resell online, it becomes clear that thrifting is more competitive than ever.
People who care about curating a unique wardrobe now can't or must pay a premium to do so. Additionally, those who depend on inexpensive thrifted clothes to save money must now be extra strategic. To find a good deal, it's imperative to visit local thrift stores regularly (and early) to compete with Depopers looking to scoop up anything in remotely good condition.
For many who love thrift stores, though, the problem is much more simple: The reward of thrifting for rare finds is gone now that sites like Depop have exploded. What was once a fun passion may never be the same.