Here Is Where You Can Buy Y2K Fashion Pieces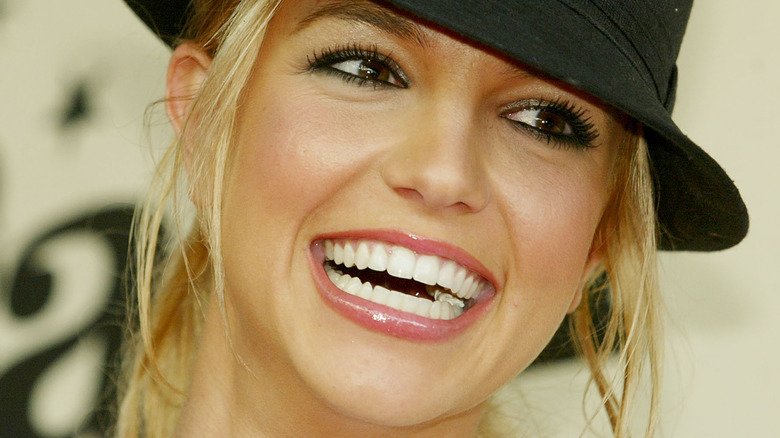 Kevin Winter/Getty Images
What goes around, comes around, especially in the fashion world. While it might make many millennial readers feel old, Y2K is technically considered "vintage" in 2021. According to Refinery 29, Gen-Z TikTokers are gravitating toward styles popular in their early youth (and even before their birth) for a sense of escapism.
Long before the Kardashians took the world by storm, Y2K was the era of the late '90s to the early 2000s, per The TrendSpotter. This happened to be when the internet started to emerge in popularity, influencing many technology-themed graphics on clothing designs. Other trends included Juicy Couture velour tracksuits, as seen on Paris Hilton (via Vogue), infamous low-rise jeans, simple baby tees, butterfly clips (via L'Officiel), chunky sandals, and rhinestones. Oh so many, many rhinestones. 
Think: teenage Britney Spears, Destiny's Child, Christina Aguilera, and Avril Lavigne.
If you're looking to fuel your nostalgia by taking it back 20 years in your clothing choices, there are fortunately many accessible options with online retailers. For authentic vintage selections, be sure to check out sites like Depop and Etsy for original pieces. However, if you're looking for something unworn with a fresh 2021 spin, there are many platforms to turn to that are utilizing this exciting Y2K comeback trend.
If you're going for an edgy Y2K look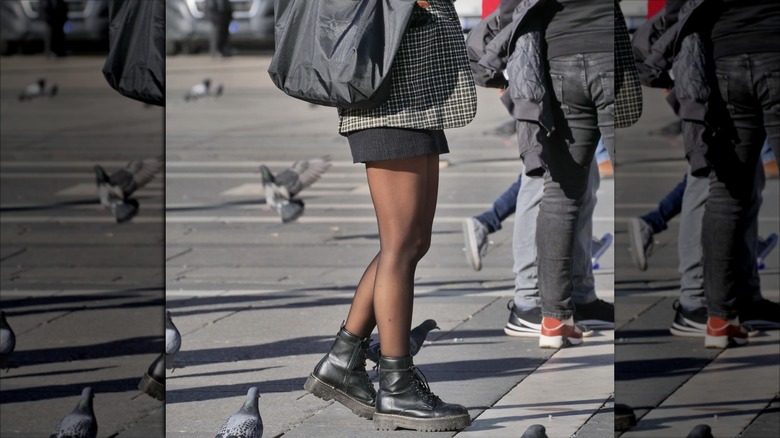 Shutterstock
If you're not one to shy away from a grungier, alternative look (think Avril Lavigne's "Sk8R Boi" or Hot Topic "mall goth," according to Fashionista), then Dolls Kill is your best friend. It comes with a plethora of selections of flannel, baggy jeans, mesh tops, and many other wild items that are not for the faint of heart. For true Y2K vibes, it even has its own "Delias" line, bringing back clothing from one of the most iconic (and now unfortunately defunct) staple stores of the '90s and 2000s, according to Business Insider. A rhinestone-encrusted cropped tank top, for example, mixes the best of both worlds of daring and bedazzled, being the ultimate early-2000s throwback.
For more affordable options in similar clothing, check out Nasty Gal's "retro clothing" section, fully equipped with '90s denim, graphic tees, and loud platform sandals you can spot from a mile away when done in neon bright colors. Wearing comfy, in-your-face sandals, your feet will scream "blast from the past" as you'll surely stand out in a crowd.
If you're going for a feminine Y2K Look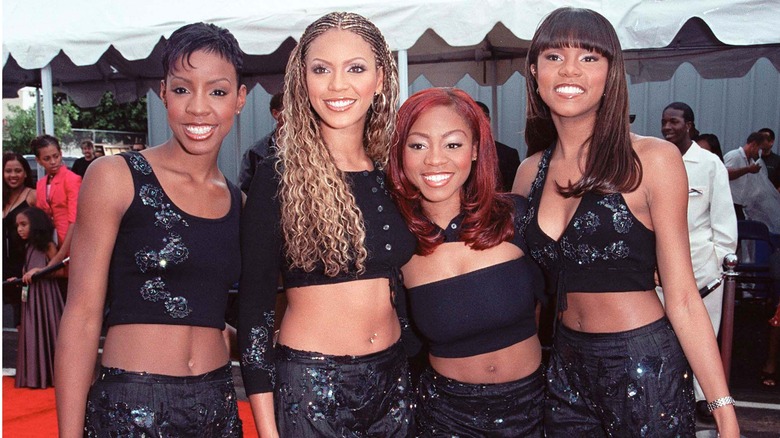 Shutterstock
If you're looking to make a statement without necessarily scaring people, be sure to check out ASOS' "Reclaimed Vintage" line that "combines innovative design and vintage style across its collections." A cropped tank with thick straps and girly pink trim perfectly encapsulates the essence of the early 2000s, while still looking original and not too cheesy. Pair the simple design with bolder patterns for a more authentic Y2K-era look.
A lesser known (but still equally great) website, Cider, is an affordable option for the perfect blend of throwback and modern vibes, especially their "Feeling Retro" section for unique knitted tanks and halter tops galore. According to the Merriam-Webster dictionary, the definition of "retro" is: "Relating to, reviving, or being the styles and especially the fashions of the past: fashionably nostalgic or old-fashioned." With a girly and form-fitting plaid miniskirt, you'll be channeling your inner Cher in "Clueless" for the optimal '90s style.