How Matthew Atkinson Really Feels About Douglas Forrester's Living Arrangements On Bold And The Beautiful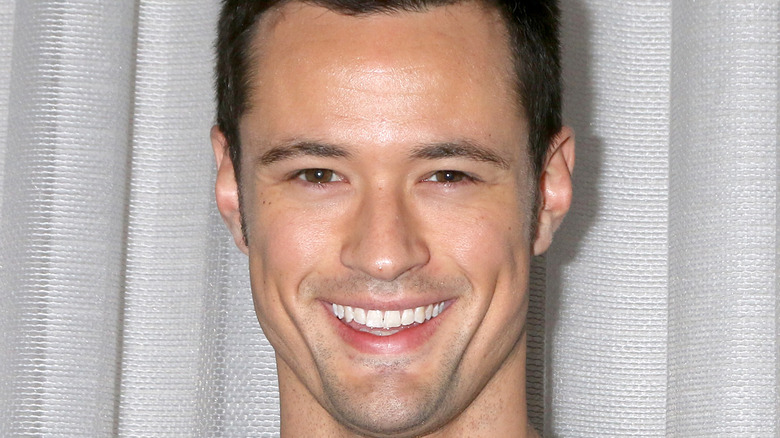 Kathy Hutchins/Shutterstock
Douglas Forrester is a boy with a very strange parental setup on "The Bold and the Beautiful," but then again, he also has an unusual parental history. His mother, Caroline (Linsey Godfrey), was married to the much older Ridge Forrester (Thorsten Kaye) when she got loopy on cold medicine had sex with Ridge's son, Thomas Forrester, then played by Pierson Fode. Since Ridge had a vasectomy without telling Caroline, he knew her baby could not be his and they eventually split.
Caroline, Thomas, and baby Douglas later moved to New York together, and when Thomas returned, now played by Matthew Atkinson, Douglas (Henry Joseph Samiri) was about 5 and Caroline had died, making Thomas a single dad. He soon became obsessed with Hope Logan Spencer (Annika Noelle), who mistakenly believed her baby had died. She and Douglas grew close as she used him as a replacement child and Hope even nearly married Thomas, but then learned her baby was alive and reunited with little Beth's dad, Liam Spencer (Scott Clifton). That's when Douglas' living situation got even stranger.
Douglas becomes Hope's child
After Hope and Liam reunited, Hope decided she wanted to keep Douglas and somehow convinced a distraught Thomas into signing papers that allowed her to legally adopt him, while still keeping Thomas as his father. Granted, fans learned Thomas was not in his right mind when he was obsessed with Hope and even used Douglas as a pawn to win her, but he is still the boy's father and it was very odd to see a child who is not an orphan adopted by a woman who was never married to his father.
With Thomas sane again, he and Hope established a joint custody agreement for Douglas and the boy calls her "Mommy," despite the fact that he had a mother who loved him named Caroline. In fact, Douglas is often seen with Hope more than he is seen with his own father, which has some fans wondering how Douglas ended up like this.
Matthew Atkinson is ready for Douglas to return home
For months, "The Bold and the Beautiful" fans didn't even see Thomas and Douglas together, but he finally visited his father's apartment in the fall and wondered if Thomas' new friend, Paris (Diamond White) was his dad's new girlfriend. (She is not.)
At the time, Matthew Atkinson was thrilled to finally see his character reunited with his son and took to Instagram to share his thoughts of Douglas' odd living situation.
"Who's happy to see Douglas back in his dad's arms? Who also thinks he should be back living with his actual father and not pawned off to our resident daycare?," Atkinson wrote next to a photo tweeted by the soap. "Who thinks Liam needs to focus on his own kids first? Who thinks Hope isn't his actual mom and Thomas should open up his dating pool outside those he can hit with a pen from his desk at work?"
As of this writing, Douglas is still living with Hope, but even he looks happier when he is around his dad than when he is around this woman who decided she is his mom.