Donald Trump's Music Of Choice At Mar-A-Lago Takes Him Back To The Campaign Trail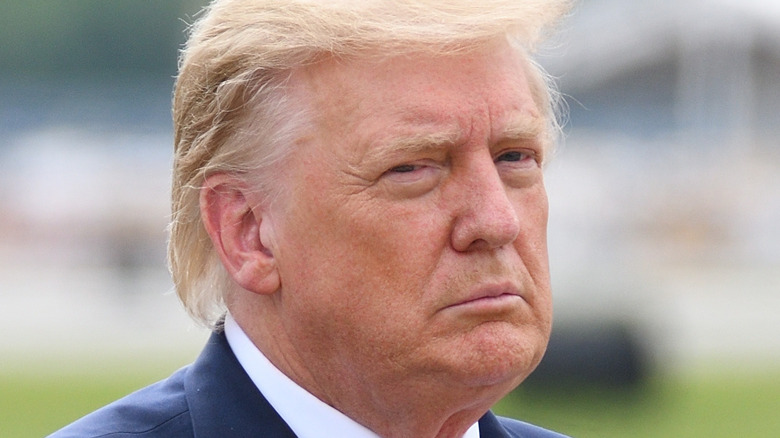 Evan El-Amin/Shutterstock
Donald Trump has taken on an unexpected new job following his presidency. As Business Insider reports, the former commander in chief is enjoying working as a DJ for parties at his Florida residence, Mar-a-Lago. 
Trump lets his musical taste guide the selections he plays for his guests. And exactly which tunes the Republican leader enjoys may also surprise you. Of course, if you recall, the controversial figure's arrival song on the 2016 campaign trail was Twisted Sister's "We're Not Gonna Take It" (via The Washington Post). Another Trump favorite? Led Zeppelin's "Communication Breakdown." Tom Petty's estate famously asked Trump not to use "I Won't Back Down" during his 2020 campaign (via NPR).
But classic rock is not the genre the 75-year-old turns to at events these days. Instead, Trump prefers to spin Broadway tunes — and has a song that he says always gets people moving on the dance floor.
Donald Trump has a certain song he always plays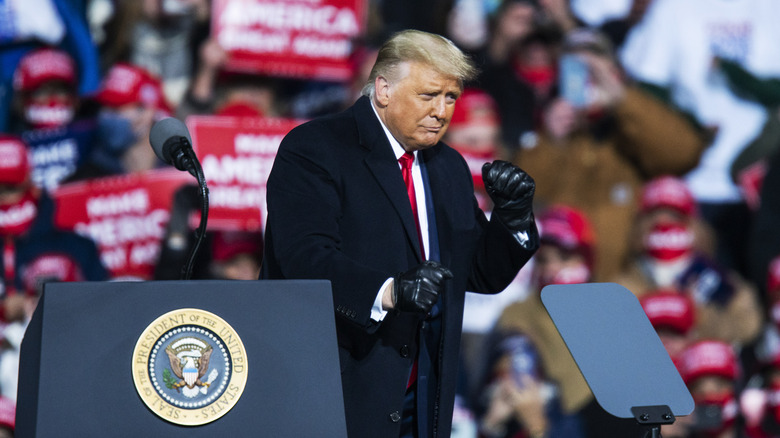 Eduardo Munoz Alvarez/Getty Images
According to Business Insider, Trump recently spoke on the "Full Send Podcast" about his love of playing DJ at parties at Mar-a-Lago. "I've always had a high aptitude for music. But I love great music," the former president said during the interview.
Among the music he prefers most are songs from the Broadway shows "Phantom of the Opera" and "Les Misérables." According to the conservative leader, there is one song that he claims is a true crowd pleaser. "You know what gets 'em rocking? 'Y.M.C.A.,'" Trump told the podcast's hosts, the NELK Boys. He added, "People love it when I do it." Trump was also fond of playing — and dancing to — The Village People's song on the campaign trail in 2020. 
Meanwhile, in February, New York Times reporter Maggie Haberman tweeted about a note she'd received about an evening at Mar-a-Lago. The contents advertised "great music," which would be shared during dinner that weekend, "with President Trump playing the role of disc jockey." The note went on to say, "The music will be amazing, it will be lots of fun, and will go until the late evening" (via The Guardian).