Kourtney Kardashian's Pregnancy Rumors Have Fans In A Tizzy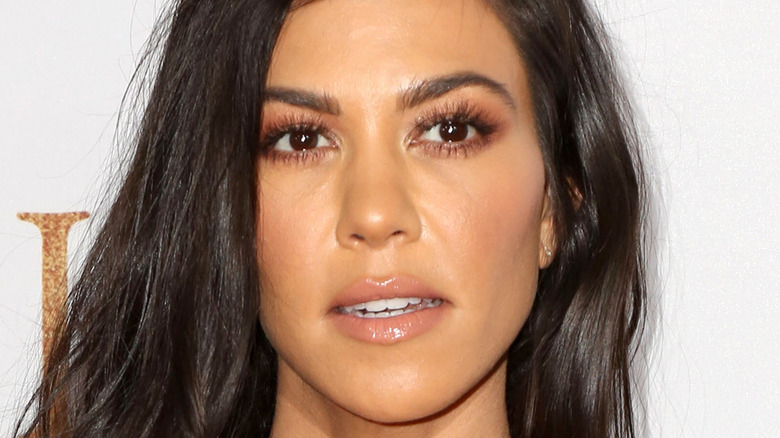 Kathy Hutchins/Shutterstock
The Kardashian family's days on TV may be over (at least until the debut of their new Hulu show), but fans are still eager for any news they can find about the famous clan — particularly the sisters. From Kim's romance with Pete Davidson to the recent birth of Kylie's new baby, Wolf, the Kardashian and Jenner women manage to stay relevant in the headlines. And in between, they keep busy with their various lines of clothing, makeup, perfume, and, in Kendall's case, even tequila, according to The U.S. Sun. 
In October 2021, all the buzz centered on Kourtney Kardashian when she announced her engagement to Travis Barker on Instagram. The Blink-182 drummer went all out with a romantic beach proposal, complete with a huge arrangement of roses and candles. No wedding date has been announced yet, although an unnamed source has told Us Weekly that the nuptials could be taking place as soon as this spring. "[Kourtney] doesn't want any details of her wedding getting out as she wants it to be a surprise to guests," the insider said. "It's going to be a fairy-tale wedding for sure, though."
Now, some followers are speculating that the wedding may include a surprise guest as Kourtney's latest social media photos strongly hints that the reality star is pregnant.
Fans think Kourtney's outfit is hiding a baby bump
Kourtney Kardashian and fiancé Travis Barker recently spent a relaxing day in Laguna Beach, California. Her March 12 Instagram post shows the couple cuddling by the ocean and enjoying a vegan lunch. But the photos of Kourtney in a bikini only showed her from the rear, and the only front-facing photo (seen here) shows her in an uncharacteristically loose-fitting sweatshirt and jeans. This started the baby rumors flying.
"Is Kourt preggers?" asked one Insta follower. "[Her stomach] looked a little round on the way back from the ocean ... plus she was trying to conceal it a little." Another agreed, "I notice[d] that too ... even how [Barker] moved in front of the camera and turned her around." One fan even made a guess about the supposed baby's gender: "She is pregnant for sure! Hips are filling in ... I say baby girl on the way."
Others scoffed at the gossip. "People have been saying she's pregnant since last year," remarked a follower. Another attributed Kourtney's looks to her hearty lunch: "If I eat one too many tacos my hips fill-in." A third pointed out that these rumors could actually be hurtful because "they might be struggling to get pregnant, unable to have kids or have body issues."
If the speculation is actually true, this would be Kourtney's fourth child and Travis's third. The Kardashian sister shares two sons and a daughter with her ex, Scott Disick, and the rocker has two teens with ex Shanna Moakler and shares a close relationship with his stepdaughter (via Capital FM).