Everything You Need To Know About Kesha's Beauty Brand, Kesha Rose Beauty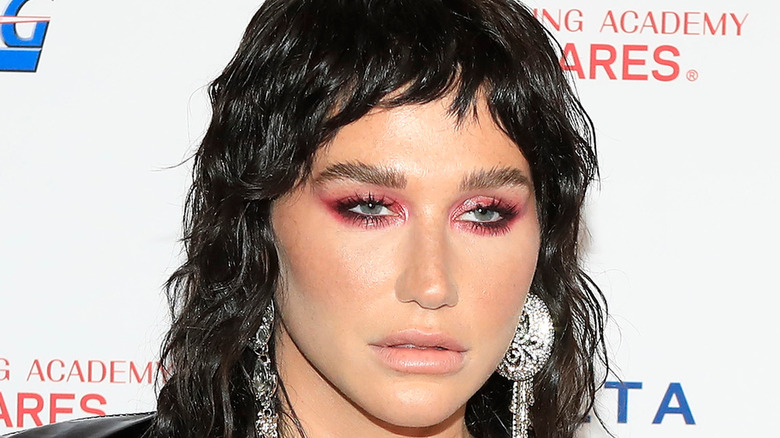 Kathy Hutchins/Shutterstock
On March 1, 1987, Kesha Rose Sebert was born in Los Angeles, California to accomplished singer and songwriter Pebe Sebert. To this day, Kesha claims to not know who her father is but carry's suspicion that it's Mick Jagger, according to The Famous People. As a child, Kesha accompanied her mother to live performances and, with the support of her Sebert, began to hone her skills in songwriting at a young age. Following in the musically gifted footsteps of her mother (and possibly her father), Kesha was signed to a label by the time she was 18 years old. After a harrowing almost decade working with record executive Dr. Luke, Kesha's musical career came to a standstill.
In 2016, Kesha returned to the stage to perform at Coachella. She has since released two full-length albums to much critical acclaim as well as a single with Grandson and Travis Barker, per Spotify. After so much success in the music industry despite adversity along the way, the "We R Who We R" singer has released something a little different — a beauty line named Kesha Rose Beauty after the songstress herself, per HipDot.
Kesha found unique inspiration for her popular palette
Since its initial release on December 6, 2019, Kesha Rose Beauty has been catching the attention of fans and beauty lovers alike, per NYLON. Kesha's makeup artist, Vittorio Massechia, has been working with the artist to develop her signature style full of bold colors and eye-catching looks, and one unique experience in a national park led to that boldness and color being included in the collection.
In an interview with Billboard, Kesha recalled a time that she, her band, and her makeup artist decided to spend an evening camping in Yellowstone National Park. "We all went deep into the woods and were up the whole night painting each other's faces with different colors, running around the woods. It was such a beautiful moment with friends and people I work with. We had so much fun, so a huge part of that memory inspired me to want to have all of these colors in my palette," she said of the experience. The palette, called the "FTW" palette, consists of twelve unique eyeshadow shades in bold hues, each one named after a different song.
On HipDot, the palette is currently available on its own for $36 as well as in a set with other products in the Kesha Rose line. The set that includes every product is $86 and it includes two lipsticks in shades Raising Hell and Kesha, a lip gloss, and a set of dual-ended liquid eyeliners.
The popstar put thought into the details
The famous party girl also wanted to add a personal touch from her family to the line, and she drew art deco inspiration for her packaging from the beauty products she saw in her grandmother's collection. "I felt really special and beautiful [holding her products]." she explained, recalling to Billboard that her grandmother's makeup collection was her first exposure to cosmetics. The collection's red lipstick, a fiery shade called "Raising Hell," pays homage to the red lipstick her grandmother wore regularly.
Kesha, as an animal lover, also wanted to make sure that her products were made without animal testing and with 100% vegan ingredients, per PETA. The superstar put countless hours into developing a personalized product. Since the line's launch in 2019, the products have amassed tons of 5-star reviews on it's distributors site. The colors are bold for a night out, or for any time you want to strand out in the crowd. After all, Kesha herself said that that's what life is all about, "embracing who you are while standing fearlessly together to celebrate our differences," per PETA.