Here's What Cara Delevingne Looks Like Going Makeup-Free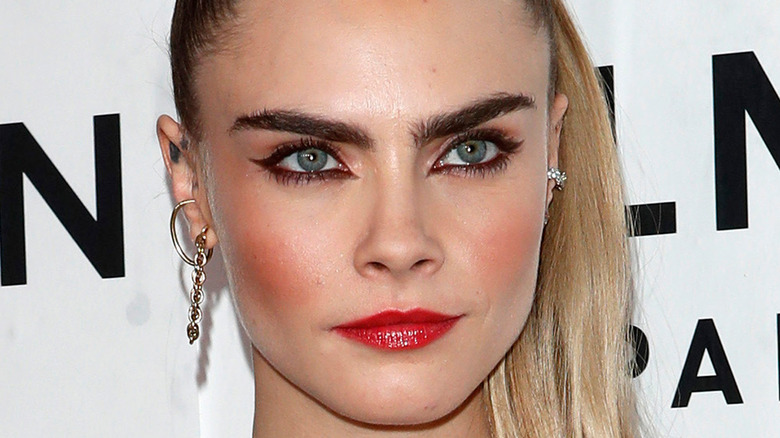 Kathy Hutchins/Shutterstock
If you've ever filled in your eyebrows, you probably have Cara Delevingne to thank. The model-turned-actress landed her first modeling gig at the tender age of 10 for "Vogue Italia." The young model left a major impression with her youthful bushy brows, and even as she's grown older, she never abandoned her full brows — inviting the rest of us to microblade and pencil in our own.
Nearly a decade after Delevingne broke into the world of modeling, she continues to set the bar for beauty. She knows how to stun, whether rocking an edgy outfit with dark makeup or turning heads in an avant-garde ensemble. The gender-fluid star is also no stranger to experimenting with both masculine and feminine looks, pulling off both with ease.
Because Delevingne is often seen wearing strong makeup looks in magazines or taking on the styles of her characters in series like "Carnival Row" and films like "Suicide Squad," we rarely get to see her completely makeup-free. But even without a dab of concealer, the supermodel's natural beauty shines through.
Cara Delevingne is gorgeous yet relatable with no makeup
In a June 2021 post on Cara Delevingne's Instagram, the model and actress showed off a goofy grin and her signature brows. She appeared completely barefaced and just as stunning as ever. But without the professional makeup, she looks like she could be one of us, like the quirky-cool friend you call up when you need to have some fun.
Delevingne's makeup-free photo is a small reminder to not get fooled by the perfectly done up hair and makeup celebrities are usually seen sporting. On their days off, they're not that different from the rest of us.
Celebs like Delevingne also struggle with body image issues, despite being praised for having model-good looks. She once admitted to having insecurities that led her to consider plastic surgery. But the model is proof that beauty is about a lot more than how you look. When asked by Elle Australia how she perceives beauty, Delevingne explained, "To be beautiful—to feel beautiful—is a choice and a daily routine and a daily practice. Beauty isn't just about a specific type of look or fitting into a box. It's about being confident in your own skin."