What Is The Best Whitening Toothpaste If You're On A Budget?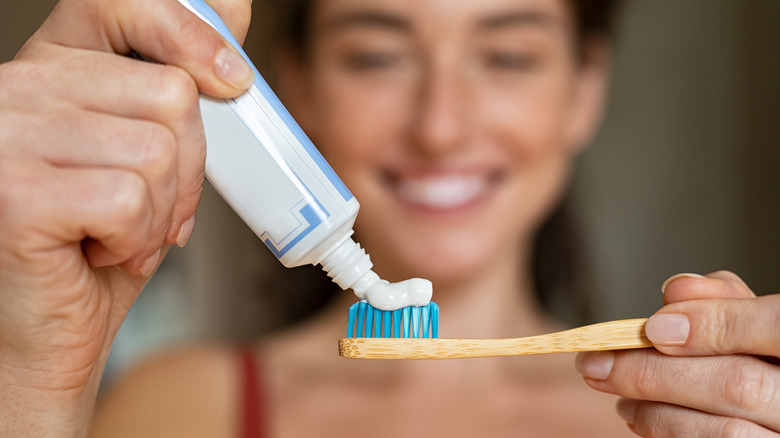 Rido/Shutterstock
We may receive a commission on purchases made from links.
Clean, white teeth have been a significant beauty standard for as long as we can remember. After all, who can resist a bright, toothy smile? While everyone seems to desire snow-white teeth, most people's teeth aren't perfectly white, or at least not naturally. According to Healthline, many people try to whiten their teeth with various strategies, objects, and foods. Some methods and items that people use to whiten their teeth include oil pulling, baking soda, hydrogen peroxide, and strawberries. Keep in mind, though, that baking soda can damage your skin. If you're using this product to whiten your teeth, take preventative steps to ensure it doesn't get on the skin around your mouth during this process.
If you're not interested in using these quirky techniques to whiten your teeth, invest in a good whitening toothpaste instead. Whitening toothpaste should be easier to use than other household products, since you already have to brush your teeth anyway. While you shouldn't expect this type of toothpaste to magically whiten your teeth perfectly overnight, it can help get rid of some minor stains for a cleaner overall look (via Mayo Clinic).
Several brands sell whitening toothpaste, so the choices seem overwhelming at first glance. Some can get pricey, but we know which options will help you get whiter teeth on a budget!
This is the best whitening toothpaste if you're on a budget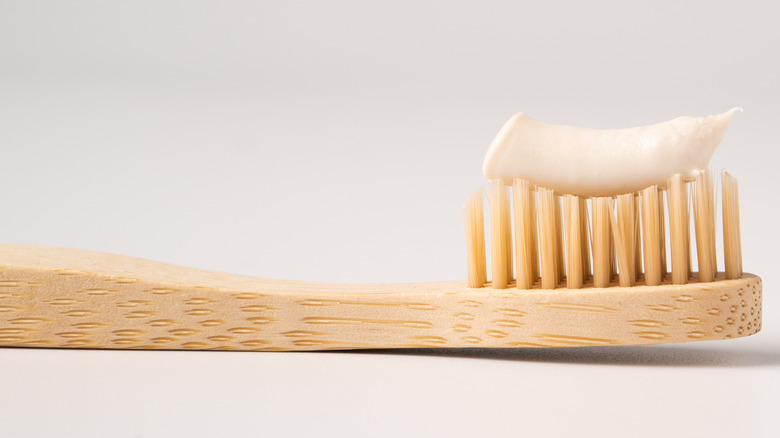 Nataliia Karabin/Shutterstock
According to Byrdie, Arm & Hammer's Extreme Whitening Toothpaste is the best option for people who want to whiten their teeth without breaking the bank. This affordable toothpaste is available at Walgreens for around $3, and it's made with baking soda and peroxide — both ingredients whiten teeth naturally. We think that $3 is a small price to pay for cleaner, whiter teeth, especially considering the great reviews this product gets. With a 4.5 star rating, customers can't get enough of this toothpaste, and for such a low price, it might not be a bad idea to buy it in bulk if it works for you.
If you're willing to spend a bit more money, Byrdie also recommends the Crest 3D White Brilliance Toothpaste. This option isn't necessarily as affordable as Arm & Hammer, but it costs less than $7 which still feels like a bargain. Plus, the reviews for this product are glowing, as it has a 5-star rating with over 50 reviews on the Bed Bath & Beyond website. Claiming to get rid of all stains in only five days, this toothpaste definitely seems to be worth the money.
Both products seem very helpful for cleaning and whitening teeth, so if you're unsure of which is best, invest in both and see which one you like more.
These are some of the most budget-friendly whitening toothpastes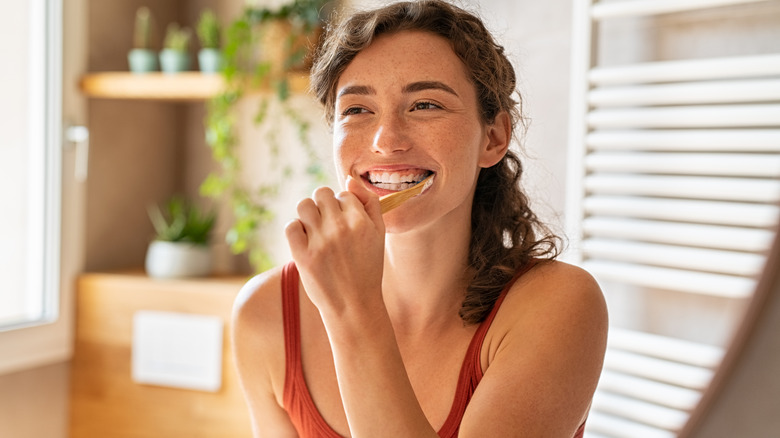 Rido/Shutterstock
While we love both of those whitening toothpaste options, there are plenty of other budget-friendly choices. Insider recommends Colgate's Optic White Advanced Whitening Toothpaste, which is currently available at Target for just under $5. With 800 reviews, this product still manages to earn a 5-star rating, which is a clear indication that it works super well in addition to being affordable.
Allure recommends Hello Naturally Whitening Fluoride Toothpaste, which is also available at Target, as it has an American Dental Association acceptance seal. Not only is this product trusted by dentists, but it's sold for less than $4, and it has a 5-star rating on Target's website. Between dentists trusting it, the low price, and the glowing reviews, what's not to love? 
You won't be able to find a more affordable option, though, than Ultra Brite's Advanced Whitening Fluoride Toothpaste, which is sold at Walgreens. We were shocked by how inexpensive this product is, especially since it has a rating of 4.7 stars. Available for less than $2, this toothpaste is a steal! One more unbelievably affordable whitening toothpaste is the Jason Powersmile Whitening Fluoride-Free Toothpaste. Currently available at Amazon for only $2.99, this product has 4.5 out of 5 stars with over a thousand reviews, and it's reportedly free from harsh chemicals. Sounds like a great deal to us!