Is Mario Badescu Vitamin C Serum Worth It?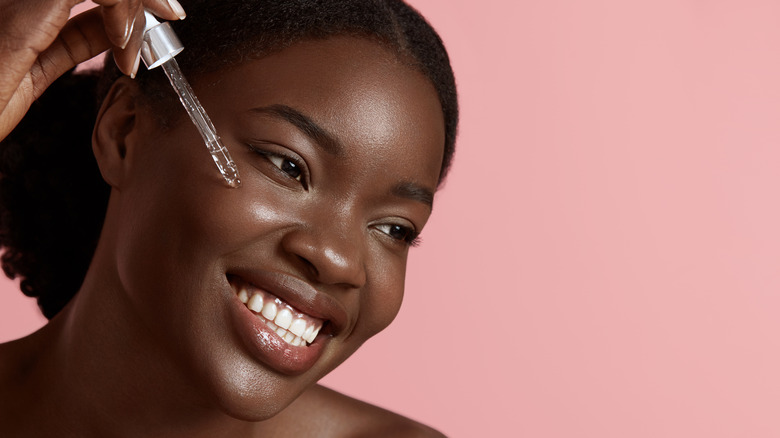 Puhhha/Shutterstock
We may receive a commission on purchases made from links.
In a world where we are constantly being introduced to the next big ingredient, vitamin C has stood the test of time because it is one of the most hyped and miraculous ingredients that can do wonders for your skin. But what are all the magical powers of vitamin C? Dermatologist Karan Lal told Elle, "Vitamin C is a topical antioxidant that has many beneficial properties. It is a powerhouse ingredient that helps us fight free radicals that constantly damage our skin. It reduces hyperpigmentation, stimulates collagen production, and acts as a cofactor for many cellular processes to maintain naturally glowing skin."
If you want brighter and healthier skin, you should be using a vitamin C serum every day. Depending on your skin type, you can choose from various forms and concentrations (5-30%) of the ingredient. Just remember that the higher the concentration, the more irritating it can be on your skin though anything between 8-20% can give you visible results, per Pillow Talk Derm. It is important to keep in mind that vitamin C is unstable, so it is best to get one that comes in a darker or opaque packaging to keep it effective for longer, per Harper's Bazaar. Tons of skincare brands have their own vitamin C serums, and depending on your budget, you can purchase drugstore or high-end versions. Here, we will learn about Mario Badescu Vitamin C Serum to see if it is worth the investment.
Mario Badescu Vitamin C Serum has the most potent form of vitamin C
Mario Badescu Vitamin C serum has ascorbic or L-ascorbic acid, the most potent and the most unstable form of vitamin C. It means you will see the quickest results though this form of vitamin C can oxidize the fastest, so it is good that this serum comes in a dark green glass bottle to retain its efficiency. This effective serum promises you a youthful glow while protecting you from free radicals and environmental stressors. It's perfect for most skin types unless you have sensitive skin, as it might be more irritating. It retails for $45 at Ulta and Sephora.
Elle is a fan of this powerful serum that combines vitamin C, collagen, and lavender oil so it can brighten and soothe your skin. It smooths fine lines and plumps your skin, plus smells like a spa. The New York Post loves how noticeably "bright and glowy" it makes your skin look to the point that it will make you stand out. It might not be the best for overly oily skin. Allure loves this gem of a vitamin C serum because it does exactly what it says without the fluff. Regular use is guaranteed to fade discoloration and hyperpigmentation. The Derm Detective considers it the best vitamin C serum for redness because it is natural and effective. It also has cucumber and ginseng to further protect skin from getting puffy or red.