Body Language Expert Reveals Unexpected Aspect Of Kate And Camilla's Relationship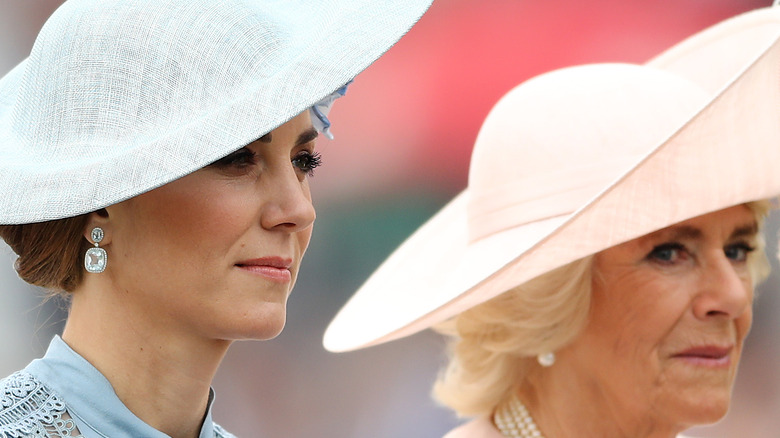 Bryn Lennon/Getty Images
In February 2022, Queen Elizabeth shocked royal watchers when she announced that Camilla Parker Bowles will be queen consort when Prince Charles ascends the throne. "[W]hen, in the fullness of time, my son Charles becomes king, I know you will give him and his wife Camilla the same support that you have given me; and it is my sincere wish that, when that time comes, Camilla will be known as queen consort as she continues her own loyal service," the queen in a statement posted on the royal family's official Twitter.
It was a surprising move due to the fact that Camilla was expected to take on the title of princess consort when Charles becomes king (via SCMP). While some might expect Prince William and Prince Harry to be upset about the queen's change of heart, sources say that William is supportive of his grandmother's decision. "His relationship with the Prince of Wales is better than it ever has been. He is not particularly close to his stepmother but they get on perfectly well and are quite the blended family now," a source told the Daily Mail. "He also respects his grandmother and her judgment more than anything in the world. If it is right for her, then it will be right for him."
And as Camilla prepares for her future role, she isn't alone. William's wife, Kate Middleton, will also one day hold the title of queen consort. So how do the ladies get along?
Kate Middleton showed great affection for Camilla Parker Bowles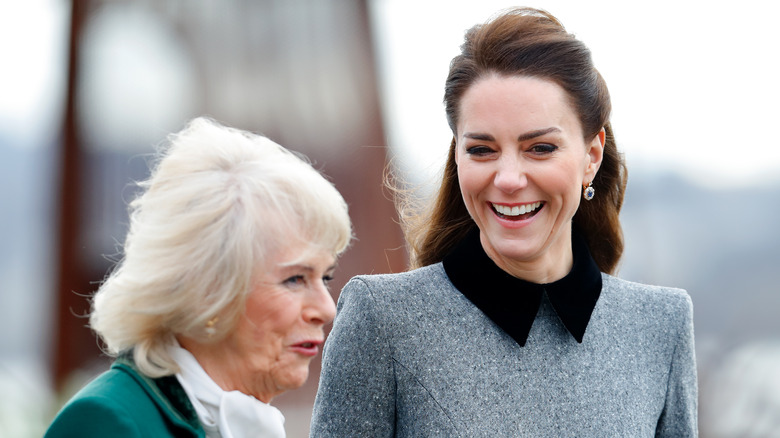 Max Mumby/indigo/Getty Images
As they both prepare for their roles as queen consort, it might be assumed that there is competition between Kate Middleton and Camilla Parker Bowles. But according to a body language expert, the two women seem to have nothing but love for one another. In March 2022, Kate and Camilla attended the Commonwealth Day service with their husbands — and Kate went out of her way to greet her mother-in-law warmly. 
"Kate touched Camilla's arm with her left hand as an add-on gesture to suggest closeness and affection as they cheek-kissed. She also performed a huge 'act of inconvenience' to show respect, bending her knees to lower herself right down to plant her kiss on Camilla's cheeks," body language expert Judi James told the Mirror. "Her hand on Camilla's arm dropped but she then replaced it for one final squeeze. These greeting add-ons are tie-signs that would signal to Camilla and to the rest of the world that Kate is keen to register affection and closeness with the woman who will be on the throne before her."
James added that the respect and admiration between the two women at the event — as well as Prince Charles and Prince William — was a clear message that they are a united front, calling it "an emphatic statement of closure after the unbearable tensions and open rifts of 2020, when Harry and Meghan were biding farewell to the UK."