Mitt Romney Has Harsh Words For Tulsi Gabbard Following Her Fear-Inducing Comments On Ukraine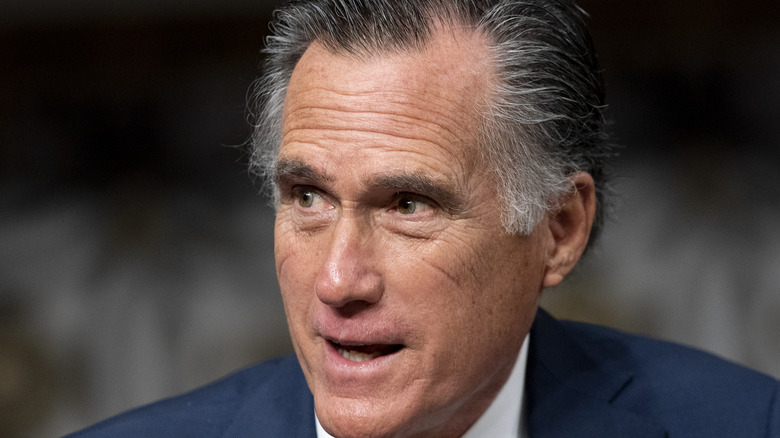 Pool/Getty Images
One major conspiracy theory being spread about the Russian invasion of Ukraine is that Ukraine holds "U.S.-funded biolabs." Over the past few days, the theory has gotten more attention, especially in "Russian social media, far-right online spaces, and U.S. conservative media, including Tucker Carlson's show on Fox News," according to NBC News.
The theories often get the Q-Anon treatment — with claims about Dr. Anthony Fauci and President Joe Biden being behind the creation — but are used by Russia "to justify" Russia's military efforts, NBC News reports. Disinformation experts told NBC News that Russia often "makes allegations against other countries and populations that reflect similar attacks it plans to make." Russian and Chinese state-run media have both been spreading the idea that the U.S. is funding and creating biological weapons in Ukraine, per Business Insider.
The problem is the fact that the United States has been working with Ukraine on biological research hasn't been a secret. The Department of Defense's director, Robert Pope, shared a report on biological research facilities in February, prior to Russia's invasion. According to the Daily Mail, the report talked about frozen material that could thaw and cause "devastating consequences if the labs were damaged during fighting." 
On March 11, the World Health Organization came forward, saying they had already "advised Ukraine to destroy high-threat pathogens" to prevent "any potential spills that would spread disease among the population." According to The Independent, Ukraine did just that at the beginning of the invasion to "limit the danger of an accidental release of pathogens."
This is why Tulsi Gabbard is being called a traitor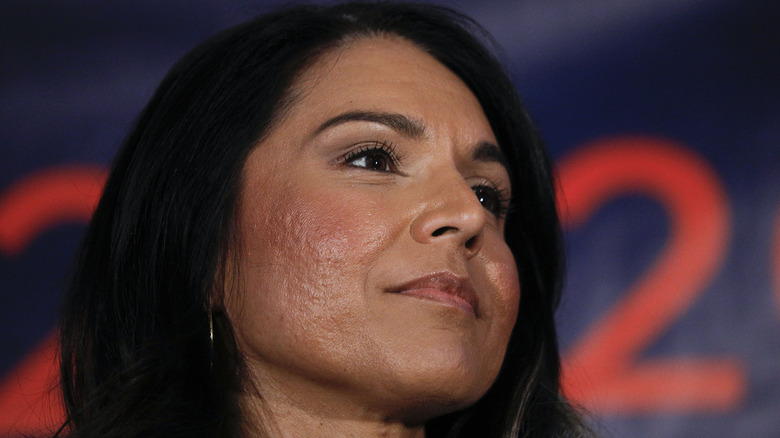 Bill Pugliano/Getty Images
One of the reasons the biological weapons claim is getting renewed interest is because of Twitter. Over the weekend, former Democratic presidential candidate and House of Representatives member Tulsi Gabbard posted a video about her fears about the research labs in Ukraine.
In the video, Gabbard talks about the "25 to 30" labs that "if breached, would spread deadly pathogens" to the U.S. — and the whole world. Gabbard's video has auspicious timing. It came after the Russian ambassador to the United Nations accused the U.S. of "funding into vectors or potential agents of biological weapon[s] including bats, birds, fleas, and lice," on Friday, per the Daily Mail. Perhaps this is why Mitt Romney took to twitter, saying, "Tulsi Gabbard is parroting false Russian propaganda." He added, "Her treasonous lies may well cost lives."
While Tucker Carlson interpreted Romney's tweet as calling Gabbard a "murderer" on his show on Monday, he and Gabbard both have been featured widely on Russian state media. Julia Davis of The Daily Beast tweeted a picture, writing, "Russia's state TV showcases clips of Tucker Carlson and Tulsi Gabbard, helping to perpetuate the myth of dangerous 'bio-weapons' in Ukraine. This conspiracy theory is being spread by Russia's state TV with special zeal."
Gabbard has since clarified that she was talking about pathogens thawing and being released only. "'Biolabs,' 'bioweapons labs,' and 'bioweapons' are three very different things," she explained in a thread on Twitter, saying that there can be "miscommunication" and "misunderstanding" around the terms.