Second Gentleman Doug Emhoff Just Tested Positive For COVID-19. Here's What We Know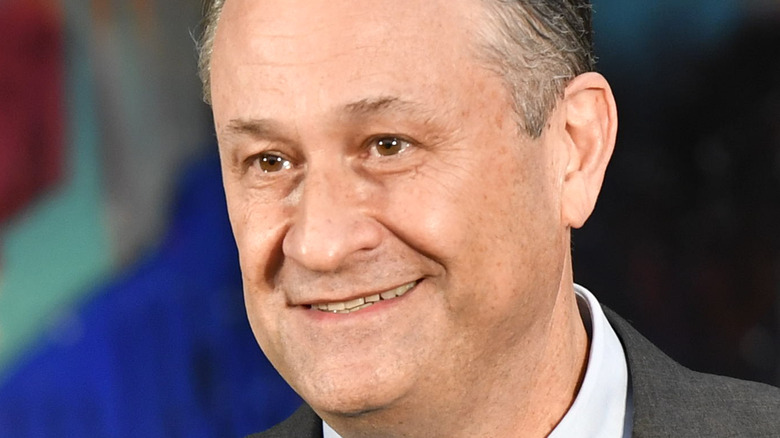 Pool/Getty Images
We've come a long way since COVID-19 first entered the U.S. in 2020. We've gone from lockdowns and isolation to re-openings and socializing. Vaccines and boosters are widely available, mask mandates are lifting, and you almost never see shoppers using the social-distancing markers on cash register lines anymore. Still, the highly contagious virus is far from over, and every day brings proof of that.
In recent weeks, a number of prominent public figures have tested positive for the coronavirus. Queen Elizabeth had to quarantine and cut back on her official engagements after her diagnosis in February, according to CNN. This, just days after Prince Charles tested positive for the second time, shortly followed by his wife Camilla Parker Bowles (per New York Post). In the entertainment world, Justin Bieber just recovered from the virus, and doctors are wondering whether his wife Hailey's stroke scare might have been COVID-related as well (via Page Six). Then, on March 16, former president Barack Obama tweeted, "I just tested positive for COVID. I've had a scratchy throat for a couple days, but am feeling fine otherwise. Michelle and I are grateful to be vaccinated and boosted, and she has tested negative."
The newest addition to the list is Douglas Emhoff. The Second Gentleman — as he's known because of his status as husband to Vice President Kamala Harris — alerted the public via Twitter: "I tested positive for COVID. My symptoms are mild and I'm grateful to be both vaccinated and boosted. If you have yet to get vaccinated and boosted, please don't wait."
Kamala Harris gave an update on her health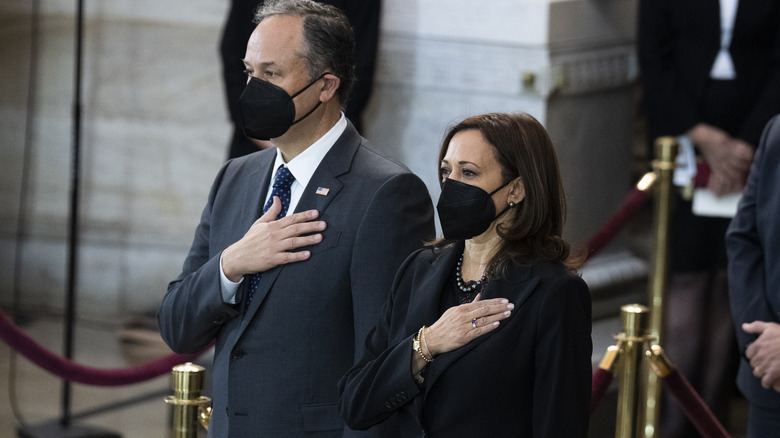 Pool/Getty Images
Having COVID-19 strike so close to the White House is a sobering reminder that the virus has no regard for political affiliation, power or wealth. But as Second Gentleman Doug Emhoff noted, the fact that he is fully vaccinated and boosted very likely kept his symptoms from becoming serious enough for hospitalization. 
Shortly after her husband made his announcement, Vice President Harris sent a social media message of her own. "Earlier today, the @SecondGentleman tested positive for COVID-19," she tweeted. "Doug is doing fine and we are grateful to be vaccinated and boosted. I have tested negative and will continue to test. Please get vaccinated and boosted if you haven't already."
The Second Gentleman got lots of well-wishes on Twitter. A Buddhist nun wrote, "All my prayers are with you, sir. And prayers for Kamala to be protected." Another follower recommended a time-honored remedy: "Wishing you a speedy recovery and that you feel better soon; get some matzo ball soup."
The vice president's feed was also clogged with positive messages and cautions to stay safe and healthy. One representative comment said: "Protect the Doug at all costs! Bubble wrap him if you have to!" But another took the opportunity to point out that Congress is on the verge of letting funds run out for COVID testing and vaccination for Americans without health insurance (via Roll Call).