Why Twitter Is Calling Clayton The Worst Bachelor Ever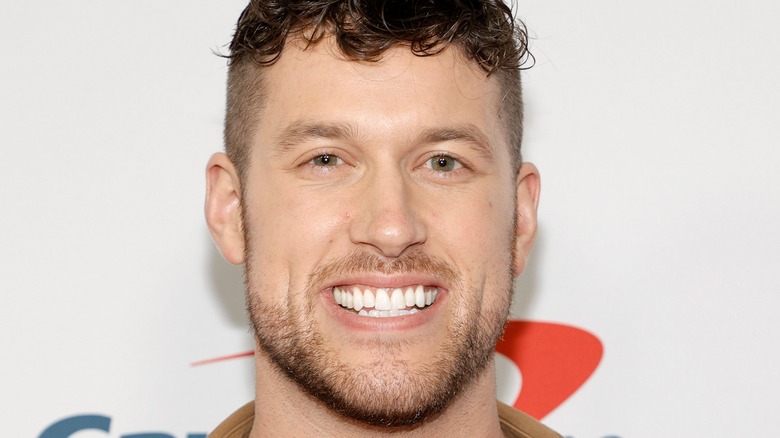 Amy Sussman/Getty Images
Unless you don't have a TV or haven't scrolled through Twitter in a while, you've probably caught at least a glimpse of the drama that went down during the two-part finale of "The Bachelor" Season 26. If you were still rooting for the show's lead, Clayton Echard, ahead of the finale, then all of your positive feelings for Echard may have evaporated just minutes into the episode. [Warning: Spoilers ahead.] That's because, even after telling finalists Gabby Windey and Rachel Recchia that he was in love with them AND meeting both their families, Echard seemed to have a change of heart. 
Just days earlier, the bachelor had coldly dismissed contestant Susie Evans' qualms' about his heavy use of the "L" word. In particular, she'd expressed dismay that he'd claimed to love her, though he'd been intimate with both Windey and Recchia. In response, Echards escorted Evans out. But during the first part of the finale, Evans — who had been mysteriously waiting in a nearby hotel room — paid a visit to Echard, who asked her for another chance. Despite his pleas, Evans said that she needed some time to think things over, per Entertainment Weekly. After all, "The Bachelor" is known (among other things) for its bombshell endings, and this season was no exception. In truly historic fashion, Echard dumped both Windey and Recchia. Recchia was tearful while Windey let Echard have it, telling him that he'd led her on and wasted her time, via Entertainment Weekly. Naturally, Twitter sided with Windey.
Twitter has harsh words for Clayton Echard
During the second part of "The Bachelor" finale, Clayton Echard revealed that he had reunited with Susie Evans and that the pair had been dating since the show aired. However, the true highlight of the episode was the revelation that rejected contestants Gabby Windey and Rachel Recchia would both become the show's next bachelorettes, as Entertainment Weekly reported. (No word yet on how the logistics of the show work with joint bachelorettes). Still, Bachelor Nation fans really needed this small victory.
News of Windey and Recchia aside, Bachelor Nation fans were not shy about their real feelings toward Echard on Twitter. "Hot take: It's not that Clayton slept with multiple people it's why. He knew he wanted to propose to Susie but slept with the others anyway. That's disrespectful to ALL THREE women. There's no saving the way he talked to Susie," one social media user wrote on Twitter. "Look if they are happy, great," another Twitter user remarked, speaking on Echard and Evans' relationship. "I will hold true that Susie is way to good for Clayton. I hope he realizes that and never treats her the way he did on national television." "It repulses me that Clayton did all that and still got what he wanted," someone else tweeted. At least disgruntled fans can bid goodbye to Echard and look forward to when Windey and Recchia's season of "The Bachelorette" airs.