Bridgerton's Jonathan Bailey Explains His Top Priority For Filming Intimate Scenes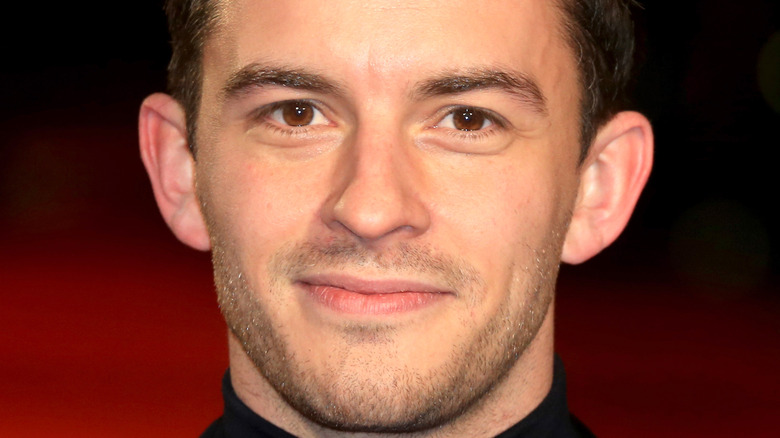 Cubankite/Shutterstock
Even if you're not an avid fan of a dramatic period piece, it's hard to ignore the charm of Netflix's "Bridgerton." In the show, which is set within 19th century London high society, men and women alike balance the pressures of finding love — with a suitable partner for the times, of course — while ignoring the urge to engage in forbidden, steamy encounters. (Don't worry, though: The show has still managed to include plenty of delightfully raunchy scenes.)
On March 9, ahead of the March 25 premiere of "Bridgerton" Season 2 on Netflix, the streaming platform released its official trailer. In the trailer, the eldest Bridgerton sibling, Lord Anthony Bridgerton, portrayed by Jonathan Bailey, is on his own journey to find love. The eldest Bridgerton begins courting Edwina Sharma, though finds a certain undeniable attraction to her disapproving older sister, Kate Sharma, per People. Throughout the trailer, Lord Anthony appears to struggle between giving in to his attraction to Kate and fulfilling his duty to Edwina.
Similar to the first season of the show, which followed the eldest daughter of the Bridgerton family, Daphne Bridgerton, as she fell in love with the Duke of Hastings, the second season is sure to be chock full of intimate scenes between its main characters.
Bailey always ensures that his co-stars are comfortable during intimate scenes
As you might imagine, filming intimate scenes that will eventually be watched by millions of people can be a bit nerve-wracking. In a recent interview with The Sunday Times, Jonathan Bailey, who portrays Lord Anthony Bridgerton on "Bridgerton," spoke about shooting intimate scenes with his co-star Simone Ashley, who portrays his love interest, Kate Sharma. According to Bailey, his top priority was ensuring that she felt comfortable and safe while filming intimate scenes.
"For a man, it is less exposing," Bailey explained. "I wanted to make sure Simone felt safe as a newcomer on set." Bailey also revealed that they had an intimacy coordinator on set who helped dissipate the cast members' anxieties about shooting intimate scenes. He explained that this "turns sex scenes into a choreographed dance," making things less intimidating.
Ashley revealed that a large part of the comfortability while filming intimate scenes came from the intimacy coordinator's emphasis on accurately portraying female pleasure. "I am also confident that I can speak up if I'm not feeling comfortable with anything on set," Ashley told the Radio Times. "We were in a very safe environment, and we worked with an incredible intimacy coordinator who encouraged us to portray what it is for the female character to experience pleasure. That's important for us to see, because it's not like it doesn't happen."