Here's What Katy Perry Looks Like Going Makeup-Free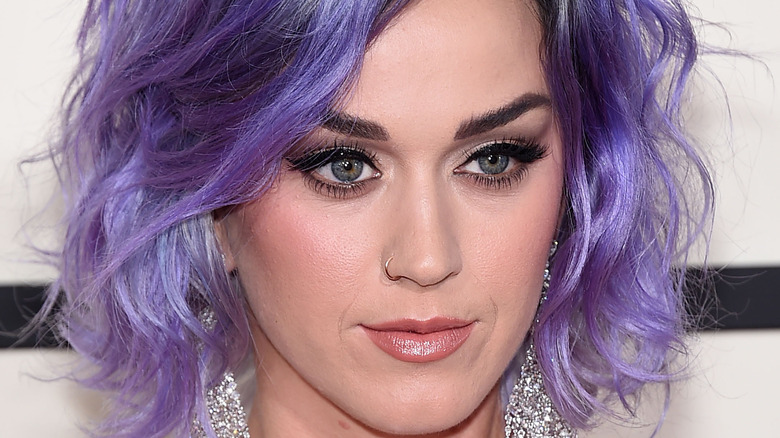 DFree/Shutterstock
Katy Perry is a talented pop star and "American Idol" judge with countless hit songs. According to her website, she's released numerous albums, some of which include "One of the Boys," "Teenage Dream," and her more recent album, "Smile." Many of her older songs are still party classics, such as "I Kissed a Girl" and "California Girls." We dare you to listen without dancing!
Not only is Perry a successful musician, but she's also been in movies. She played Smurfette in the adorable animated films "The Smurfs" and "The Smurfs 2" and appeared as herself in "Zoolander 2," per IMDb.
Perry is just as well-known for her stunning looks and daring fashion choices. In 2019, Glamour highlighted some of her most iconic outfits, such as a fruit-inspired minidress, a strapless dress featuring graphics of the Muppets, a sparkly nude dress paired with a blue wig, a mini dress featuring a sparkly image of Smurfette, and more than one outfit with angel wings. While she's clearly worn more casual and conservative looks, we adore her quirky outfits! Since Perry is known for her over-the-top makeup and clothing, we naturally wanted to know how she looks without makeup.
She's beautiful in a natural way without makeup
While Katy Perry's Instagram page features many glamorous looks, such as luxurious lashes and dramatic eye shadow, the star posted a more natural photo in 2020. While in the first picture of the post, Perry wears a gorgeous dress and red lipstick, the second picture shows her looking cozy with her blond hair undone. Her eyelashes still look a bit enhanced in this picture — she may have extensions — but she doesn't seem to be wearing any other makeup. She poked fun at the difference between the two pictures in her caption, saying that the first look was "pre-quarantine," and the second look was "mid-quarantine."
Perry has big, green-blue eyes, soft-looking skin, and full lips without makeup, so she naturally stands out. However, without heavy makeup, she looks like a real person without filter-perfect skin and colorful lips. While we think Perry is naturally beautiful, she revealed in a video interview with Vogue that she wasn't always happy with how she looked. "My skin used to be a lot worse than it is, so we would do a lot of coverage because I was insecure about my skin ... I have alright lips and alright cheekbones, but they're no showoffs." We respect her openness in sharing her insecurities.
While it may seem easy to compare yourself to Perry when watching her sultry music videos, or glamorous looks on screen, she proves that even pop stars can feel insecure and don't feel perfect without makeup.