Ivy And Fern Are The Real Stars Of Jessa Duggar Seewald's Latest Photo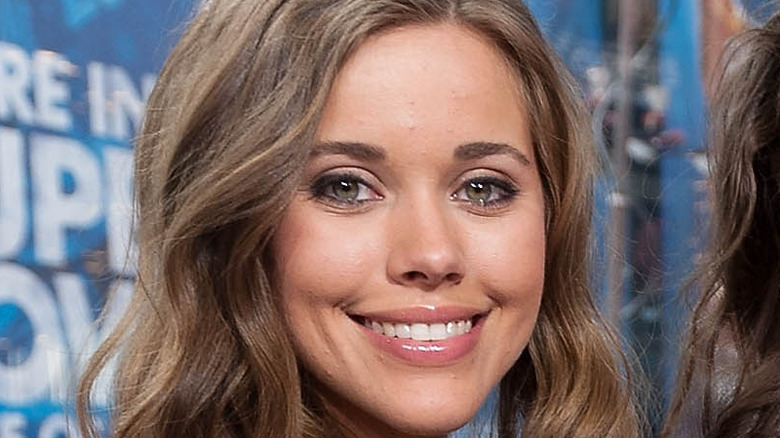 D Dipasupil/Getty Images
Jessa Duggar Seewald loves sharing her growing family with the world. The "Counting On" star frequently provides glimpses into family life by highlighting her children's achievements as well as sharing sweet moments. Recently, her oldest child Spurgeon was in the spotlight for his reading skills. A few days earlier, Jessa posted a photo of her second child, Henry, asleep with a goldfish cracker in his mouth, which sparked some concerns with fans.
Jessa's two daughters, Ivy and Fern, were born in May 2019 and July 2021, respectively. When Ben Seewald held "little Ivy for the first time, it was a really special moment," he said in a TLC video (via People). Later Ben was struck by the thought, "Wow, I could be walking her down the aisle someday."
Following a tragic pregnancy loss in 2020, Jessa and Ben introduced Fern to the world by posting a sonogram picture on Instagram. The mom later shared her birth story on IG, along with some emotional photos of the experience. As the youngest, Fern has won the hearts of her older siblings. "Fern has a fan club. Oh, how her siblings adore her!" Jessa captioned a photo of Henry smiling at his sleeping baby sister. Jessa also captured the siblings being introduced to baby Fern. In the photo, Ivy seems particularly interested by her new sister and is gazing at her with wonder. As they grow, the Seewalds' daughters continue to show their cuteness, as evidenced by a recent Instagram post.
Ivy and Fern share a joyful outing with their mom
On March 15, 2022, Jessa Duggar Seewald posted a sweet all-girls group shot to her Instagram. Jessa is holding Fern and Ivy on her lap, and Ivy is sporting a cute and fuzzy snowman top, along with a skirt and leggings. Little sister Fern has a rainbow shirt and an adorable bow headband. Ivy and her mom are smiling at the camera, while Fern's attention is elsewhere. The post racked up nearly 80,000 likes by the next day.
Jessa's daughters have previously delighted fans with their cuteness and impeccable fashion. In fall 2021, she posted a photo of the girls in matching dresses and color-coordinated accessories. Big sister Ivy is shows her love for Fern, giving her a big hug.
Besides generating enthusiasm for adorable Ivy and Fern, this photo may continue a rumor about Jessa. According to the U.S. Sun, fans have been speculating on the arrival of a fifth child. After the reality star posted a photo advertising a nursery giveaway, some sharp-eyed viewers thought they spotted a baby bump: "she's going to make a big announcement and make sure to say that it's #5 at least a dozen times," wrote a commenter on Reddit.
In the mommy-daughter picture (above), Jessa is posed with both girls on her lap, which adds to these speculations. Given the regularity of her Instagram updates, it's likely she will let fans know if the rumor is true.