Why Jessa Duggar's Photo Of Her Son Has Fans Terrified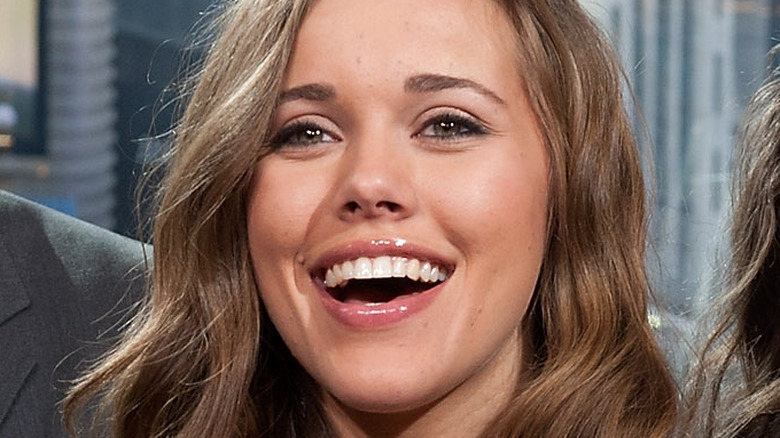 D Dipasupil/Getty Images
As a member of the famous Duggar "19 Kids and Counting" family, Jessa Duggar Seewald has received plenty of attention for living in an ultra-religious household. Her family shunned immodest clothes, public education, secular influences like pop music, and traditional dating — all of which made them subjects of public curiosity and scorn. But if Seewald expected to escape public criticism once her TV life was over, she soon found out otherwise. 
Along with many of her siblings (such as Jinger Duggar Vuolo and Jill Duggar Dillard), Seewald maintains an active social media presence. Her YouTube channel and Instagram page help keep fans updated on her life as a busy mom of four, but her willingness to share also leaves her vulnerable to criticism. For instance, when she posted a video of her family's future new home, one troll smirked that the property was probably a gift from her father (via Us Weekly). Seewald called this "an outright lie."
The third Duggar daughter has also gotten plenty of mom-shaming in recent years. Her housekeeping has come under fire, per The U.S. Sun. (hey, you try picking up after four kids under age 6!) She's been slammed for letting her 5-year-old son Henry eat snow off the floor (via Cafe Mom), while also allowing toddler Ivy to play inside the drawers of an end table (via Showbiz Cheat Sheet) and sit inside the refrigerator (via PopCulture). 
Most recently, Seewald was called out for posting a sweet photo that also revealed a possible health hazard.
Some fans worried about a choking hazard
When her son Henry fell asleep in the midst of a snack — apparently during a church service — Jessa Duggar Seewald couldn't resist reaching for her phone to capture the moment for Instagram. The shot beautifully captures the golden-curled preschooler making himself comfortable on the pew, his fingers still clutching onto the zip-lock bag of goldfish crackers. "This sweet little guy can fall asleep anywhere," Seewald wrote. "Too cute to not snap a pic!"
The post got over 30,000 likes, including one from Seewald's sister Jill Duggar Dillard. Fans flooded the comments section with coos of "Adorable," "Precious," and "So cute!" But, others fixated on one detail: Henry fell asleep with a cracker still in his mouth. While most of the commenters thought it was sweet, others were worried about the potential choking hazard. "Sorry, as cute as this is, what about the goldfish in his mouth?" asked one. Comments on Reddit were harsher: "Fell asleep with food in his mouth. She can't be bothered to remove it. Sigh. It is like she hates Henry." Another snarked, "Who says to themselves 'oh let me take a picture' rather than taking the goldfish out of his mouth. He could literally choke to death accidentally and her first thought is to take a picture for Instagram."
In response, an Insta follower replied, "I think people are overreacting. ... I could understand if after taking the picture she took others without taking out the goldfish, but give this mom a break."