What Carrie Underwood Really Looked Like Before She Got Famous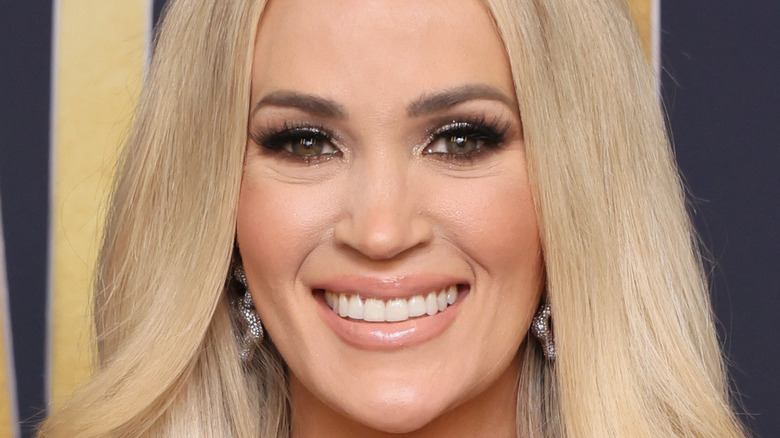 Mike Coppola/Getty Images
Carrie Underwood is one of the biggest names in country music. She got her start on "American Idol," winning the fourth season of the mega-popular singing competition show in 2005. Since then, she's done anything but fade away (unlike some of the show's contestants). Underwood has sold more than 66 million records, hit number one on the charts 28 times, and broke country music records, per her official website. 
Outside of music, Underwood is just as unstoppable. The singer landed on the New York Times bestsellers list in 2020 with her book "Find Your Path: Honor Your Body, Fuel Your Soul, and Get Strong with the Fit52 Life," and she launched her own line of activewear a few years earlier.
Before ever making it big or standing on the "Idol" stage, Underwood was just a simple girl from Oklahoma who, according to The Daily Mail, was told by teachers and classmates she would never get famous.
Carrie Underwood's looks have hardly changed since high school
Though many couldn't see Carrie Underwood's potential when she was younger, her now-famous face is easily recognizable in old photos. In a yearbook photo from Underwood's senior days at Checotah High School in Checotah, Oklahoma, the singer still has the same Barbie blonde hair and infectious smile we know today.
The country star has hardly changed, but that hasn't come without effort. The mom of two is committed to working out and staying fit, telling Women's Health, "My self-care is my gym time," and, "Physical fitness makes everything else possible." She also told the magazine in a video interview that she got secret braces that she wore even while on red carpets, though no one seemed to notice. Underwood explained that she had stopped wearing her retainer after having braces as a teenager, leading to inevitable teeth shifting.
Over the years, and despite a widely-publicized face injury in 2017 (per Redbook), Underwood's looks haven't changed much. But in many ways, she's a totally different person, living a totally different life from her Oklahoma upbringing — and surely her old teachers and classmates have stopped doubting her by now.