Inside Carrie Underwood's Activewear Clothing Line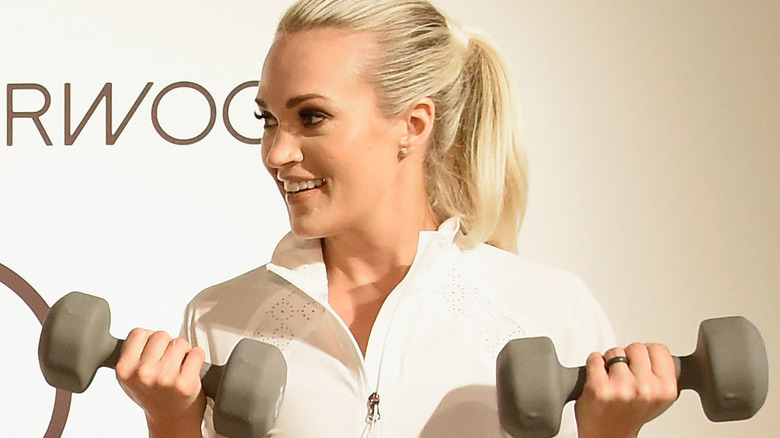 Kevin Mazur/Getty Images
It goes without saying the COVID-19 altered the way we do things. While it changed the face of healthcare, education, and business, the virus slowly snuck its way into more peripheral facets of life as well. For example, we started out 2020 in slacks, heels, and polished hairdos only to find ourselves donning messy buns and re-wearing sweats for several days in a row by mid-March. For many of us, workweeks took on an entirely different form as various stay-at-home orders took effect. As a result, the style that's affectionately become known as "athleisure" quickly became everyone's best friend. Closets once brimming with work-approved outfits and street-style steals became home to stacks of joggers and cozy tops. If we're not going anywhere and life as we know it is crumbling to bits, we may as well be comfy, right?
Well, as a result of this widespread fashion shift, athleisure brands saw skyrocketing sales while many retailers had to shut their doors due to a lack of revenue. One of those brands, Calia — which is both a reference to the calla lily as well as a derivative of the Greek word for beautiful, per Self – belongs to country-singer-turned-designer Carrie Underwood. After selling more than 64 million records worldwide, she's onto the next best thing: selling clothes we actually want to wear (via PR Newswire). 
Carrie Underwood teamed up with Dick's Sporting Goods to launch Calia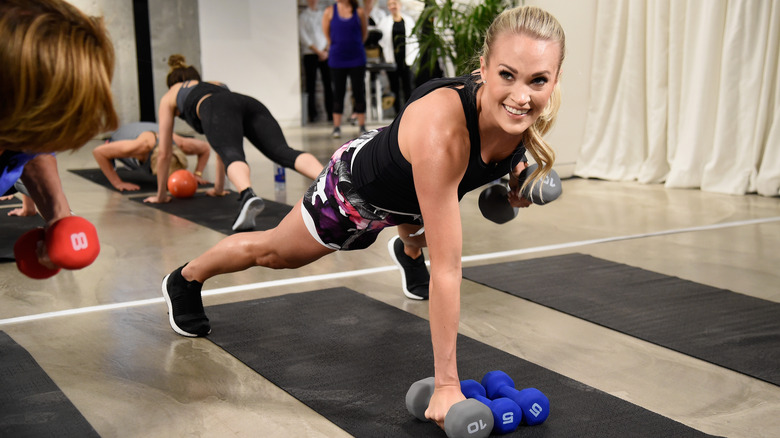 Kevin Mazur/Getty Images
According to Self, Carrie Underwood dove into the athleisure industry after noticing a significant gap in the market: workout clothes that are flattering, comfortable, and exercise-friendly. With that goal in mind, she partnered with Dick's Sporting Goods to launch the first Calia collection in 2015. "I created CALIA to make it easier for me and all women to work in working out," the American Idol alum wrote on the Calia website. "We can give ourselves permission to choose exactly what we need — a workout or a rest day. We can look as beautiful as we feel."
Women everywhere have since praised Calia's high-quality products. In an article for Buzzfeed, one reviewer wrote: "I have a pair of leggings from Calia by Carrie Underwood and they are one of my favorites to work out in ... They're definitely a splurge-worthy pair you'll be happy you invested in — I mean, they have POCKETS!" Never underestimate the power of pockets. The Calia site also boasts raving reviews from the likes of The Healthy, Parade, and Seventeen. In addition to offering accessories like bags, socks, and headwear, the celeb line also offers apparel and swimwear, including a selection of plus-size items. If anything, Calia shows us that athleisure clothes — and celebrity side hustles — are here to stay.