The RuPaul's Drag Race And Christina Aguilera Meme Explained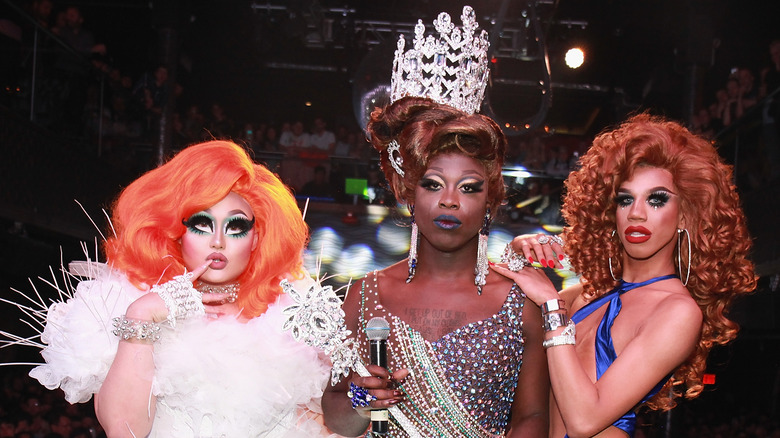 Santiago Felipe/Getty Images
Thinking back to a time when "RuPaul's Drag Race" wasn't the biggest show in the world feels incredibly quaint. As NME details, although the competitive reality show started life as a niche show on the fledgling LGBTQ+ network LogoTV, these days it's consistently at the forefront of pop culture. The format mixes the best and worst of reality television, from the can't-look-away drama of the "Real Housewives" franchise to the glamour of "America's Next Top Model."
"Drag Race" has gone from strength to strength, increasing its viewership by around 600,000 people between Seasons 7 and 9 alone. A big part of its continued success is how much the show is discussed and dissected online, with formerly fringe parlance such as "throwing shade" and "spilling the tea" entering general parlance. The featured queens are increasingly social media savvy, with massive followings already behind them when they enter the "Werk Room." 
Bonafide A-listers like Pamela Anderson, horror icon Elvira and Christina Aguilera have all popped up as judges, ensuring "Drag Race" retains an aspirational air that matches the queens' increasingly high fashion looks on the runway. In-jokes are also crucial to the show's success, and the memes proliferating from it continue to gain serious traction online. One, involving Aguilera herself, even emerged after streamer Netflix was forced to call out a troll. 
Christina Aguilera was mistaken for a drag queen
Per Teen Vogue, pop icon Christina Aguilera appeared on the Season 10 premiere of "RuPaul's Drag Race." Host RuPaul Charles jokingly announced her as Farrah Moan, a Season 9 competitor with whom Aguilera had a sweet interaction backstage (via YouTube). Although "Drag Race" fans immediately got the joke, alongside the rest of the judging panel, over on Facebook, a user responded to a clip of the moment by complaining, "F***ing World we live in today where men dress like that." Netflix's account fired back immediately, destroying the homophobic commenter with three simple words: "That's Christina Aguilera." And thus, a legendary meme was born.
In true "Drag Race" fashion, Aguilera's appearance on the show generated a ton of hilarious reactions, with one Twitter user sharing a gif of Season 2's Tatianna looking unimpressed, to poke fun at participants mistakenly thinking Farrah was about to re-join the competition. Another joked Aguilera could appear in Season 11 and do Farrah as her "Snatch Game" character (which would be iconic, obviously). Although "Drag Race" is 14 seasons strong at the time of writing, with numerous successful spinoffs from all over the world, clearly the show is still indispensable when it comes to battling homophobic stereotypes and spreading awareness of LGBTQ+ issues.
As RuPaul himself told The Guardian, drag "is a social statement and a big f-you to male-dominated culture. So for men to do it, it's really punk rock, because it's a real rejection of masculinity."