How Producers On RuPaul's Drag Race Make Sure Queens Don't Sneak Out
Santiago Felipe/Getty Images
"RuPaul's Drag Race" is frequently described as "the Olympics of drag" by its eponymous host, per The Independent, but the more popular the show gets, the harder it is to keep its many secrets under wraps. Several alumni have spoken up about their dodgy experiences on "Drag Race," most notably Season 4's Willam and Season 7's Pearl, both of whom lifted the lid on what really goes on behind the scenes, including how RuPaul Charles (allegedly) isn't much of a queen herself when the cameras aren't rolling.
Willam, to date one of just two competitors who were disqualified mid-season — alongside Season 12's Sherry Pie — has made it her mission to spill the tea on "Drag Race," even hosting a popular recap podcast with "All Stars 2" winner Alaska called "Race Chaser." The fan favorite initially opened up about her experiences when prompted by actor Leslie Jones, sharing a lengthy screed on Twitter about how the Season 4 queens had been mistreated throughout production, including being deprived of food.
However, Willam also acknowledged breaking the rules throughout her run, from stealing stuff to being drunk and disorderly and even sneaking her then-husband in for conjugal visits. Spilling the tea might have made a star out of Willam, but it also ensured stricter rules were immediately brought in to prevent subsequent participants from getting away with the same kind of behavior, including stopping them from sneaking out.
Drag Race contestants are taped into their hotel rooms overnight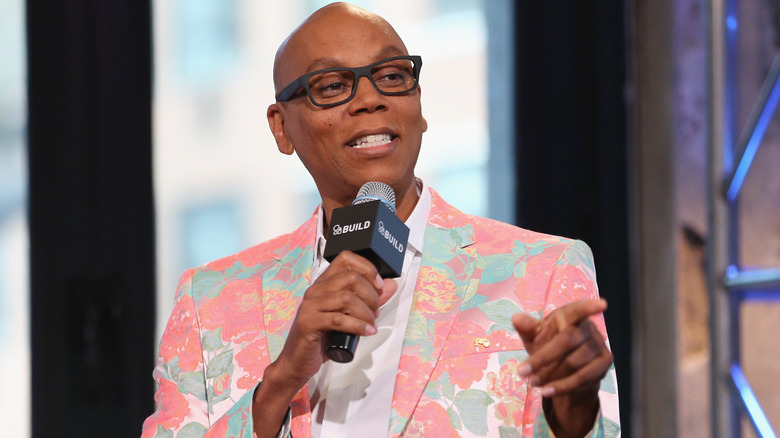 Robin Marchant/Getty Images
According to Screen Rant, to prevent competitors from leaving their hotel rooms when they're not supposed to — and to stop them bringing people in, too, as Willam did — the queens are taped in at night. If the seal on the door is torn the following morning, the production team will know right away that someone has broken the rules. Season 6 winner Bianca Del Rio told Screen Rant that it's not as extreme as it sounds, though. 
They're not stuck in there and completely cut off from the outside world; rather, if the queens want or need something at any stage when they're not filming, they simply slip a note under the door and production takes care of it. Moreover, various team-members take turns keeping watch throughout the night too, just for extra security. As "Drag Race" has increased in popularity, so too has the need to keep the cast secret until the big "ru-veal" as it were. 
For "All Stars 2," competitor Alyssa Edwards admitted during a behind-the-scenes video, posted to YouTube, that she was blindfolded until reaching her hotel room. Alaska, meanwhile, confirmed she wasn't allowed to open the blinds in her own room, just in case either of them spotted another competitor and ruined the surprise of seeing the queens for the first time in the workroom. Hey, if it preserves that "Drag Race" magic, it's all worth it.