The Real Reason Maia Mitchell Is Leaving Good Trouble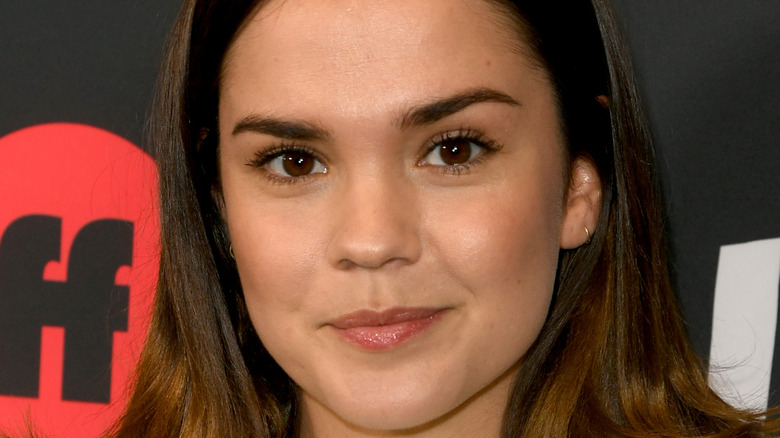 Kevin Winter/Getty Images
It's always devastating when your favorite character leaves your go-to TV show. Sometimes it can be overdue, but usually when it's a beloved character/actor, fans are left wondering why and petitioning for them to stay. Maia Mitchell's Callie on "Good Trouble" has definitely been loved by die-hard fans that have watched her grow into her own in the almost-decade that she's been on the screen.
Mitchell made her debut as Callie in Freeform's "The Fosters," a popular show that tackled many social issues and misconceptions while representing a queer, interracial couple raising a blended family (via ABC). The younger Callie that fans first met won them over, but she's especially been a hit in the "The Fosters'" spin-off series, "Good Trouble." With a 100% Rotten Tomatoes rating, viewers have been hooked on the spin-off series that explored Callie and foster sister Mariana's (played by Cierra Ramirez) venture to Los Angeles alone, while they struggle with their careers and love lives. Sadly, after several successful seasons, Mitchell has announced she will be exiting the show.
Maia Mitchell misses her family and home
While Season 4 of "Good Trouble" is currently airing, the second episode saw Callie leaving Los Angeles and heading off to Washington D.C., per TV Insider. Actress Maia Mitchell ultimately took to Instagram on March 16 to pen her goodbye to the show. "To the fans who have embraced me as Callie for so many years, thank you, Mitchell wrote. "Words can't express how beyond grateful I am for your consistent and unbreakable loyalty. Fact: We have the best fandom in television. You will always hold a special place in my heart, and I know our paths will cross again in the future." 
Mitchell explained in the post that the reason for her departure was due to how trying the pandemic has been in regard to her separation from her family and loved ones. She then elaborated on her decision to People. "The pandemic was really hard for me. I know I'm so privileged and I was so lucky to be able to work, but it also meant that I was separated from my family for 18 months," she told the outlet. "And there was something about not being able to see them if something happened." 
She shared that she plans to move back to Australia, a decision which comes as no shock to her supportive cast mates. As for what her plans for the future are, Mitchell further told People, "I'm auditioning a lot. There are a couple of projects in the works that may happen this summer. But honestly, right now I'm just really enjoying the break. I'm at home." We're sad to see her leave "Good Trouble," but we're happy she's doing what's best for herself.