Ellen DeGeneres Thanks Her Employees In A Massive Way As The End Of Her Show Nears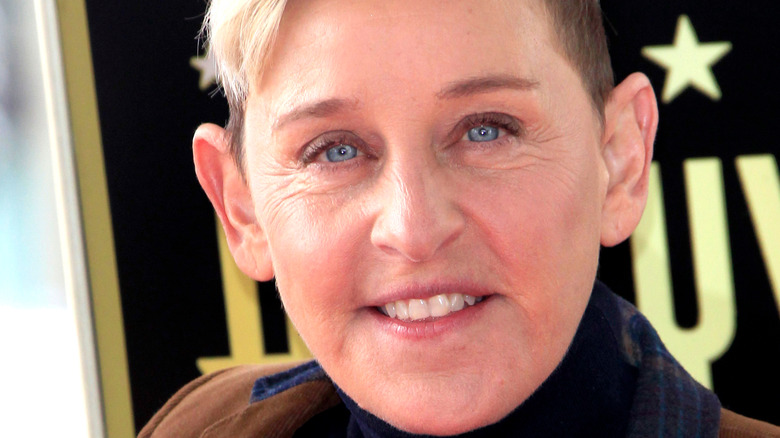 Kathy Hutchins/Shutterstock
Shortly after celebrating her 3000th episode in 2021, Ellen DeGeneres revealed she will wrap up her nearly 20-year talk show run with the last episode set to air on May 26, 2022. Despite the controversy caused by allegations that "The Ellen DeGeneres Show" is a toxic workplace environment, the 64-year-old insists she's always planned to end the show with Season 19. She told The Hollywood Reporter, "When you're a creative person, you constantly need to be challenged — and as great as this show is, and as fun as it is, it's just not a challenge anymore." 
While the trailblazer is excited to see what's next in store, she's currently focusing on making her final few moments as a talk show host memorable. The end of Season 19 will feature many special guests including Michelle Obama, Kim Kardashian, Serena Williams, and Portia de Rossi (via Deadline). Aside from gifting her fans an unforgettable season, DeGeneres is also handing out bonuses to her employees and crew members as well.
Ellen DeGeneres is making ammends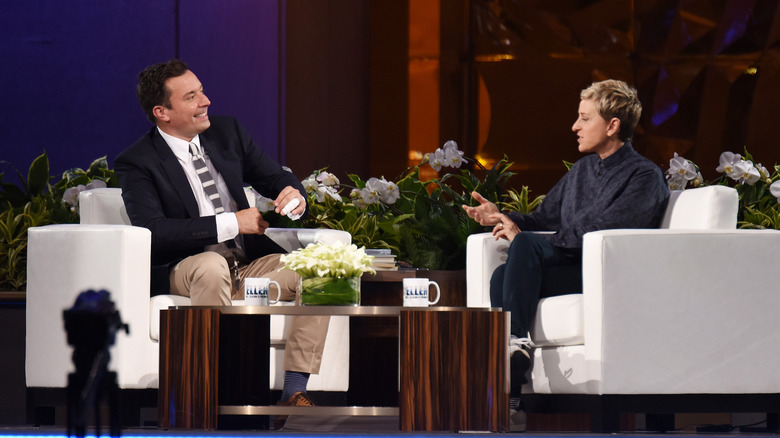 Dave Kotinsky/Getty Images
Ellen DeGeneres is known for giving impressive gifts to her fans. Once the "Ellen" alum even gifted the members of her studio audience an unforgettable cash prize. To celebrate her 60th birthday, DeGeneres filled her audience with "people who are making a difference in the world" and gifted them a million dollars to split evenly (via Today). In honor of the end of her Emmy award-winning series, Ellen DeGeneres is choosing to also spread the wealth to her cast and crew.
Sources told Deadline that "The Ellen DeGeneres Show" employees will receive bonuses based on how many years they've worked for the talk show. Many of her staffers have worked on the show for over a decade, which means a big bonus will be coming their way. You might be wondering what the bonuses will look like. According to a source who spoke with Deadline, for anyone who has worked on the show for one to four years, they will receive an additional two weeks pay at the end of the series. For staff that has stuck with Ellen for four to eight years, they will receive an additional week of pay — aka three weeks pay. The remaining senior staff members will receive the biggest bonus of six weeks pay. 
Along with their bonuses, Deadline reports that DeGeneres is also offering her staff and crew six-month extended health care coverage, a free one-year membership to LinkedIn learning, and resources to help the crew find their next gig. While her show may be nearing its end, DeGeneres' penchant for helping others will clearly continue into the next phase of her life.