Here's What Addison Rae Looks Like Going Makeup Free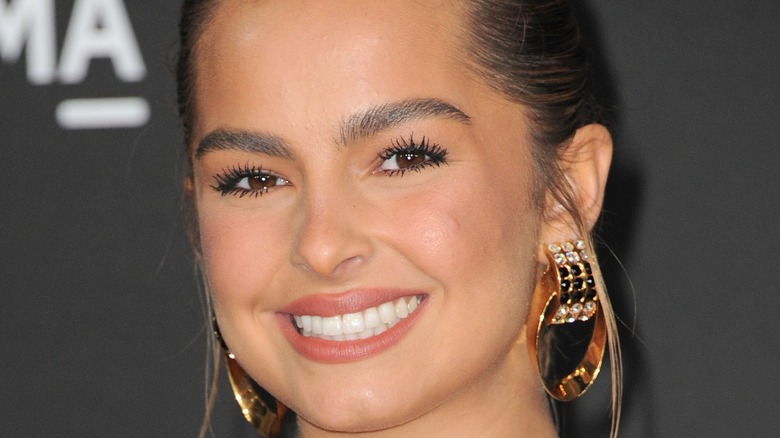 Tinseltown/Shutterstock
Everyone who uses TikTok or Instagram has heard of TikToker Addison Rae. According to Parade, Rae is actually worth millions of dollars at this point and became famous in 2019 from her TikToks, which consisted of mainly dance and lip-syncing content. Rae currently has 87.1 million followers on TikTok! She's also expressed interest in becoming an actress, as she starred in the Netflix movie "He's All That."
While Rae's TikTok fame helped her become a household name and best friends with Kourtney Kardashian, like many other influencers, Rae has experienced her share of controversy as well (via Insider). One of Rae's most controversial moments was when she taught Jimmy Fallon TikTok dances that she didn't come up with herself. This "Tonight Show" appearance had the internet seeing red for a while. Furthermore, Rae received backlash for tweeting an insensitive joke about how she "studied broadcast journalism for 3 whole months to prepare for this moment" when she got a gig as a UFC correspondent. She was the subject of controversy yet again when people speculated that she was a Trump supporter because she was seen enthusiastically approaching him at a UFC event.
Whether you love or hate Rae, she's not just an influencer now, but considered a full-on celebrity. According to People, she even attended the prestigious Met Gala event in 2021. Now that she's officially a celebrity, we were curious to see what Rae looks like with no makeup.
She looks just like us with no makeup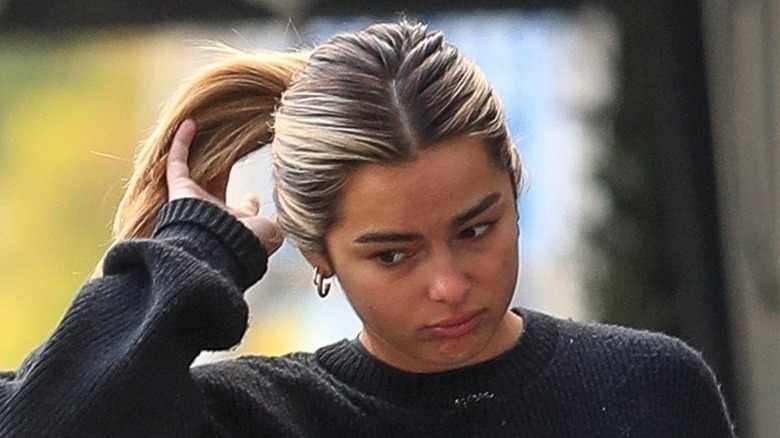 BACKGRID
While Addison Rae's Instagram page consists of many glamorous shots of her with perfectly-done makeup and stunning dresses, Rae was recently captured where she appears to be wearing no makeup in public. Rae still has her warm brown eyes and full lips in the photo, but she also looks just like any normal person you'd see walking around without all the added glitz and glamour.
Rae also isn't afraid to be transparent about what she looks like without makeup in a recent TikTok video. In the video, you see her in the process of getting her makeup done. While by the end of the video, her skin appears perfect and her eyes and lips are emphasized with makeup, she shows her natural, imperfect skin at the beginning of the video. Fans showed appreciation for Rae showing her natural skin in the comments. One TikTok user even said, "makes me feel good about my skin seeing celebs and influencers show off their acne," and we agree!
Rae is living proof of why we shouldn't compare ourselves to social media stars or even movie stars. As seen in her recent video, makeup artists often spend hours applying layers of makeup on celebrities to give them the perfect skin and glowing features we see online. Underneath all that embellishment is a normal face with imperfections like ours!