The Best Mascaras For A Longer-Lashes Look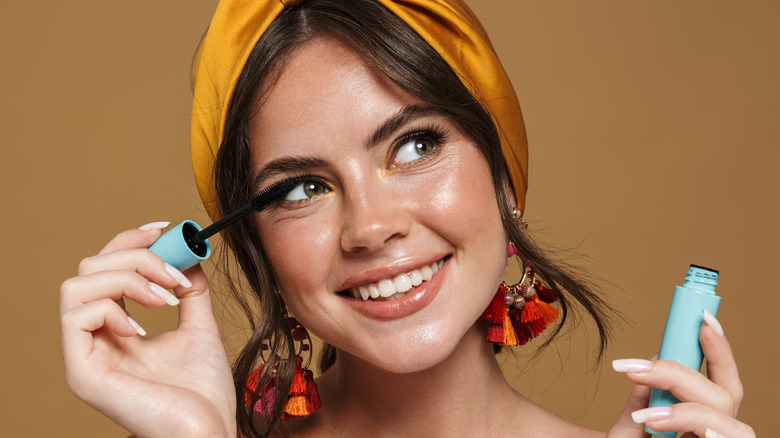 Dean Drobot/Shutterstock
Makeup never feels complete without adding the final touches with a few coats of mascara. More specifically, most people turn to mascara to make their lashes look more beautiful and dramatic. In fact, Bestcovery from the L.A. Times listed mascara among "the most popular beauty products you should definitely have in your makeup kit" because they have the power to let "anybody have thick and defined eyelashes." 
"Mascara enhances the eyes in a number of ways. It not only darkens lashes but can lengthen and volumize for brighter, bigger-looking eyes," Claudia Soare, president and creative director of Anastasia Beverly Hills, told Today. "Fuller-looking lashes can help to give a more youthful appearance to the eye area." And who doesn't want to look more youthful, right? If you are someone with short, stubby lashes, lengthening mascaras are a great investment because they "[add] length to the ends of lashes to help open up your eyes," per Today.
Did you know there is an "easy mascara trick" shared by actress Tippi Hedren, Dakota Johnson's grandmother, that can make "your lashes look a million times better?" It's all in how you hold the mirror. "You hold the mirror down low and put the mascara on while looking downward, you will get the most coverage from the base of the lashes to the tips," Johnson once recalled Hedren telling her (via Glamour). Now that you know this little mascara hack, let's discover the best mascaras for longer-looking lashes.
These are the best lengthening mascaras on the market
If you really want serious length, you can always try a pair of fake lashes, but they can be a bit challenging to wear and might fall out in the middle of a date. Here comes lengthening mascara to the rescue. Marie Claire is a fan of Benefit Cosmetics They're Real! Magnet Extreme Lengthening Mascara because it is a perfect "extra-lengthening option." According to Benefit, this "36-hour lengthening mascara" will make your lashes appear "40 percent longer." 
Byrdie loves Hourglass Unlocked Instant Extensions Lengthening Mascara because it gives "a legit extension-esque look with just one coat." It has "lightweight fibers" to add instant length and "a film-forming technology" to stay put the entire day. Actress Daisy Edgar-Jones of "Fresh" is a fan, and, of course, it has won Allure's Best of Beauty Award. 
Meanwhile, Allure also raves about MAC Magic Extension 5mm Fibre Mascara. It is so good that it made editorial assistant Talia Gutierrez "ditch her eyelash extension appointments" because she had not found a single mascara that gave her "the volume and length" that she only got from extensions. 
For those with sensitive eyes, Cosmopolitan recommends Ilia Limitless Lash Lengthening Mascara. "This is the only clean mascaras that gives my short lashes tons of length without clumping or flaking," beauty director Lauren Balsamo wrote. This mascara is infused with "shea butter and keratin" to give you the longest "ultra-soft" lashes ever.
Best lengthening mascaras without dramatic price tags
If you are on a budget, you need to try Maybelline Falsies Lash Lift Mascara because, according to Byrdie, this mascara "takes the cake for delivering XL lashes" and provides "gorgeous lift and curl." It is available in three shades and is a winner of Allure's Best of Beauty Awards 2021. For fans of waterproof mascara, Maybelline also offers its Waterproof Falsies Lash Lift Mascara. This option will make you look like you are wearing fake lashes without the hassle. 
Cosmopolitan's pick for an uber-lengthening and wallet-friendly mascara is e.l.f. Cosmetics Lash It Loud Volumizing Mascara. "This drugstore classic is popular for a reason," the outlet explained. In addition to length, the brush is made with "tons of tiny silicone bristles that separate and volumize." For less than $10, you can have it all.
Another drugstore gem is L'Oréal Telescopic Mascara because it "delivers massive length to give you a clean look," per Marie Claire. It's no wonder that it's been "a best-seller over the last decade." According to the L'Oréal, this mascara gives you "60% longer lashes" and is an excellent option for "sensitive eyes and contact lens wearers" because it is "ophthalmologist-tested and allergy-tested." 
Finally, Glamour loves CoverGirl Clump Crusher Mascara because it has "the best brush" to apply mascara and separate your lashes for the Bambi look.