A Refresher On What Is Going On With Daphne Bridgerton Going Into Season 2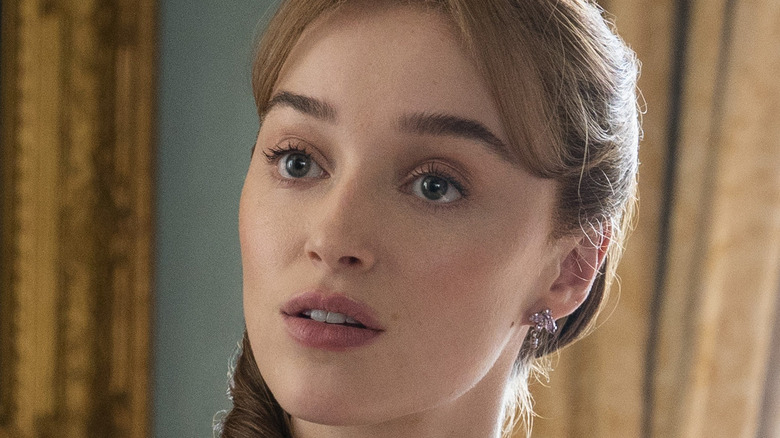 Liam Daniel/Netflix
When the second season "Bridgerton" premieres on Netflix on March 25, it will feel different than it did during its first season as the focus is changing. This time around, fans will get to know Anthony Bridgerton (Jonathan Bailey) in a way they didn't in Season 1. The first season focused on Daphne Bridgerton (Phoebe Dynevor), her debut into British society, her courtships, and finally her marriage. With Anthony as the lead, Season 2 will take us through his trials and tribulations finding a love match after he ended things with the singer he was seeing on the side at the end of the first season.
As for Daphne, she will still be there but only as a supporting player and most of her life will be lived off-screen. If you're just finding the show in 2022 and want to start with Season 2, here's a refresher on what happened to Daphne during Season 1.
Daphne became a favorite of the Queen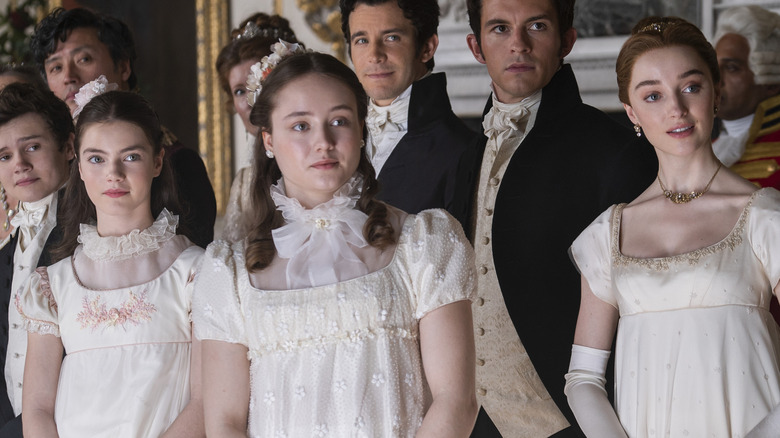 Liam Daniel/Netflix
When "Bridgerton" debuted towards the end of 2020, Daphne Bridgerton was getting prepped for her introduction into London society, which included meeting Queen Charlotte (Golda Rosheuvel), who took a liking to the young woman. That meant Daphne was bound to get a bevy of suitors trying to win her hand, and that was exactly what happened.
However, Daphne didn't want any of them and struck up a friendship with Simon Basset (Regé-Jean Page) — aka the Duke of Hastings. Simon was under pressure to find a wife just as Daphne was under pressure to find a husband, so they decided that Simon would court Daphne, but it would all be a ruse. Of course, Daphne and Simon eventually fell in love and married, but Simon's loveless upbringing caused him not to want to bring children into the world, so he saw to it that Daphne would not get pregnant.
When Daphne learned what he was doing, she was devastated and tried to trick Simon into impregnating her. Simon was then furious and the two nearly ended it for good. But like all good love stories with a happy ending, Simon and Daphne reconciled, she got pregnant, and they joyously became parents. That's where Daphne's story leaves off as Season 2 of "Bridgerton" debuts, and she takes a step back as a supporting character to leave room for her brother Anthony to become the lead.
Daphne's role in Season 2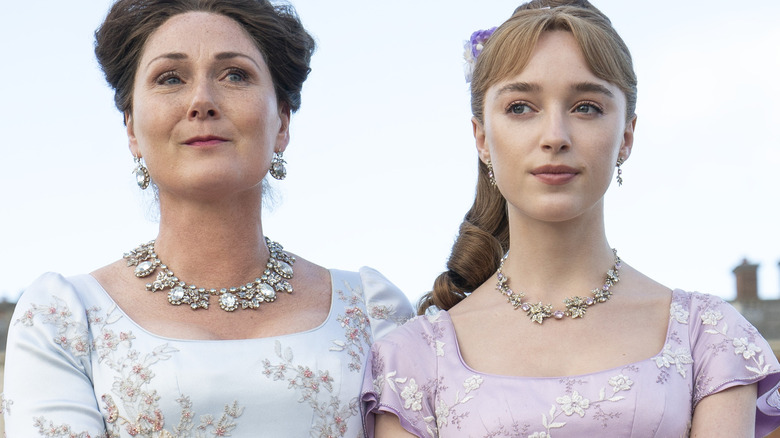 Liam Daniel/Netflix
While we won't see Daphne's husband, Simon, in Season 2 of "Bridgerton," we will still see Daphne as she now has a different role within her family, being the only married sibling who is also a parent.
"Daphne has become the adult of the family," Dynevor told Entertainment Weekly. "She's found what she's looking for — she's had a baby, she's a wife and mother. There's a real confidence and womanhood about her this season." While fans won't get to see Daphne's family life with Simon, they will get to see her character on-screen as she will also still feel an obligation to her family in a way she never did before.
"She's running the family because she's the one who's settled now," Dynevor added (via Entertainment Weekly). "She is the rock of the siblings in this season, which is quite nice to play. Daphne's leading the way in terms of knowing what love is, what it means, and what marriage means, and she's trying to pass on that knowledge to Anthony."