The No. 1 Lip Plumper Product That's Going Viral On TikTok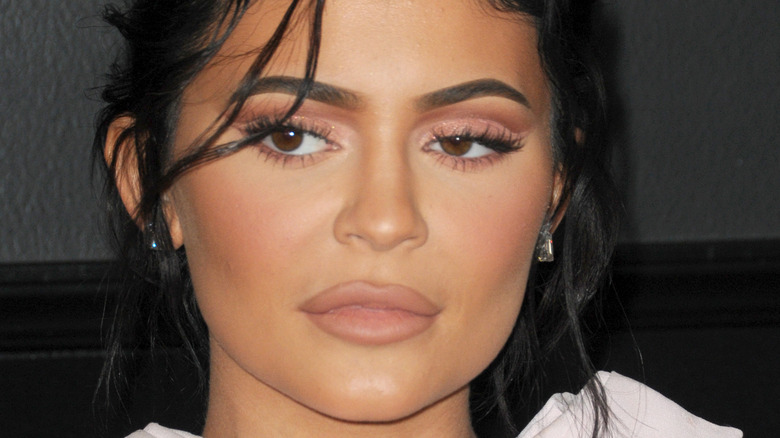 Kathy Hutchins/Shutterstock
We may receive a commission on purchases made from links.
Kylie Jenner started a lip filler revolution when she famously admitted to getting fillers to overcome one of her biggest insecurities. Per Women's World Daily, the beauty mogul launched the first Kylie Lip Kits in 2015, which went on to evolve into her beauty brand Kylie Cosmetics — and ultimately, make her a billionaire. However, Seventeen reported that Kylie opted to go more of the natural route after welcoming daughter Stormi in 2018. Although the queen of the pout temporarily dissolved her own fillers, the pouty look is still popular on Instagram feeds and elsewhere. In fact, fuller lips are so in-demand that they've ushered in a new product: the lip plumper. 
Per Google Trends, Google searches for "lip plumper" spiked as of 2021. The product is thought to temporarily encourage fuller lips, thanks to ingredients like hyaluronic acid and peptides. Additionally, "Popular ingredients such as capsicum (from chili peppers) and bee venom temporarily swell the lips by increasing blood flow to the area, yielding a short term lip plump," aesthetic nurse practitioner Cece Davis tells AEdit. That said, these ingredients may cause "tingling or burning sensation in the lips," as Davis cautions. And with the whole wide world of lip plumpers available to us, what's the best one to choose? Once again, TikTok is here to help — as there's one lip plumper product in particular that's going viral on #makeupTok.
Editors and makeup artists believe in this lip plumper product
Over on TikTok, the #liplumper hashtag has over 396 million views and counting, which is a testament to its popularity. In all of these videos, there's one lip plumper that seems to crop up frequently: Kissio's Lip Plumper. Retailing for just $10 on Amazon, the plumper features ingredients like ginger oil, vitamin E, and white mineral oil. It promises poutier lips in minutes, and most reviewers (including the professionals) seem to agree that it works! As makeup artist and TikTok influencer Mikayla Nogueira tells her followers, it is "Amazon's no. 1 top-selling lip plumper" — and despite a slight stinging sensation in the lips, she's quick to affirm that it's worth the hype.
Likewise, beauty editor Holly Rhue told Byrdie that she's "happy to report it works." "After a few minutes of wear — and TBH, a little bit of a burning sensation — it really looked like I got lip fillers. The results were insane, but they were also short-lived. After about an hour, I needed to reapply again, and by the end of the day, my lips were super dry. But hey, it definitely gives you that filler look for a quick boost when you want it," she added. And with over 8,000 global reviews on Amazon, we'll just let the positive feedback on the Kissio Lip Plumper speak for itself.