Lenny Kravitz Takes To Instagram To Set The Record Straight About His Friendship With Jason Momoa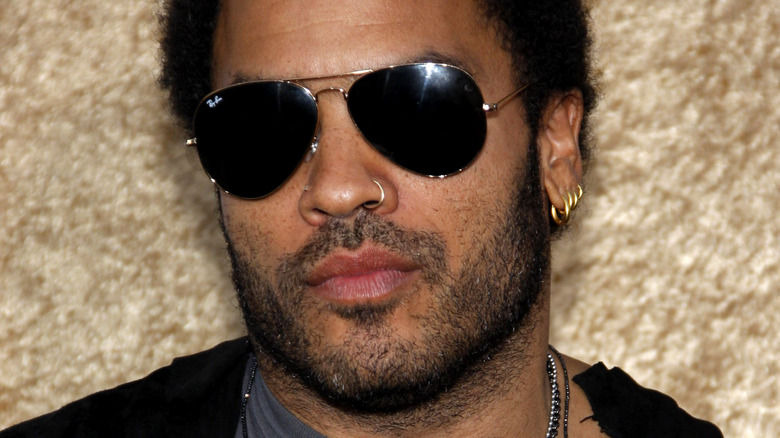 Tinseltown/Shutterstock
Lenny Kravitz and Jason Momoa have nothing but love for each other. The two became close when Momoa started dating Lenny's ex-wife, Lisa Bonet, in 2004. Per E! News, Bonet and Lenny split in 1993, after welcoming daughter Zoë Kravitz. As Page Six reported, Bonet and Momoa also went on to tie the knot in 2017, though they had two children together before doing so. Shortly after Momoa became an indispensable part of Bonet's life, he and Lenny formed a bond of their own. "...As far as Jason and I? Literally the moment we met, we were like, 'Oh, yeah. I love this dude," the singer told Men's Health. "People can't believe how tight Jason and I are, or how tight I still am with Zoë's mom, how we all relate. We just do it because that's what you do. You let love rule, right?"
Even after Momoa and Bonet announced their separation in 2022, Momoa maintained his relationship with Zoë and Lenny. In March, the "Aquaman" star traveled to New York with his children Nakoa-Wolf and Lola, as well as Zoë's boyfriend Channing Tatum, for the premiere of her film, "The Batman."  "We're just so proud," Momoa told Entertainment Tonight. "Lisa couldn't be here so we're representing, me and the babies. We're very excited to just be here. ... It's still family." Likewise, Momoa's ties with Lenny are still strong, and the two have recently taken to social media to show support for one another.
Lenny Kravitz and Jason Momoa still share a tight bond
On March 20, Lenny Kravitz shared a telling post to Instagram, proving that his friendship with Jason Momoa is still rock solid — despite life's recent obstacles. "Ride or die. Brothers for life," Lenny wrote underneath the photo that showed the two men clasping hands on their motorcycles. Many of the rock star's followers loved the post, including Lenny's daughter — and Momoa's stepdaughter — Zoë Kravitz. "Well isn't this just adorable," she wrote. "Love you both so much."
In addition to staying close to Lenny and Zoë, Momoa is also reportedly working on his marriage to Lisa Bonet. Though they split as of January 2022, HollywoodLife noted that the couple have reconciled. "Jason moved back in with Lisa about two weeks ago and they are very much back together. They decided to work on things rather than throw in the towel because they have so much invested in each other," a source told the outlet adding, "Everyone is really hoping that they can make this work this time around." In the meantime, Momoa deleted his Instagram post announcing their separation, while Lisa was spotted wearing her wedding ring in March, according to Page Six.