What Are Amandla Stenberg's Pronouns?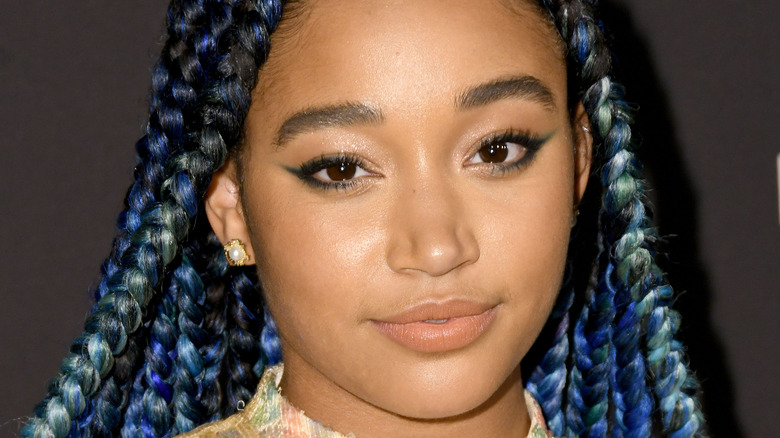 Quinn Jeffrey/Shutterstock
Amandla Stenberg first burst onto Hollywood's radar playing a young Zoe Saldana in the film "Colombiana," but the actor is probably best known as the tragic character Rue in "The Hunger Games" opposite Jennifer Lawrence (via Variety). Since these early roles, Stenberg has stepped onto the public stage as an advocate for defunding the police, starred in film adaptations of the novel "The Hate U Give" and Broadway's "Dear Evan Hansen." The young star also has become the new face of Fenty Beauty and a style star to watch.
Despite all this success, the young actor is still exploring different forms of artistic and personal expression, from making music to co-writing a comic book and penning a powerful essay in support of the #MeToo movement for Teen Vogue. Stenberg's gender identity and expression have also come into public consciousness, and in 2016, the actor shared news online about this evolving journey of self-discovery.
Amandla Stenberg's voice is empowering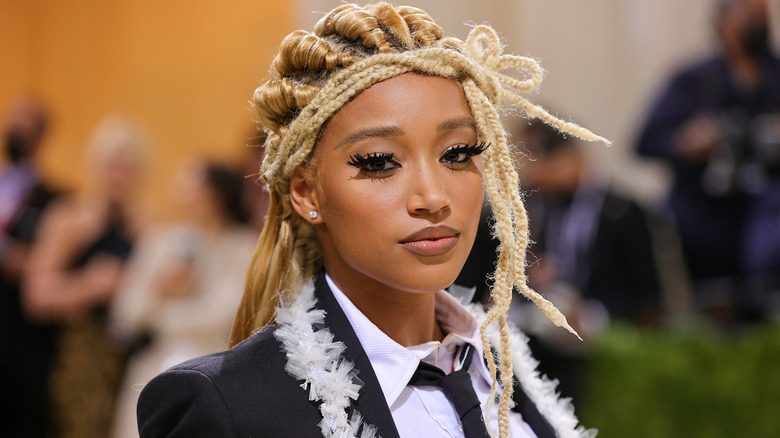 Theo Wargo/Getty Images
Per Teen Vogue, in 2016, a fan asked then-17-year-old Amandla Stenberg via Tumblr, "What are your preferred pronouns?" Stenberg wrote back, unsure at first, then concluding: "They/them makes me feel comfortable but I know that the media and the general populace that follows me will critique it/not understand which makes me feel sad and almost more uncomfortable." The actor later expressed that they prefer they/them pronouns over she/her. Still, when fans changed Stenberg's Wikipedia page to reflect the new pronouns, the actor was concerned it might deter future casting directors since non-binary pronouns were still relatively rare in Hollywood. 
After this interaction, Stenberg opened up again about their gender identity in a 2017 interview with People. "I've said before that I'm comfortable with using the pronouns 'they' or 'them' alongside 'she' and 'her' just because that's a conversation that's important to me," the actor shared. "I don't necessarily always subscribe to female pronouns just because I don't think that pronouns are necessarily very meaningful." 
Since 2017, Stenberg has publicly discussed both their gender and sexuality, changing their pronouns to "she/they" on Instagram. They spoke with Rookie about identifying as pansexual, but they've ended up using the term bisexual more often because it is more well-known (via Teen Vogue).
By sharing their journey with gender and sexuality, Stenberg has inspired others to do the same. "It's been such a blessing to watch people who care about what I have to say feel more comfortable in their identities because they see I'm out here doing my thing," she told People.