Why Critics Aren't Exactly Thrilled With Bridgerton Season 2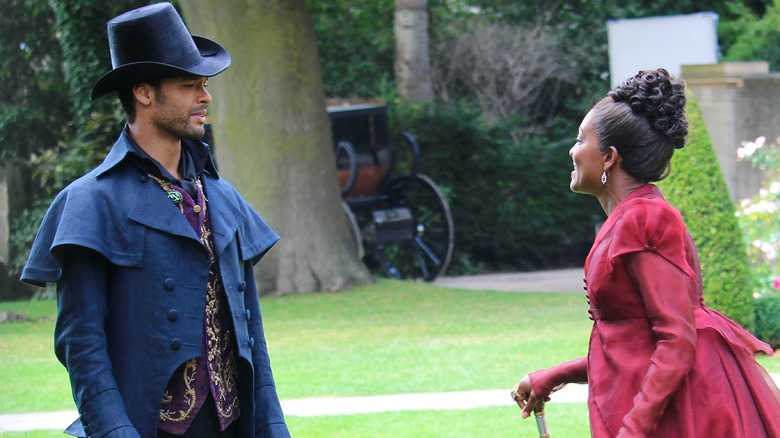 Joe Scofield/Shutterstock
Picture this: It's Christmas Day 2020. All over the United States, scores of people were forced to spend the holiday at home, rather than gathering with their loved ones to celebrate the holiday due to the COVID-19 pandemic. Many elected to keep company that day (and the days ensuing) with "Bridgerton," the bodice-ripping television series based on the novels of the same name and produced by Shonda Rhimes (via TVLine).
"Bridgerton" quickly became Netflix's biggest show yet, with Netflix reporting that a "record 82 million global households" tuned in to watch the Duke of Hastings (Regé-Jean Page) and Daphne Bridgerton (Phoebe Dynevor) overcome their respective dispositions and differences to fall in love. What's more is that not only did audiences love it but critics did too, with "Bridgerton" garnering an 87% approval rating on Rotten Tomatoes.
Although some might have been surprised that such a modern interpretation of a Regency-era novel was such a smash hit, Netflix executive Jinny Howe reflected on why "Bridgerton" translated for so many audiences.
"Romance books have always sold incredibly well. But these stories have rarely made it onto the screen. Daphne and Simon's 'will they/won't they' love affair, combined with the opulent costumes and settings, created a world into which members of all backgrounds and ages could escape," Howe wrote in part (via Deadline). "Bridgerton has shown that romance can be smart, dynamic, bold and yes — universally appealing."
What critics are saying about Bridgerton season 2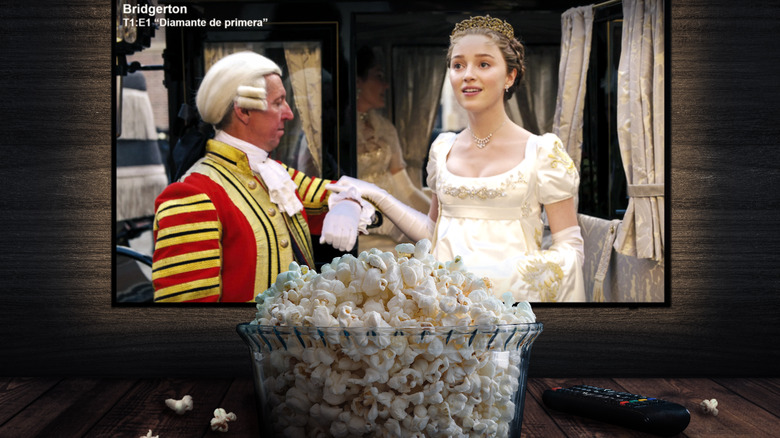 JOCA_PH/Shutterstock
After roughly a year and a half, "Bridgerton" makes its return for Season 2, this time without breakout star Regé-Jean Page. And while this may seem like a big adjustment for the series, it was the plan all along, and, in fact, one of the reasons the part appealed to Page in the first place (via Variety).
This season might feel like a slight departure from "Bridgerton" Season 1, something critics noted in their reviews of the new episodes (via Daily Mail). "At the start of Bridgerton Season 2, one can't shake the feeling that, while it is an enjoyable watch, it doesn't quite measure up to the magnificence of the first season," Sabrina Barr noted for Metro. "When the show first came out, the diverse cast, modern music and steamy show of sex positivity in 19th century society made it feel refreshingly new. So matching its first outing was always going to be a challenging undertaking." 
Carol Midgley of The Times also noted that season two isn't quite as racy as the "Bridgerton" we've come to know and love. "Any viewers tuning into the bosom-heaving Regency drama's second series hoping for more of the same, however, may find themselves slightly deflated," she wrote.
While the acclaim for "Bridgerton" might not be as universal as it was previously, the critics seem to agree on one thing: There are worse ways to spend 10 hours.