Why Airport Staff Just Called The Police On Ted Cruz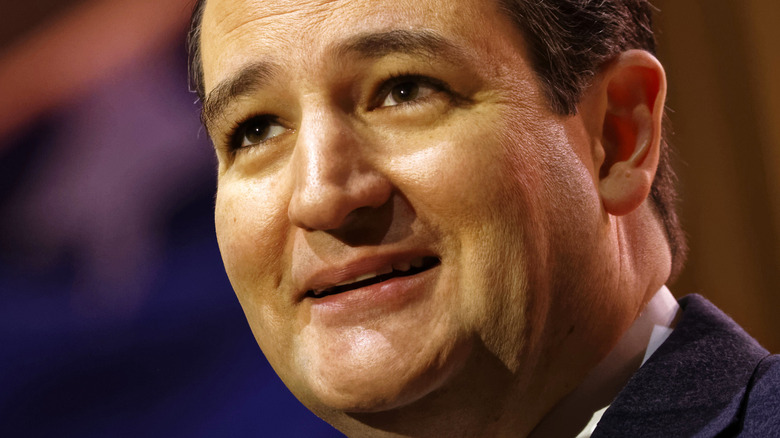 Trevor Collens/Shutterstock
When it comes to traveling, Senator Ted Cruz doesn't have the best reputation. In 2021, at the height Texas' most intense winter storm, he and his family made a break for the warm climate of Cancun, Mexico, being met with harsh criticism (via The New York Times).
While that trip was over a year ago, Cruz has continued to make light of the situation (via The Dallas Morning News). In fact, he wrote a tweet in February that read, "Inflation is out of control. Gas prices are [up]. Food prices are [up]. Lumber prices are [up]. And tickets to Cancun are up 32%!" Of course, Cruz making light of a situation that was difficult for Texas citizens was met with harsh criticism, too. One Twitter user tweeted, "I'm an actual Texan, Ted. So I don't find this funny."
It appears that Cruz hasn't learned his lesson, though, as the senator found himself in hot water again while traveling recently.
Ted Cruz's outburst at a Montana airport led to police involvement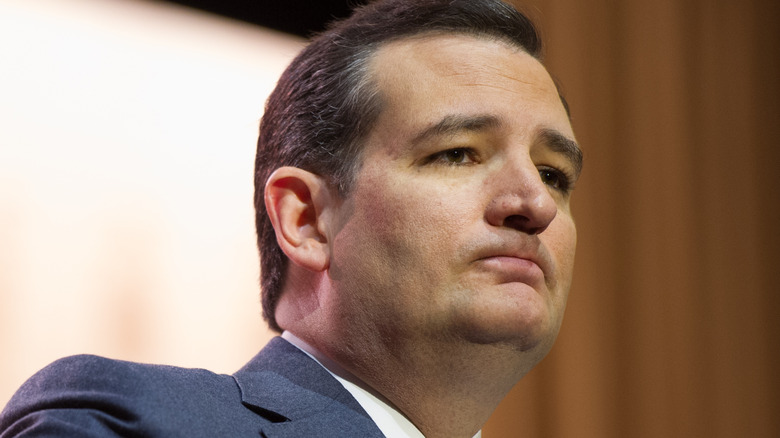 Christopher Halloran/Shutterstock
A new video from Reddit shows Senator Ted Cruz unleashing anger on a couple of airport employees after he faced complications with a flight. According to Business Insider, the situation was so volatile that local police got involved.
The video shows Cruz visibly angry with a United Airlines employee with his cellphone in hand; however, it's hard to hear what the senator is saying. Scott Humphrey, deputy director of Bozeman Yellowstone International Airport, where the event took place, later released a statement that read, "One of our Public Safety Officers (PSO) was in the ticket lobby and was asked to assist with a frustrated passenger at the United ticket counter (which is not unusual)."
Humphrey continued, "The passenger had missed the check-in window for his flight, and rebooking options were limited out of Bozeman due to Spring Break."
"Once travel options were explained to the passenger, he was rebooked and departed Bozeman later that evening. Our PSO didn't realize he was dealing with Senator Cruz until after the fact. If you need more information, please contact United Airlines," Humphrey's statement concluded (via the Daily Mail).
It's unknown why Senator Cruz was in Bozeman, Montana, but he could have been fundraising, as it's a GOP hotspot.