Adjoa Andoh Opens Up About Her Bridgerton Character's Impact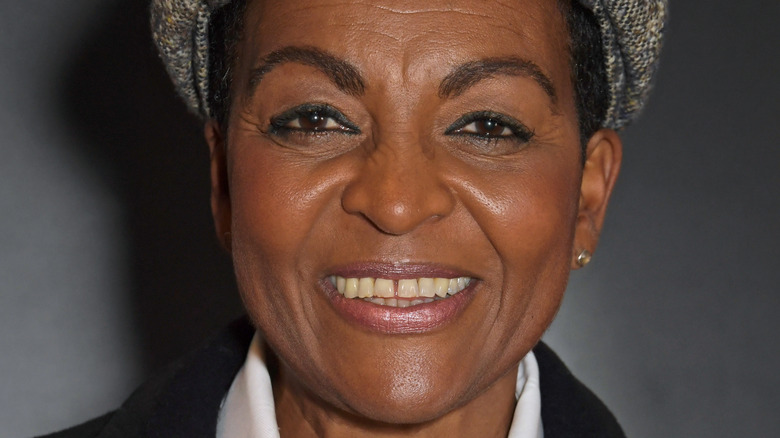 David M. Benett/Getty Images
"Bridgerton" fans recognize Adjoa Andoh as the formidable Lady Danbury, who is set to return in Season 2 of the hit Netflix show. Andoh has a long background in show business, having acted with, amongst other companies, the Royal Shakespeare Company, and she's been in popular British TV shows "EastEnders" and "Dr. Who" (via Awards Watch). 
In fact, she explained to Awards Watch how she likes to choose her characters, saying, "I think I'm interested in 360-degree characters who have a hinterland to them, who have a sense of a life lived, who have a future perspective, and have a sense of reality about them that people can sort of key into." That definitely describes Lady Danbury to a T! With Lady Danbury, she said that even though no one watching is a woman of color in Regency England, there are elements to the character that people can recognize.
Andoh is also happy to be part of a show that includes people of color in Regency times. "Historically, all-white costume dramas are incorrect," she told Good Housekeeping. "This is a costume drama that welcomes everybody." And she's thrilled that fans are seeing themselves in Lady Danbury.
Adjoa Andoh loves seeing children dressed up like Lady Danbury
Adjoa Andoh's Lady Danbury has already inspired many. "I can't tell you how touched I have been to see the little Black girls posting photos of themselves in a Regency dress, dressed up like princesses," she told the Sunday Mirror. She went on to say that she gets pictures from both girls and boys pretending to be Lady Danbury, and that it makes her happy to know that "these children are going to grow up feeling like they have a place — not like they are being tolerated."
This is in contrast to how she felt growing up. Andoh grew up in an English village with "only three Black people: [Andoh], [her] dad, and [her] brother" (via The Bristol Mag). Andoh's father was Ghanian and her mother was English, and she felt out of place in the nearly all-white community (via the Sunday Mirror).
Ultimaely, Andoh is proud to be playing Lady Danbury as a strong, powerful, and loving woman. She told The Bristol Mag that she gets inspiration, in part, from her mother and grandmothers. "All those mighty women who are just plowing their way through the world as best they can, and finding joy and excitement where they can, and dealing with hardship, and supporting each other through all that and moving forward," she explained.