The Truth Behind Julia Fox's 'Uncut Gems' Sound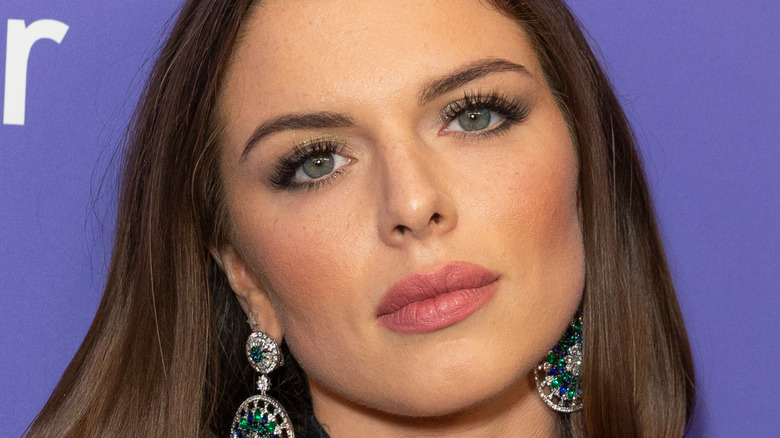 lev radin/Shutterstock
Actress Julia Fox made headlines in early 2022, thanks to her short-lived romance with rapper Kanye "Ye" West. Although Fox frequented celebrity circles, she catapulted herself out of relative obscurity and became one of America's most talked about people when she and West stepped out in coordinating outfits for Paris Fashion Week. In January, the pair were featured in Interview Magazine's 'Date Night' — an artistic spread of photos accompanied by Fox's narration of how they'd met only hours before West directed the photoshoot. At the time, their entire courtship felt somewhat like a confusing plot line for many fans. "Everything I've learned about Kanye West and Julia Fox has been against my will," one social media user wrote on Twitter.
Though things between Fox and West were over by March — and West has since moved on with Kim Kardashian-look-alike Chaney Jones — the Internet remains obsessed with Fox. This time though, it's for a completely different reason. Per IMDb, the actor previously starred alongside Adam Sandler and Idina Menzel in the 2019 film "Uncut Gems," and it's Fox's pronunciation of the movie's title that has become viral on TikTok.
Celebrities are imitating Julia Fox's pronunciation of Uncut Gems
Tinseltown/Shutterstock
In February 2022, Julia Fox appeared on Alexandra Cooper's "Call Her Daddy" podcast to discuss how she considered herself to be Kanye West's muse. When Cooper asked Fox what she thought a muse meant, Fox replied, "I mean, I was Josh Safdie's muse when he wrote 'Uncut Gems' do you know what I mean, like things like that."
TikTok picked up this strange sound excerpt from the interview and had a field day. As of this writing, there are 60,000 Tiktok videos (and counting) that spoof Fox's exaggerated pronunciation of "Uncut Gems." Even celebrities like Shay Mitchell and Cara Delevnigne have jumped at the chance to poke fun at Fox, by participating in the social media trend where people look like they glitch when they say "uncut gems." (Except now, it sounds a little more like "unkuh jams.") After nearly a month of the entire Internet making fun of her, Fox finally addressed the trend by commenting on an Instagram post that featured a compilation of people mocking her. "Omggggg I was stoned leave me alone!!!! Hahahahaha," she wrote, according to Insider. Whether or not this was the case, Fox (unintentionally) made Internet history.