Why Jules' Hair Looked Different In Season 2 Of Euphoria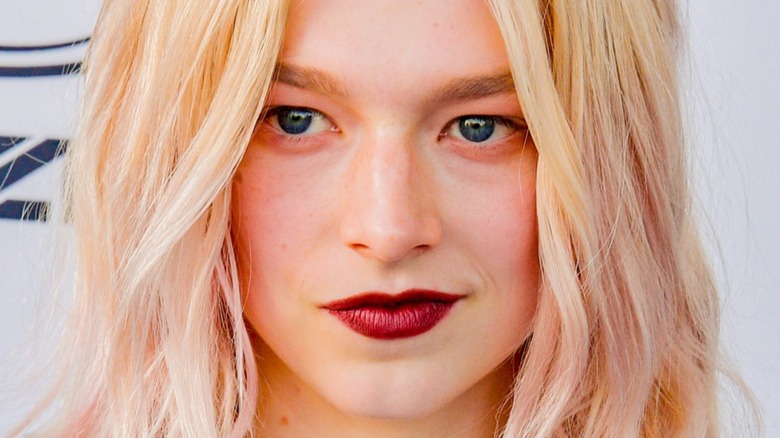 George Pimentel/Getty Images
On HBO's "Euphoria", hair is like a character of its own. The Zoe Report lauds lead hairstylist Kim Kimble, the resident genius behind the hit teen drama's hairstyles, for dreaming up looks that are reflective of each character's journey. Just as Doniella Davy, "Euphoria's" head makeup artist, is intentional about each character's makeup — so too does Kimble prioritize every cut, curl, and color on the show. Take Cassie Howard (Sydney Sweeney's) hair evolution, for example. In the show, viewers see her hair evolve from soft bed-head curls to pin-straight locks by the finale. But perhaps no one's hair tells more of a story than Hunter Schafer's Jules. 
One episode into "Euphoria" Season 1, and fans were irrevocably hooked on Jules' pastel-tipped hair and burgeoning character arc. Reddit alone has pages of threads dedicated to unpacking the meaning behind her shifting hair color throughout the course of the season. But as attached as viewers were to her long locks and expressive hair dyes — Jules managed to break fan's hearts during the emotional scene at the end of Season 1 with Rue at the train station. (Not to mention, plenty of people were also probably emotional over her black highlights!) However, Season 2 has challenged everything we thought we knew about Jules' character ... and her hair.
Season 2 marked a new beginning for Jules
In Season 2 of "Euphoria", Jules' hair goes through its biggest change yet. Per Nylon, she trades in her long locks for a distinct bob that is indicative of her character's growth. In fact, Fashion Magazine details how Jules' "struggles with identity" directly influence her style. As viewers see her begin to embrace her true self, she loosens the reins on her personal style. In particular, the outlet highlights an episode in which Jules investigates her relationship with femininity and societal expectations of what it means to be a woman. By chopping off her long locks, she seems to be freeing herself of these outside pressures.
Though this moment translated well onscreen, there were some fans who did not respond as well to the drastic cut. Over on social media, reactions were split down the middle. According to Seventeen, some viewers celebrated the bold move, while others lamented the loss of her long hair. Like it or hate it, it's easy to pick up on the symbolism behind the look. Hairstylist Kim Kimble made allusions to late legend Kurt Cobain in a recap of Season 2 Episode 3, as Popsugar noted. Likewise, psychologist Abra McField noted the symbolic power of Jules' hair. "Producers of movies oftentimes use this [short] cut to convey strength, power, and hardness — an inability to break no matter what is going on in the world around them," she told Popsugar.
What really inspired Jules' big chop on "Euphoria?"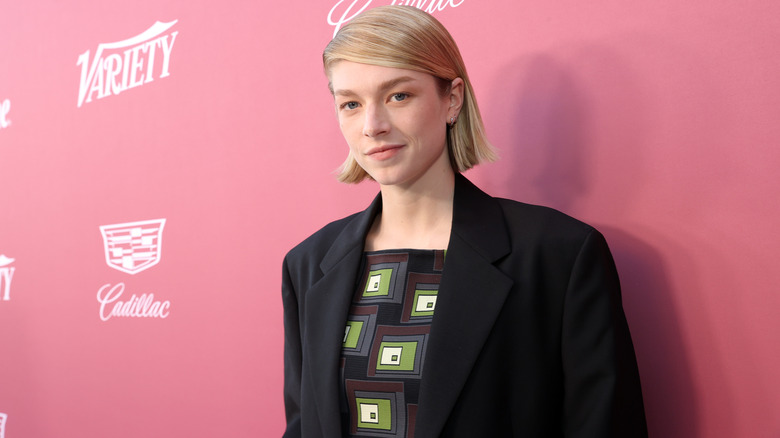 Emma Mcintyre/Getty Images
Storyline wise, it makes sense that Jules would experiment with a new look by the time Season 2 of "Euphoria" rolled around. But the true story behind how Jules' haircut was worked into the show is even simpler than that. In a 2022 interview with Entertainment Weekly, Hunter Schafer revealed that she was the driving force behind Jules' now-iconic haircut. "I've been wanting to cut my hair for a long time, even before Season 1 probably," Schafer admitted. "I was a model at the time, and the agencies have first say over what you do with your look. So I hadn't really had the opportunity to change it when I was a model."
The actress and activist told the outlet that once the show started, she had no choice but to keep her locks to avoid continuity errors. Opportunity for Jules to cut off her hair didn't appear until Season 2. And as for the reason behind her big chop, Schafer said that she wanted a change. "Just because I've had that hair for so long and I was ready for something new. Also, my hair was fried from being bleached so much, so I just wanted to chop as much off as I could," she added, per Entertainment Weekly.